First Look: Check Me Out Texas
Posted
5 years 6 months ago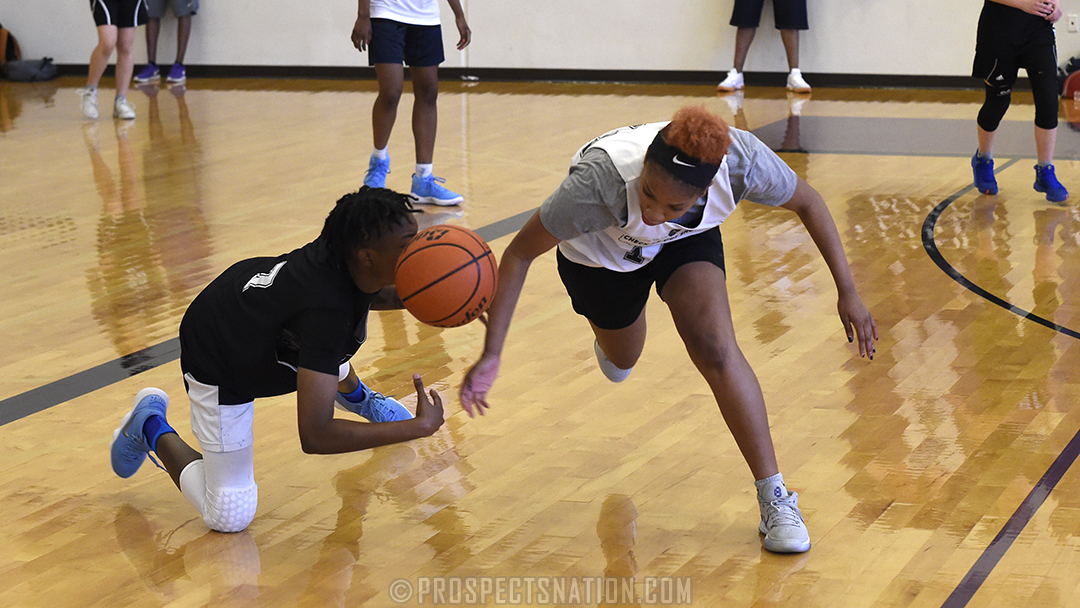 Two of the event's hardest workers, Yumon Simien (left) and Laila Blair (right) battle for a loose ball in game play Sunday. *Photo by Rob Kinslow.
ROUND ROCK, Texas – The 3rd annual Check Me Out Showcase in Texas, it's second year in the greater Austin area, was more than 115 kids from across the country compete and train together. After hours of elite skill work, led by Chris Hyppa , the CMO training staff and former campers turned coaches like Recee Caldwell, Sedona Prince and Amber Ramirez in the building, the environment was energized.
Laila Blair (Katy, Texas), 17U Cy-Fair EYBL – 2020
Blair was strong this weekend. She is very good at using her body to initiate contact in the lane on penetration and finish and score. Her ability to activate help-side defense is what allows her to get her teammates open or make a counter move and score. It was nice to see her be able to be a huge impact on offense, and turn around and lock point guards up defensively and cause issues every possession.
Elle Blatchford (Canton, Georgia) -- Team Elite Hubbard -- 2023
After watching Blatchford play this weekend, I would not have guessed that she was playing kids 3-4 years older than her. She is very mature in how she handles herself and does not lack any confidence. She is able to handle pressure from bigger and stronger guards with her change of speed. She also sees plays develop early and once she has a little bit more strength she will be able to make tough passes that she is not able to right now.
Gisella Maul (Round Rock, Texas) 2023, CyFair Nike Elite – 2023
Maul is a smooth lefty with some range to her game. She can step behind ball screens and hit threes, or attack the basket and find the open player. With her size she is able to get into the paint and make plays by forcing defenders to try and take away her floater, and if they do she is tall enough to find the open player and give them a wide open look at the basket. She makes her teammates better when she is on the floor.
Payton Hicks (Plano, Texas), Lady Jets Platinum Elite – 2019
Hicks was impressive with her leadership skills this weekend. She led by voice and example. Whenever she had the ball in her hands she demanded attention by not only her player, but the other four defenders as well. When she gets shoulder to hip with her defender she initiates contact and makes plays in the heart of the paint.
N'yah Boyd (Dallas, Texas), DFW Elite – 2019
Boyd is what coaches are describing when they talk about being able to shift defenders with change of pace, level and speed. Her changes are all very unpredictable which forces defenders to try and play with her straight up. She can hit a three if you are sagging off, but she really wants to break you down and make plays at the basket. That is where her game really shines.
Taryn Wills (Round Rock, Texas), AD Elite -- 2019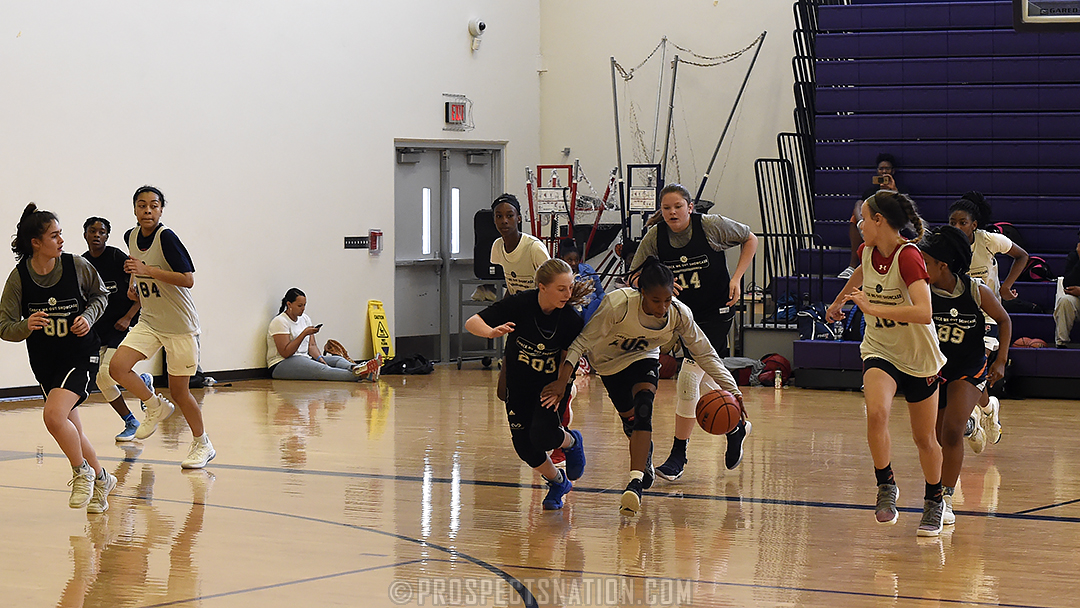 Taryn Wills protects the ball in transition at the 2018
Check Me Out Texas Showcase. *Photo by Rob Kinslow.Wills is a flat out bucket getter. She out-jumps her opponents on the offensive glass because her timing and ability to read the ball off the rim is fantastic. Getting the rebound is hard enough, but after she gets it she is able to finish with contact against taller players. She uses shot fakes really well and cleans up all of the boards.
Yumon Simien (Houston, Texas), Rice Warriors Legacy – 2019
Simein is a player you want on you team for reasons other than putting the ball in the basket. She is constantly talking on both ends of the court and letting her teammates know what is going on. She is her team's thermostat and can change the intensity on either end of the court at anytime with her energy. She causes issues for guards when she is playing defense and is not afraid to guard somebody full court.
Corral is a former professional player, standout at USC and a high school All American. She is the owner of Ashley Corral Performance Training and is a lead trainer for the Check Me Out Showcase camps. She is a contributor to the ELITE is EARNED Report as well. She can be reached at ashleys.corral@gmail.com