First Look: Elite 100 Showcase
Posted
8 months 2 weeks ago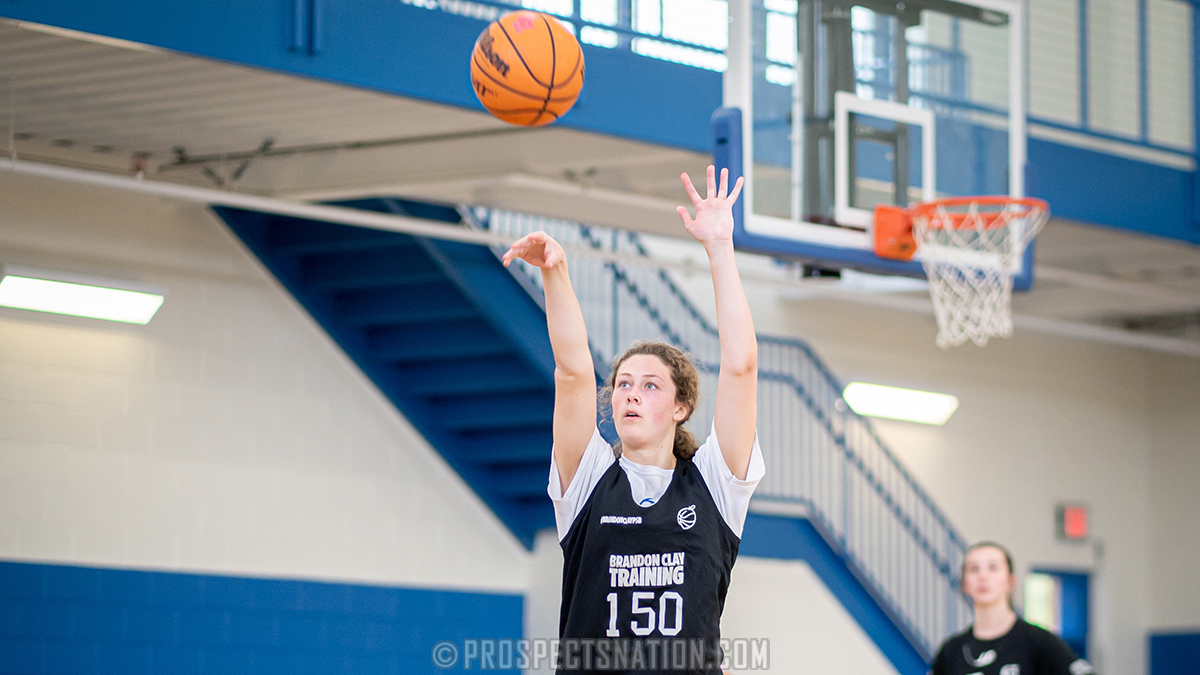 Sarah Gordon of Vestavia Hills, Alabama, elevates for a jumper. *Photo by Tony Lugardo.
BUFORD, Georgia – The Brandon Clay Elite 100 Showcase allowed some of the nation's elite prospects to take center stage before the start of the club basketball season. We offer a Shooting Session Evaluation ahead of the start of the Showcase. Here are the first set takeaways from that workout:
Allee's overall shot is solid with range to the 3-point line. I watched her in a school game earlier in the winter and liked where she's headed. This eval confirmed that. Mechanically, Allee's right elbow is winging just a bit. Her release point will get higher as that elbow comes in under the ball on the catch. That said, all the tools are there for Allee to be a premier shot maker in the Volunteer State in her class. -- Brandon Clay
Bogne has the tools to be a nice midrange shooter with the ability to advance to the 3-point line in the next six to 12 months. As Bogne gets her elbow under the ball, her release point height will increase. A left-handed shooter, two shots are the same for Bogne. Her consistency is a positive in that way. Her release point is the same which is great and will get higher as her elbow stays under the basketball. Bogne just needs more reps to keep growing. That's a great place to be.
Brady was one of my Watch List new campers from the Elite 100 Showcase. Her right wrist on her shot is consistently floppy which is always a good sign for a shooter on the perimeter. Brady's feet are also good in that regard staying underneath her shoulders more times than not. Going forward until we train again in June, Brady can focus on getting further downhill on the bounce.
Gordon has the length, size and shooting consistency to produce similar results at the next level that Hannah Cook (Univ. of Alabama alum) or Tess Darby (current Tennessee sophomore) have. Gordon stepped into the Elite 100 Showcase on Saturday and shot for shot with two of the best young shooters on the Eastern Seaboard in Bella Ragone (2026) and Finley Parker (2027). Gordon's ability to catch and fire makes her a unique prospect in the class. She'll continue to work on her ability to get downhill off the bounce this spring / summer with Southeast All Stars.
Frasz has all the tools to be a good shooter. When she slows her feet down, she showed here that she can be a consistent shot maker possessing range all the way out beyond the 3-point line. Simply put, Frasz is a worker. She flew in a couple days early for the start of school post-Spring Break just to get an extra session in with myself and former pro, Xavier Johnson.
Maradiaga is a hard worker with a good pace about her game. Right now, focusing on sticking the landing and keeping her shooting elbow are the main points of emphasis until we meet again in June. Maradiaga can create shot opportunities using her quickness and speed. She still has a world of room for growth. The tools and work ethic are there for it to happen.
I love that Watkins shot is consistent and shooting pocket is the same. It's hard to find stretch forwards at this stage who already have both of those things in play. In time, Watkins can add a consistent tall follow through. That would be an area I look for her to focus on before we train again in early-June. Watkins outside range will increase as her physical strength does. Some of that will just be a matter of time doing what time does.

Brandon Clay serves as the Director of Scouting for ProspectsNation.com and owns The BrandonClayScouting.com Evaluation Report, which is read by more than 200 colleges and universities nationwide. He also serves as the Executive Skills Director for the Brandon Clay Scouting Academy Series.