Five Takeaways: Check Me Out 2015
Posted
7 years 9 months ago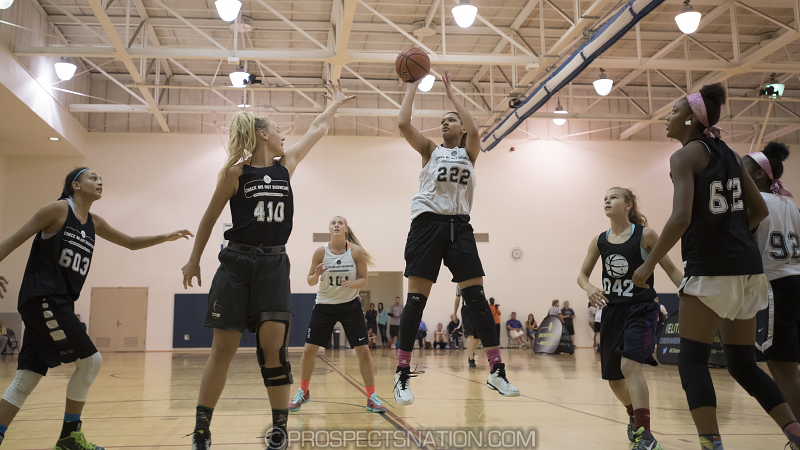 Lexi Gordon of Fort Worth, Texas, showed why she is one of the top wing-forwards in the 2017 class at the 2015 Check Me Out Showcase in Seattle, Wash. *Photo by Glenn Nelson.
SEATTLE, Wash. -- With 130 of the top prospects in North America under one roof, there was no shortage of talent for McDonald's All-American and Naismith Trophy voters on hand to take note of. Here is what we learned from the fourth annual Check Me Out Showcase:
From the opening tip, the class of 2017 wing seemed bent on showing her prowess on the defensive end of the hardwood. In the process, Westbrook who hails from Salem, Ore., proved that she is arguably the premier perimeter defender nationally regardless of class. She guarded point guards and wing players alike, making it hard for anyone to advance the ball into the half court let alone get a quality shot off.
Ionescu's ascent into the elite discussion of prospects in the senior class continued with her play here. Ionescu, a five-star floor general from Walnut Creek, Calif., consistently made passes reserved for players playing in the WNBA and highest levels of college basketball. As the camp went on, she made teammates better including a mean 1-2 combination with ELITE 100 senior wing Mikayla Pivec of Lynnwood, Wash. Expect Ionescu's name to be in the mix with multiple postseason accolades — McDonald's All-American, Naismith Trophy All-American — next spring.
Confidence is key to be successful at the collegiate level. Both Aislinn "Ace" Konig of Surrey, B.C., and Amber "Sauce" Ramirez of San Antonio, Texas, have games to back up their monikers. Konig, a class of 2016 North Carolina State commit, would be a top five player at the point guard position if she played high school in the States, as she did in her freshman year. She has legit size at 5 feet 10inches, can handle the ball, distribute and score it as well. A match up with the aforementioned Ionescu gave Konig a stage to prove her mettle and she did just that. Ramirez, who is currently the No. 3 guard in the class of 2016, matched Konig's flavor with her play in Seattle. "Sauce" has arguably the quickest release of off the bounce of any guard nationwide. The skill coupled with her basketball IQ allowed her to shine bright during the event.
Over the course of the past year, class of 2017 forward Lexi Gordon of Fort Worth, Texas, has played her way into the ELITE 60 in the junior class, nationally. Her consistent energy made it easy to identify her as a prospect to watch. That said, it was her advanced skill set which left the biggest impression on the staff and recruiting analysts on hand. Her ability to score the ball inside or outside then defend multiple positions makes her an attractive prospect to schools nationwide. While Gordon showed front-court versatility, Williams of San Antonio, Texas, showed her unique blend of speed and skill in the backcourt. A class of 2017 prospect, Williams is regarded as one of the country's elite players in the class for good reason. She blew by opposing defenders then picked pockets on opposing guards trying to get by her on the other end.
5. The youth movement at CheckMeOut is in full effect.
Whether it was class of 2018 post Sedona Prince of Liberty,Texas, or class of 2019 guard Nyah Green of Allen, Texas, the amount of underclass talent on hand was overwhelming at times. Both Green and Prince will have legitimate opportunities to earn five-star status in their respective classes. With lead instructors Chris Hyppa and Arvin Mosley Jr. giving specific instructions, the youngest in charge showed that they are capable of bringing the energy. Class of 2018 guard Gina Marxen of Sammamish, Wash., and class of 2018 guard Desiree Caldwell of Lubbock, Texas, led from the front. At the point guard position, they are two to keep an eye on going forward.

Brandon Clay serves as the WNBA Director of Scouting for ProspectsNation.com and owns The JumpOffPlus.com International Report, which is picked up by more than 150 colleges and universities nationwide. He serves as the Executive Camp Director for the Elite Basketball Academy Camps. He serves on the Naismith Trophy Men's / Women's College Player of the Year Academy and is chairman of the HS Boys / Girls Board of Selectors.