Freshmen Shine At Spring Showdown
Posted
6 years 1 month ago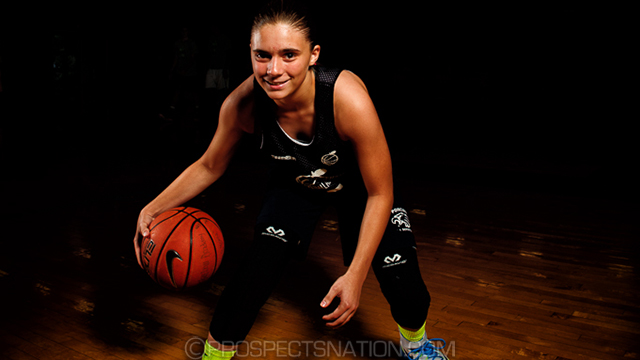 Taylor Stelley of Kissimmee, Fla., first got on the ProspectsNation.com radar at the EBA Super 64 Camp. *Photo by Ty Freeman.
LAWRENCEVILLE, Ga.-- Day two of the PSB Spring Showdown picked up the intensity as teams competed for their respective bracket championships. The two-day tournament is the tip off to the travel season and sets the bar for the upcoming summer circuit. Here are a few standouts from championship day.
Class of 2019 forward, Jordan Isaacs of Dallas, Ga., had a strong showing throughout the weekend. Issacs' stands at 6 feet 1inch and runs the floor as well as any post player in her class. Jordan has great timing on blocks and has the ability to grab the board and lead the break for Team Elite Pointer.
The talent on Team Elite is evident, but the sleeper performance from that team came from class of 2019 guard Aniaya Jester of Griffin, Ga. Jester is a very explosive athlete with a bit of a junkyard dog mentality. Her ability to push the tempo gives Team Elite the advantage in transition. Jester slashed through the lane and finished with a side-stepping euro through traffic on multiple occasions.
Cayln Richardson, a class of 2019 guard out of Orlando, Fla., impressed for Florida Lightning Prime. Her energy and defensive intensity set the tone in the backcourt for the Lightning. Cayln causes havoc for her opponents because she is so active on both ends of the floor. The combination of Richardson and class of 2018 guard, Taylor Stelley of Kissimme, Fla., were too much for the Georgia Sting in final game, as the Lightning were crowned the champions of the JLHemingway bracket.
Class of 2019 guard Kai Carter of Atlanta, Ga., showed her ability to score on a variety of levels for Pistols East Elite. At 5-11, Carter uses her size advantage well on the perimeter to back down the smaller defender and finish at the basket, as well as to pull up and shoot over the top.
The offensive performance of the day came from Aubriana Bonner of Augusta, Ga. Bonner, a class of 2017 guard for the Georgia Sting, exploded for 30 of her team's 40 points in the championship game. The Sting were down 26 points in the second half and Bonner single-handedly pulled them within four points with under two minutes to play.

Rebecca joined the team at the end of 2012 and quickly made her presence felt as our in-house contributor for Peach State Media during all events and now as a writer for Prospects Nation. She's been in the community as a columnist since 2008 and also serves on the Naismith Awards selection committee. Rebecca played college ball at both Kentucky and North Carolina.