Posted
2 years 10 months ago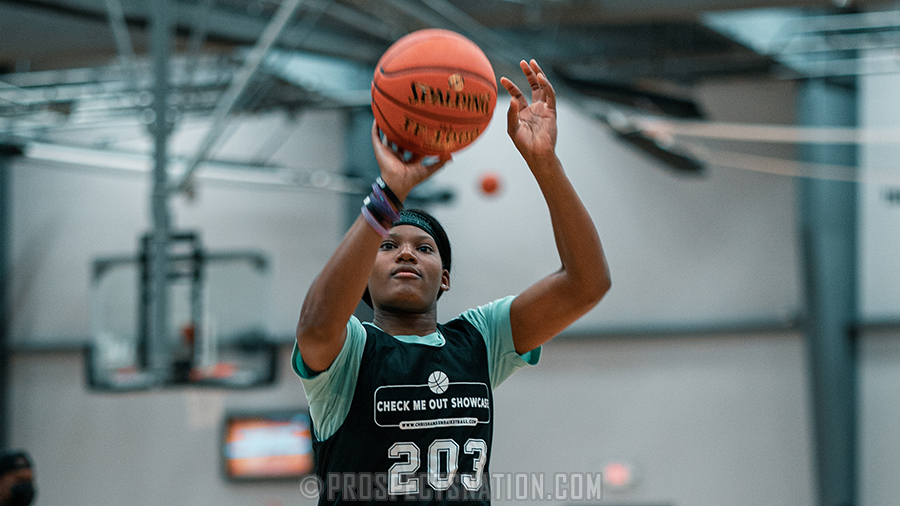 Sania Feagin of Forest Park, Georgia, was dynamite in Dallas at Friday Night Lights. *Photo by Anthony Lugardo.
DALLAS, Texas – The inaugural ProspectsNation.com Friday Night Lights Academy is poised to become the nation's premier single night to train with and compete elite competition. Here are the takeaways from the session:
Adams came into the weekend ready to show that she is capable of being an elite level hybrid forward. With her energy and pace on both ends of the hardwood, Adams did just that. She plays the game in a different way than most at the position.
Bollin committed to Duke shortly after this session in Dallas. The Blue Devil coaching staff is getting a first class kid and worker. Bollin's demeanor allows her to not get caught up in the monotony of rep after rep during instruction. That gives her a chance to be special in Durham.
Dorroh has been around our staff at various points throughout her entire high school career. She's filled out physically and is maturing into a prospect who has a chance to put all the pieces together during her career in Columbia.
Ducharme's workmanlike attitude every she steps in the gym to train has not gone unnoticed. It's the type of lunch pail, blue collar outlook on the game that should go over well with the coaching staff in Storrs next season.
For as talented as Feagin is today, there's still another level that she should tap into during her college career. Feagin's length, mobility and interior scoring presence cannot be replicated but by a select few in this class.
Haines proved over the summer that she's one of the nation's premier shot makers. She has the range and confidence to let it fly from anywhere inside the volleyball line right now. In that way, Haines is the ideal floor stretcher.
Kampschroder goes down in the books as a major stock riser during the 2020 year. The future Oregon State star has the size and skill to play three if not four positions on the floor coupled with the athleticism to be effective in doing so.
Krahn is everything colleges are looking for in a multi-faceted guard. She has the skill to knockdown shots on one end then come right back and be a solid defender on the other. Krahn has genuine leadership ability too.
Chris Hansen is managing editor of ProspectsNation.com and serves on the McDonald's All-American and Naismith Trophy selection committees. He was a co-founder of and the national director of scouting for ESPN HoopGurlz from 2005 until 2012 and is the director of the Check Me Out Showcase and ELITE is EARNED events. He can be reached at chris@prospectsnation.com.