Gabby Williams To Connecticut
Posted
8 years 4 months ago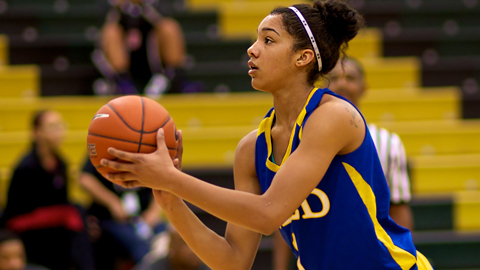 Gabby Williams is ranked 15th in the ELITE 60.
*Photo by Chris Hansen.
For Gabby Williams, the 5-foot-11 guard from Reno, Nev., being great is not only a dream, but her expectation. So it's no wonder the Olympic-level high jumper wanted to reach the highest levels of basketball, and decided Connecticut was the place she could do that.
"All of the other programs were talking about her making their team," her father, Matt Williams, said. "UConn said we don't need her but we'd love to have her."
So after an unofficial visit during the second round of the NCAA tournament, and a couple of days back at home to mull it over, Williams chose the Huskies, turning down her two western front runners, Arizona State and Stanford.
Williams' ability to impact the program on the basketball court is undeniable. She is a tremendous playmaker with unmatched athleticism. The question will be how that evolves with her plans on participating in track as well as going after a gold medal in the 2016 Olympics?
"That's going to be a discussion between she and her coaches," her father said, adding that the Huskies' head coach Geno Auriemma is supportive of her track goals.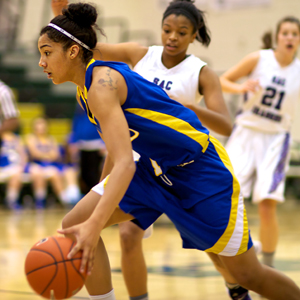 '14 ELITE 60 guard Gabby Williams.
*Photo by Chris Hansen.
Williams is currently eight weeks into her recovery from surgery to repair a torn anterior-cruciate ligament, but two of the biggest things for the 16-year-old junior star happened just two weeks before her injury -- UConn assistant Shea Ralph flew out to Nevada to see her play and she got her driver's license.
She's driving now, and is full speed ahead on her physical therapy and rehabilitation.
Adding Williams to the 2014 class with prior commits Sadie Edwards, a 5-10 point guard from Meridan, Conn., and Courtney Ekmark, a 6-0 wing-guard from Phoenix, Ariz., gives the future Connecticut backcourt plenty of length and a multitude of skills and styles to utilize.
Williams may be the best equipped to replace the versatility of current senior Kelly Faris, though the two are completely different athletes. Williams has the strength and quickness to defend four positions on the court, and the ball skill to play any perimeter position offensively with ease. And the prospect of getting to use all those playmaking skills is perhaps the most exciting part of this decision if you are a UConn fan.
"The great thing about UConn," her father said, "she's not going to get double and triple teamed. I'm not sure that would have been the case at the other schools recruiting her."
In addition to the guards committed in 2014, Connecticut has 2013 signee Saniya Chong, a 5-9 combo guard form Ossining, N.Y., and returning underclassmen Briana Banks, Moriah Jefferson and Kaleena Mosqueda-Lewis, making for one of the deepest perimeter rotations in the country for the 2014-15 season. Follow @ChrisHansenPSB
Hansen is managing editor of ProspectsNation.com and a McDonald's All-American selection committee member. He was the national director of scouting for ESPN HoopGurlz from 2005 until 2012. He can be reached at chris@prospectsnation.com.