Good Vibes At USA U17 Trials
Posted
6 months 1 week ago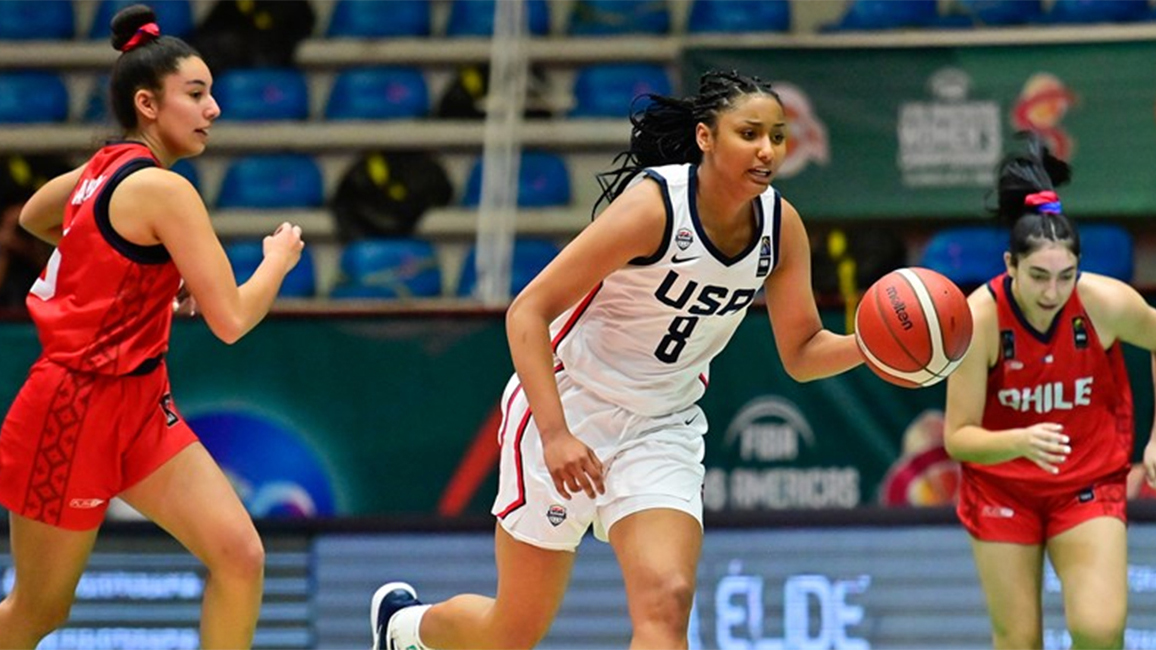 Judea "JuJu" Waktins at the 2021 FIBA Americas Cup. *Photo courtesy of USA Basketball.
COLORADO SPRINGS, Colorado – It's a vibe.
That's the feeling in the gym for USA Basketball's U17 National Team trials. Even with media access limited to one session per day, it doesn't take a minute to see the players in a better environment and they're thriving.
"Energy was definitely different," Jada Williams, a returning U16 point guard from San Diego, California, said. "Vibes are better here. We get to talk to more people. We don't have to wear a mask. We can go eat together, just like create bonds. That's really what's fun about basketball, you get to meet new people and you have a lot of fun."
That change is noticeable by everyone who was here last summer.
"Last year with Covid and everything, everybody's kind of isolated," Judea Watkins of Sylmar, California, the U16 team's leading scorer, said. "And here you know we got dorms, we're with everybody, we have roommates back at the facility so I'm happy to be here, happy this is my returning year."
The bonding is a real thing, both for new and returning players. But it's the returning players setting the tone.
"I like to talk a lot," Williams said in maybe the understatement of the year. "I like to meet new people, so just being able to like get the 2025's out of their shell a little bit, because I was nervous the same way they were."
The 2025's are two full graduating classes behind the oldest players at trials and thus have had no exposure to this environment. Many are risking getting cut for the first time in their careers.
Watkins and Williams are keenly aware that with power comes responsibility and they're taking that leadership role seriously.
"I think being a returner, just helping others, that's a major thing," Watkins added. "USA is all about team first. Helping my teammates, I already know the plays so helping them learn them and being a facilitator, more of a leader. You know other people are coming for my spot but it's my job to secure it."
And there is the reality of what this is, a tryout for just 12 spots. Historically there is turnover in roster between the U16 and U17 rosters.
"I love it," Watkins said. "I feel like everybody tries to play their best game against me. So being one of those players that always brings it to the court, people who guard me guard their hardest, so I'm inspired. They always inspire me to go harder and prove who I am."
There's a bond among the returners.
"I think we all have that connection because we were with each other for a lot of the summer last year and we know a lot of what Coach Sue wants," Williams said.
There are inherent advantages knowing what returning head coach Sue Phillips expects, what her offense looks like and her overall plan for the team.
"I'd say we're definitely rooting for each other," Williams added. "We had a lot of fun last year. We created a sisterhood bond last year, so it's like we're all connected in a way it's like 'let's do this thing lets run it back' is our motto right now."
There is another reality that is more relevant to the returns, the challenge of FIBA Worlds this summer will be exponentially more difficult that last summer's FIBA Americas where Team USA won by an average margin of 88 points.
"That mindset is already changing," Watkins said. "You can feel the energy. Coach is way more serious, she's been around the block, more serious and we're feeding off her energy."
The growth is going to be needed and the advantage for Watkins, Williams and the rest of the returners isn't be wasted.
"I think I'm kind of used to it," Watkins added. "Last year Coach was on me about that. You know make sure you're making the extra pass. And now it's just kind of natural."
The team announcement is fast approaching and getting ready for Hungary in July. Adding to the intrigue is this is the first U17 World Cup under new Women's National Team Director Briana Weiss.
AROUND THE RIM
Notable omissions from last year's team, Maggi Mendelson, is two-sport athlete with volleyball and basketball, and is not here, and Grace Slaughter is still recovering from her ACL surgery. Also, KK Arnold is present but not competing due to an undisclosed injury.
ProspectsNation.com No. 1 ranked player in 2023 Mikayla Williams of Bossier City, Louisiana, looked sharp in Friday's open session. She and Watkins have set a high bar for wing play going forward.
Jadyn Donovan showed out as a force that can play multiple positions. Her ability to rebound and beat anyone to 50-50 balls shows often.
Blanca Thomas, a 6-5 post is an intriguing player to watch for an interior spot with the aforementioned absence of Mendelson and Slaughter.
Of the 2025's Sienna Betts of Centennial, Colorado, showed she was comfortable in the pressure cooker. Like Thomas she's in the mix for the wide-open interior competition.

Chris Hansen is managing editor of ProspectsNation.com and serves on the McDonald's All-American and Naismith Trophy selection committees. He was a co-founder of and the national director of scouting for ESPN HoopGurlz from 2005 until 2012 and is the director of the Check Me Out Showcase and ELITE is EARNED events. He can be reached at chris@chrishansenbasketball.com.