In The Gym With Kylee Kitts
Posted
9 months 1 day ago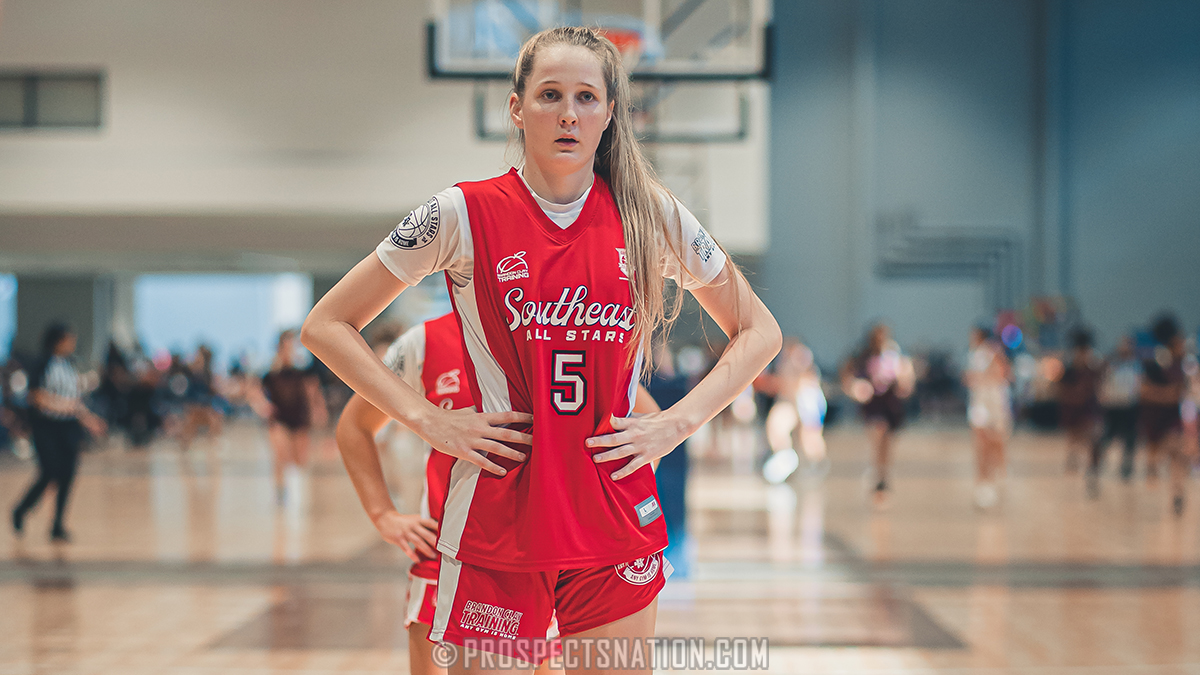 Kylee Kitts with her Southeast All Stars team at the 2022 Nike TOC in Chicago, Illinois. *Photo by Anthony Lugardo.
OVIEDO, Florida – Class of 2025 forward Kylee Kitts is building a following across multiple conferences with her play the past summer and during her sophomore year at Faith Christian. She heads into the spring season ranked No. 25 in the ELITE 150. Her recruitment includes ACC, Big 12, Big Ten and SEC schools as well as the American Athletic, Missouri Valley conferences.

Confidence is key and this summer there was huge growth. Now standing 6-4, she's using her mobility and size combination really well. Over the past two years we've worked with her at multiple Elite Is Earned CMO camps. It's be fun to see her try to find ways to use her gifts. Last summer we snuck in shooting session at the Overtime gym in Atlanta where she shot the cover off that thing. Seeing that expanding range combined with her face-up skills is going to make her a tough player. Add in ball screen actions where she can roll, pop, slip and I think could pick up the Klay option easily. Since we get to work with her multiple times a year we also get to see her interact with other players and her intangibles as a teammate are a definite plus too.

Kitts has come a long way since our time on the floor together at the home of The Skill Factory in Atlanta last spring before the Southeast All Stars club season began. Currently ranked as an Elite 30 recruit nationally by ProspectsNation.com, Kitts has grown a couple inches since last spring and stands at a legitimate 6-foot-4 now. Kitts ability to make plays with either hand on the interior while backing it up with range out to the 3-point line makes her one or the country's premier prospects. After winning a state title last week, she's poised for a breakout spring / summer recruitment wise adding to a trajectory that already includes NCAA Tournament caliber programs from around the country.

Chris Hansen is managing editor of ProspectsNation.com and serves on the McDonald's All-American and Naismith Trophy selection committees. He was a co-founder of and the national director of scouting for ESPN HoopGurlz from 2005 until 2012 and is the director of the Check Me Out Showcase and ELITE is EARNED events. He can be reached at chris@chrishansenbasketball.com.

Brandon Clay serves as the Director of Scouting for ProspectsNation.com and owns The BrandonClayScouting.com Evaluation Report, which is read by more than 200 colleges and universities nationwide. He also serves as the Executive Skills Director for the Brandon Clay Scouting Academy Series.