Henderson Chooses South Carolina
Posted
6 years 2 months ago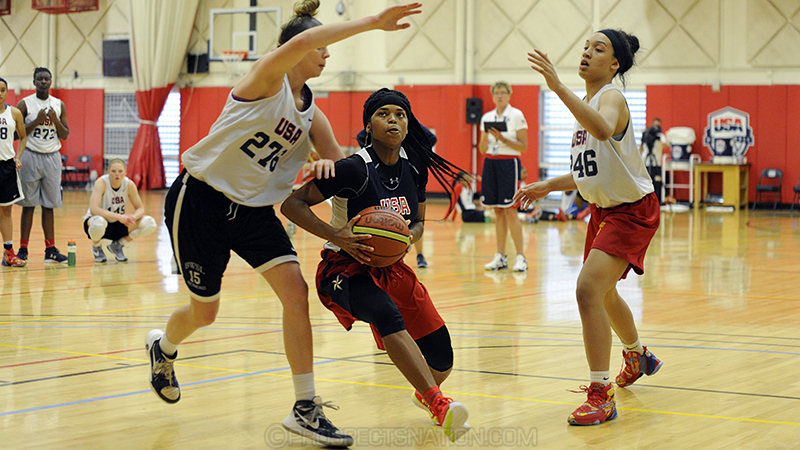 Destanni Henderson is ranked in the top 10, has USA Basketball experience and now has her future home figured out as well. *Photo by Chris Hansen.
The New Year has brought great news for South Carolina head coach Dawn Staley as she landed one of the top guards in the 2018 class with the verbal commitment of Destanni Henderson. Connecticut, Florida State, Miami and Notre Dame were also involved in her recruitment.

Destanni Henderson helped put the
Florida Future on the map in elite
grassroots basketball. *Photo by
Ty Freeman.In 2014 our ProspectsNation staff saw Henderson for the first time as just an 8th grader. Her ability to handle the responsibilities at the point guard position stood out immediately as she controlled tempo, pressured the basketball, and made plays with the ball in her hands. Stephen Peck contributed Henderson's first evaluation from our staff; you can find it below.
4/24/14 - PSB Tip-Off Classic (Suwanee, Ga.)
Destanni has the tools to be a prominent contributor to her team. She is a tenacious defender and plays with energy on both ends of the floor. She makes smart plays and doesn't take bad shots. Henderson could be a primary scorer.
"Henderson continues to show and prove why she's one of the nation's most highly recruited backcourt prospects," Brandon Clay, director of the JumpOffPlus.com International Report, said. "Armed with the skill to make the outside jumper, create in the lane or find the open teammate, Henderson is capable of beating opposing defenses in multiple areas. On the other end of the hardwood, the ultra-athletic guard is quick to rip opposing ball handlers and turn their misfortune into an easy transition layup."
All attributes that should lead to success for the Gamecocks.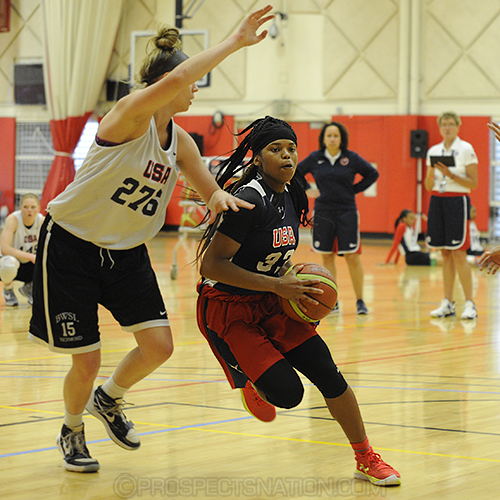 Henderson made the USA Basketball U17 national team
in 2016. *Photo by Chris Hansen."Destanni Henderson has been on our radar for years as one of the nation's best perimeter scorers," Jonathan Hemingway, assistant director of scouting for ProspectsNation.com, said. "Her playmaking combined with her long-range shot making abilities have earned her a 5-star rating. What impressed me the most this summer at the PSB Power 48 was her passing. She played with supreme confidence and seemed to gain joy out of setting her teammates up for easy buckets. The steps that she is taking as a prospect lead me to believe that she will be an impact player the moment she steps onto a college campus."
After a couple of impressive summers, Henderson earned the starting role as the point guard for the USA Basketball U17 national team. From an evaluation standpoint, this experience showed two things about Henderson's abilities -- that at an elite level, Henderson can be a dynamic scoring point guard and as she makes the transition to college from high school she will need to be more vocal and in command of her team. With her physical tools and the playmaking ability proven to be strong assets, the next step for her development is learning to take control of a team and getting the ball to the right people at the right times.
Henderson is the first player for South Carolina in the 2018 class. She comes in on the heels of the No. 7 ranked 2017 signing class.
2017 Gamecock Class
2018 Gamecock Class
Keil Moore is the Director of Scouting for the JumpOffPlus.com National Scouting Report and international scouting report. He serves on the Naismith Trophy Board of Selectors and has been a member of the women's basketball community for more than eight years as a trainer and evaluator. He can be reached at keil@prospectsnation.com.

Chris Hansen is managing editor of ProspectsNation.com and serves on the McDonald's All-American and Naismith Trophy selection committees. He was a co-founder of and the national director of scouting for ESPN HoopGurlz from 2005 until 2012 and is the director of the Check Me Out Showcase and ELITE is EARNED events. He can be reached at chris@prospectsnation.com.