History Repeats Itself With Collier To UConn
Posted
6 years 4 months ago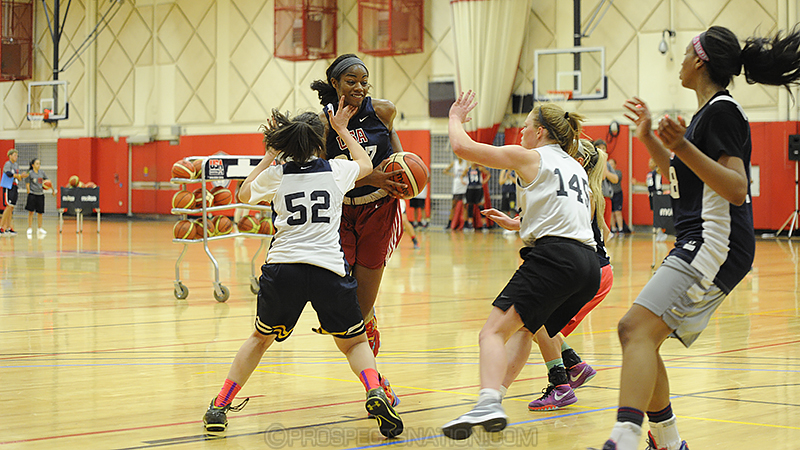 Charli Collier of Mont Belvieu, Texas, splits a double team at the 2016 USA Basketball U17 national team trials. *Photo by Chris Hansen.
History repeats itself.
So when the No. 1 player in the 2017 class, Megan Walker of Chesterfield, Virginia, committed to Connecticut this fall, the commitment of the 2018 class' top ranked player should have been all but assumed.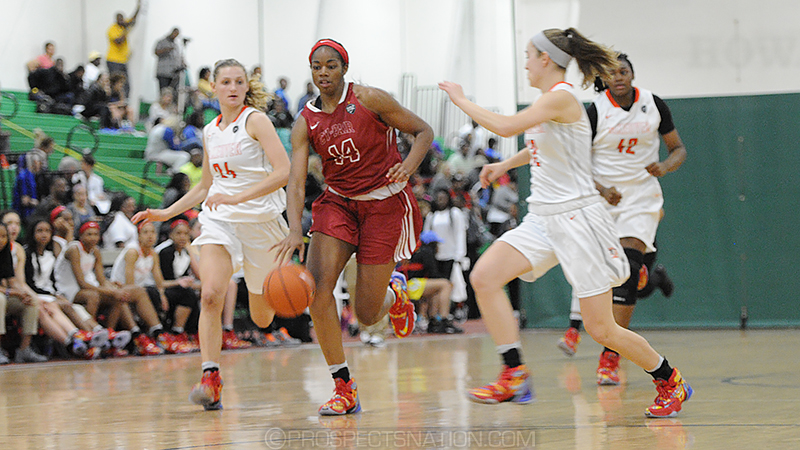 Charli Collier is a big with versatility built into her
game. *Photo by Chris Hansen.Since 2006, every time UConn has landed a recruit ranked No. 1 in her class, they have followed it up the next year with the same. Maya Moore from the 2007 class followed Tina Charles from 2006, even if you don't officially count Elena Delle Donne in 2008 since she transferred before playing a game there. In 2011 it was Kaleena Mosqueda-Lewis followed by Breanna Stewart in 2012.
Saturday afternoon history rang true again when Charli Collier of Mont Belvieu, Texas, committed to Connecticut. The 6-foot-4 post will come in at the perfect time as the Huskies' sole true post player, Natalie Butler, will run out of eligibility after next season.
But Collier is more than just a post player. While she showed all the skills and physical ability this summer with her Cy-Fair Elite EYBL team to be a back to the basket post, she also has the tools to be deadly in the face up game. Early on in her prep career it was a small criticism of her game that she took too many jumpers.
"Collier is the best low post scorer in the country," Keil Moore, ProspectsNation.com director of scouting, said last month. "If used correctly at the next level she should demand double teams and make the game easier for her teammates. There just aren't a lot of kids who can impact the game in that way."

Collier could continue the pattern
of UConn landing back to back
No. 1's. *Photo by Chris HansenWith current freshman Crystal Dangerfield and strong 2017 signing class of perimeter options, The Huskies should have ample talent around Collier on the interior.
"Although we don't know where Charli Collier will end up rankings wise, the idea that UConn is pairing Collier, our current senior No. 1 overall prospect, with Megan Walker, means they will have the kind of elite inside-outside combination that could bring them multiple championships," Moore said. "It is clear that with this pairing, Geno is reloaded for another half-decade of dominance."
The next question now shifts to 2019 to see if UConn will go for three in a row or if Geno Auriemma and his staff will settle for back-to-back. One of the candidates to for the top spot in 2019, Nyah Green of Allen, Texas, has already committed to Louisville. But it's unlikely anyone will feel sorry for UConn if they can't pull off the trifecta.
2018 Commits
2017 Signing Class

Chris Hansen is managing editor of ProspectsNation.com and serves on the McDonald's All-American and Naismith Trophy selection committees. He was a co-founder of and the national director of scouting for ESPN HoopGurlz from 2005 until 2012 and is the director of the Check Me Out Showcase. He can be reached at chris@prospectsnation.com.