Posted
2 years 3 months ago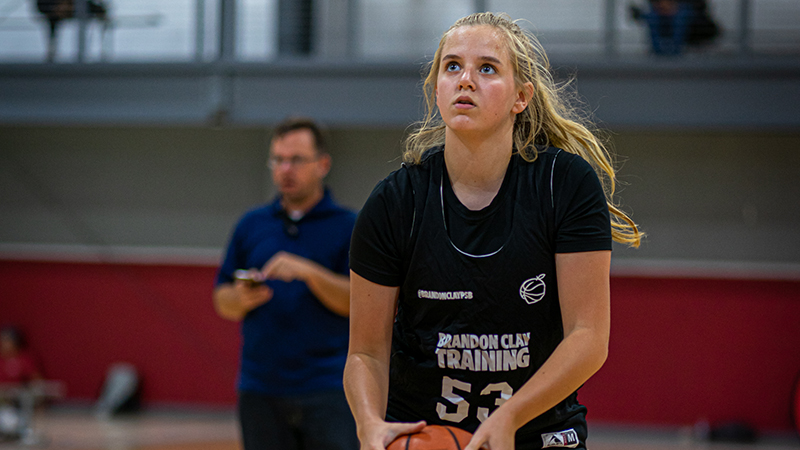 Rachel Smith works on her jumper at the BCS National Training Academy's second session in Indianapolis in 2020.
INDIANAPOLIS, Indiana – The BrandonClayScouting.com National Training Academy has become the nation's premier proving ground to train with and compete against elite competition. With 85 campers representing the best that the Midwest has to offer, this edition was no different. Our favorite part of the showcase is working with campers during our Spotlight Session Workout. Here are the takeaways from the session in June:

Macy Brown (East Grand Rapids, Mich.), MBA – 2023
This was our staff's first opportunity to train with Brown in this setting. She's got all of the tools physically to be a premier prospect in the region over the next three years. Brown is dialed in and seems to embrace the process of getting better. She has two older sisters who have paved the way showing her where hard work can lead to. Macy seems poised to take full advantage as a slashing option off the bounce capable of hitting the open jumper as well.
Brown is a tough cookie. She is one of the rare players in the game today at the high school level who can actually pull off the Draymond Green style of play. Brown has the skill to handle the ball at the point then defend a bigger 4 player on the other end of the hardwood the very next possession. Most games, Brown will be an effective wing player primarily but that versatility will serve her well at the next level.

Maya Osborn (Marshall, Illinois), Heart of Illinois – 2022

Osborn has been in the gym with us on multiple occasions training. Her growth is evident with each time we get back together again. She's a leader, a worker and a joy to be around. Osborn is one of those special players who can make every workout a little easier for everyone involved with her energy. On the floor, she has taken the next step with her jumper consistently showing range beyond the 3-point line coupled with a willingness to get her teammates involved early and often here.
This was our staff's first opportunity to train with Krupa. We'd heard a good buzz about her play during the season. It was well warranted. She is a more than capable threat in the frontcourt with a true modern day 4 player feel to her game based on her work here. Krupa has the range to make defenses guard her all the way out to the 23-foot mark. In that sense, she is in exclusive company nationwide with frontcourt options with that type of shooting range.

Allie Pollock (Hot Springs, Arkansas), CFE Arkansas – 2023

Like Krupa, this was our staff's first chance to train with Pollock. She showed herself much in the same way as a faceup frontcourt option with a blend of size and skill. Over the next three summers, look for Pollock to be increasingly comfortable facing the basket in elite situations such as this one. She has a chance to be a quality prospect who can rebound in area and keep opposing defend her to the 3-point line.

Ashlynn Shade (Noblesville, Indiana), Lady GymRats – 2023
After her performance at our Academy last fall, we left with the vibe that Shade is one of our favorite players in the country to train with. She walks in with no pretense, laces up her sneakers and gets to work. The result so far is a much improved outside shot with a more consistent follow-through and release. Shade's athleticism is elite without question. Her skill set is headed in the same direction. Stay tuned.

Chloe Spreen (Williams, Indiana), Lady GymRats – 2024
Spreen's talent and work ethic for a prospect who hasn't played a high school game yet is beyond her years. She has the skill, size and athleticism to be a major factor on the hardwood for the foreseeable future. Offensively, Spreen has a chance to have the same type of impact and ability that Sydney Parrish did during her high school career. On the defensive end, Spreen has a good feel for the game and is a willing rebounder from the wing.

Smith was just with us in Atlanta two weekends again and is really committed to growing her game. Our staff is starting to see signs of her being a consistent shooter inside of elite competitive drills. She's got bonafide college prospects closing out to her still hitting the open jumper. Smith is also showing the beginning of being able to attack into a pull up floater when the closeout is a hard one from the defender.

Trinity Thompson (Gary, Indiana), Lady GymRats – 2021
It's hard to find frontcourt prospects with the grit to be consistent in producing on the interior. Thompson does just that while displaying more than enough touch to remain a relevant in the game with her shooting ability. She has the potential to be a double-double type of state producer at the next level using her size to rebound, outlet and get a basket on the other end of the floor.

Rucker continues to impress our staff with her attention to detail and shot making ability. She is a literal swiss army knife on the floor with the skill set to play multiple positions and the toughness to defend players with four to five inches on her. Rucker's skill set and versatility lend itself perfectly to the modern day college game regardless of level.

Timothi Williams (Georgetown, Kentucky), Lady GymRats – 2022

Williams can put the ball in the basket. It's worth adding her to the list for college programs needing a dynamic guard capable of getting a bucket. Williams offsets her slight frame with a quick trigger on the outside shot forcing defenses to keep an honest eye on her movements as a result. She is a candidate to make a shot off of her own play creation or as a recipient of the catch and shoot off a kickout.

Emily Vantimmeren (Allendale, Michigan), Jenison JH – 2025
Vantimmeren is a young prospect who already has the length to project as a future hybrid forward in due time. She is growing her game from a skill development standpoint but will be an intriguing option to track inside of Michigan for the next five summers. Vantimmeren showed that she'll put the work in and was dialed in to the instruction given here.

Brandon Clay serves as the Director of Scouting for ProspectsNation.com and owns The BrandonClayScouting.com Evaluation Report, which is read by more than 200 colleges and universities nationwide. He also serves as the Executive Skills Director for the Brandon Clay Scouting Academy Series.