Indy Encore Spotlights II
Posted
2 years 5 months ago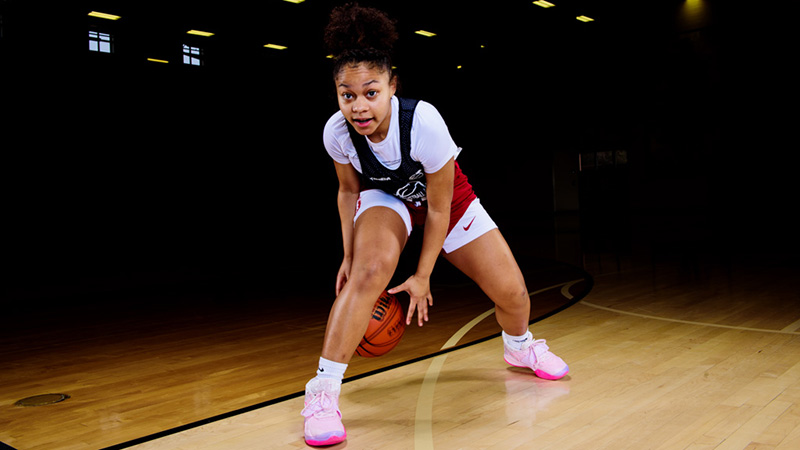 Joirdan Smith of Fishers, Indiana, has been with us multiple camps and has improved each and every time.
INDIANAPOLIS, Indiana – The BrandonClayScouting.com National Training Academy has become the nation's premier proving ground to train with and compete against elite competition. With 85 campers representing the best that the Midwest has to offer, this edition was no different. Our favorite part of the showcase is working with campers during our Spotlight Session Workout. Here are the takeaways from the first session in June:
Braxcynn Baker (Lowell, Michigan), MBA – 2024
Baker is establishing herself as a young prospect to keep an eye on in Michigan. She's got a smooth game in the backcourt. As her frame develops and fills out, expect Baker's length coupled with her skill set to allow her to be a name our readers will think of as consistent scoring threat inside the state of Michigan.

Anaya Brown (Lexington, Kentucky), Lafeyette HS – 2022
Brown has the size and length that colleges nationwide immediately take a liking to. In this elite setting, Brown did a good job with the numerous next level footwork and concept drills that were thrown her way. As the game is being played currently, Brown could play multiple frontcourt positions depending on the pace and style of a game. In that way, her versatility is a major plus already.

Cadence Dykstra (Grand Rapid, Michigan), Grand Rapid Storm – 2023
Dykstra's got a nice bounce and athleticism to her game. She really got going in the latter part of the session finding a pace inside of the skill work and showing her talent in the process. It's hard to come by guards capable of creating scoring chances with their burst. That's exactly what Dykstra showed here.

McKenna Ferguson (Grandville, Michigan), Grand Rapid Storm – 2023
This was our first time getting on the floor with Ferguson and her attitude nor skill set came in under expectations. She's a strong-framed off the ball option on the perimeter. She can shoot it from the wing showing the ability to be a floor spacer in that way. Ferguson's dedication to her craft even during the pandemic was on full display once she got in a rhythm shooting the ball here.

Madeline Freeth (Avon, Indiana), Covenant Christian – 2023
This was our staff's first time working with Freeth. She has the size and attitude to be a capable sharp shooter in due time. Right now, it's about putting in the time with quality repetitions and consistency. She was a model camper combining a willingness to be coached with the effort it takes to blossom in environments such as this one.
Karley Hawkins (Chatham, Illinois), Predators – 2024
Hawkins is a dynamic young guard who has a chance to really grow from this initial evaluation. She's got a fantastic work ethic usually found in guards who already have high school experience. Hawkins is ahead of the game skill wise and effort as she waits for her physical development to run its' course. That's a good place to be.

Taryn Jackson (Lowell, Michigan), MBA – 2024
Jackson showed a smooth demeanor and game in this setting. Nothing sped her up as she was taking footwork instruction that should help her jumper continue to grow. In that regard, Jackson is a talented young guard with a high ceiling as her frame continues to fill out based on what she showed here.

Kiarra Loveless (Westfield, Indiana), Indiana Elite Excel – 2024
Loveless came into this evaluation displaying the ability to make the open shot with her feet set. In a modern day game predicated on space based on making shots, Loveless fits in perfectly. She also displayed the ability to take her game up another notch creating with the one bounce pull up jumper going by a hard closeout after she's hit a couple of wide open 3-pointers.

Joirdyn Smith (Fishers, Indiana), Lady Team Teague – 2024
Smith is a dynamic prospect at the guard spot who has made significant strides since our February eval. She is a hard worker on the floor and a bright kid in general who has positioned herself to be a quality option in a state full of lead guards. As Smith continues to develop her shot making consistency like she has the past six months, her game will keep rising as a result.
Gabby Spink (Haubsteadt, Indiana), Gibbson Southern – 2025
Spink is a hard-nosed guard capable of making shots in abundance. She's a competitor who showed total concentration inside the skill station really locking in to every teaching nuance thrown her way. Spink's toughness in partnership with her physical ability gives her a really bright outlook for the future on the hardwood.

Monica Williams (Lawrence, Indiana), Lady GymRats – 2023
Williams brings a smoothness to the wing position that couples her emerging skill set with high level athleticism. She is capable of being a consistent scorer from the perimeter whether that be off the dribble drive or catching to shoot the ball. Williams fluidity on the wing caught our attention early and has her firmly on our radar.

Brandon Clay serves as the Director of Scouting for ProspectsNation.com and owns The BrandonClayScouting.com Evaluation Report, which is read by more than 200 colleges and universities nationwide. He also serves as the Executive Skills Director for the Brandon Clay Scouting Academy Series.