Ivey's NBA Detour Leads Back To South Bend
Posted
2 years 7 months ago
If you have any form of social media then Wednesday afternoon was flooded with news out of South Bend, Indiana, that legendary head coach Muffet McGraw stepped down off the perch she built at Notre Dame.
Career wins coming in at 936, with 848 coming while coaching the Fighting Irish, McGraw was inducted into the Naismith Basketball Hall of Fame while still coaching in 2017.
But even if you are not a women's basketball fan or follower, you got the news from one of your sports apps on your smart phone because of who the program hired to replace her. Phones buzzed with news that the NBA's Memphis Grizzlies assistant Niele Ivey was named McGraw's successor. While the NBA connection may not be the first thing that comes to mind if you are a women's basketball fan, it certainly makes the news a national headline.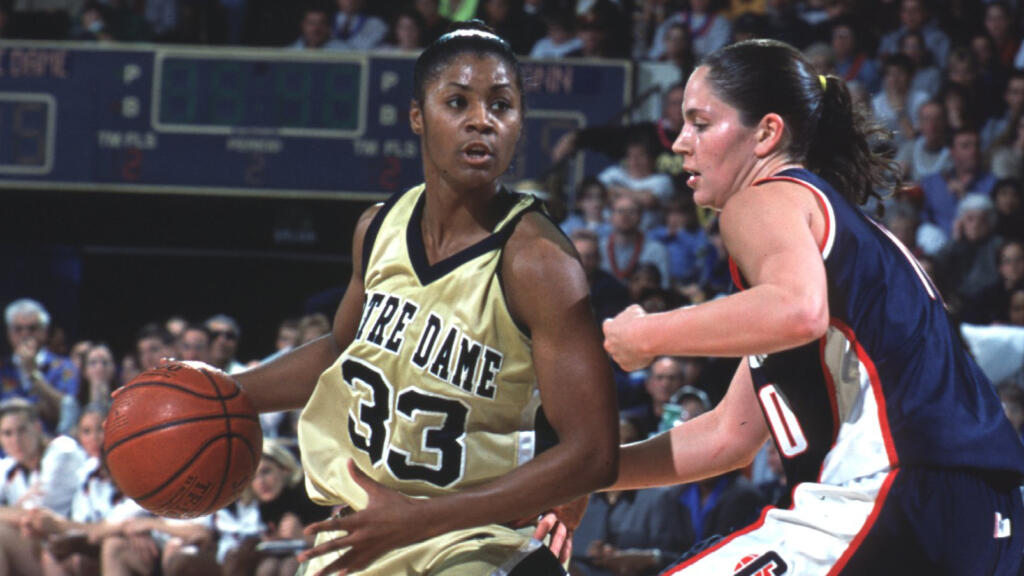 Niele Ivey drives against Sue Bird. *Photo courtesy
of Notre Dame Athletics.Ivey played at Notre Dame, including being on the floor for two of the program's nine Final Four appearances. The other seven Ivey was on the bench as an assistant coach.
Ivey's name was a constant for every major head coaching opening that popped up in women's college basketball until she went to the NBA, a route that has been followed by only one other women's college basketball mainstay, former Cal head coach Lindsay Gottlieb who is with the Cleveland Cavaliers.
Ivey's rise to the first chair in South Bend took a slight detour to Memphis this past season when she left for a position with the Grizzlies. The prevailing thought around the industry was that the NBA brand name was powerful enough that an elite high major assistant could potentially use that route to eschew taking over a rebuilding collegiate program in order to be positioned for the right job.
That's exactly what happened with Ivey in just 12 months on the job. She went from working closely with some of the women's game top perimeter threats in Skylar Diggins, Arike Ogunbowale and Jackie Young to getting daily reps in with Ja Morant, who is one of the NBA's brightest young stars.
Morant is poised to win the NBA's Rookie of the Year award when the season resumes and concludes. In the process, his success will be directly attributed to Ivey's resume and rightly so. Ivey's own son, Jaden, was one of the nation's top 100 ranked high school seniors this past season and is headed to play his college ball at Purdue.
Adding Jaden and Morant from the men's side to her women's basketball resume, she now has access to a whole litany of the premier ball players on either side of the basketball.
Those types of essential relationships are ones to expect Ivey to lean on as she enters the annual battle against the ACC and nation's elite programs for recruits like the ones she was accustomed to coaching before leaving South Bend a year ago.
In the short term the Ivey hiring should empower the team to retain a roster littered with young talent, including the two standout freshmen from this season Anaya Peoples and Sam Brunelle.
In all likelihood, given the early recruiting process for elite players, Ivey had at least some interaction with the Irish four-player 2020 recruiting class, seeing that her NBA detour spanned only one year.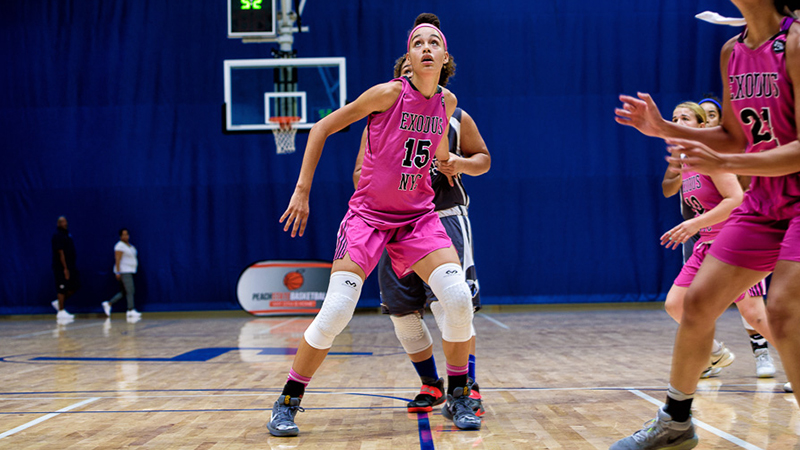 Natalija Marshall of Queens, New York. *Photo by
Ty Freeman."Coach McGraw announced her retirement to our team earlier today, and as we were briefly left in shock and sadness, that feeling transitioned to joy as she told us that Coach Ivey would be our new head coach," Natalija Marshall, the No. 19 ranked player in 2020, said. "Not only am I extremely grateful to have known and built a relationship with Coach McGraw, but I am equally as grateful that I have the ability to be coached by another Notre Dame great. Coach Ivey is someone that I deeply respect and admire and there is not an ounce of regret or reconsideration in me for choosing Notre Dame. We lost a three time Naismith Coach of the Year in Coach McGraw, but we gained another extraordinary woman and coach with winning values and the willingness to do whatever it takes to win. I am extremely excited to learn and grow under Coach Ivey and her staff."
In addition to Marshall, a native of Queens, New York, No. 21 Allison Campbell of Altoona, Pennsylvania, No. 27 Madeline Westbeld of Kettering, Ohio and No. 130 Alasia Hayes of Murfressboro, Tennessee, signed with Notre Dame last fall.
If Ivey can continue the success that she experienced as a player and assistant coach at Notre Dame she can put herself in rare space in the game. If she reaches the Final Four in the lead chair she can join Baylor's Kim Mulkey in reaching that level of success in all three roles.

Chris Hansen is managing editor of ProspectsNation.com and serves on the McDonald's All-American and Naismith Trophy selection committees. He was a co-founder of and the national director of scouting for ESPN HoopGurlz from 2005 until 2012 and is the director of the Check Me Out Showcase and ELITE is EARNED events. He can be reached at chris@eliteisearned.com.

Brandon Clay serves as the Director of Scouting for ProspectsNation.com and owns The BrandonClayScouting.com Evaluation Report, which is read by more than 200 colleges and universities nationwide. He also serves as the Executive Skills Director for the Brandon Clay Scouting Academy Series.