Kicking Off July With A Bang
Posted
7 years 2 months ago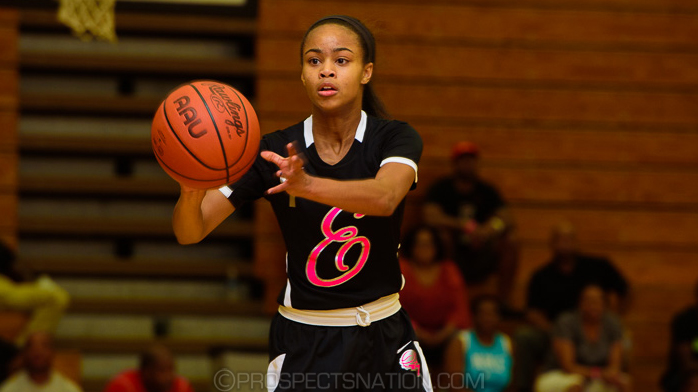 Amaya Register of Johns Creek, Ba., came up big for Team Elite Hubbard at the PSB Summer Kickoff. *Photo by Ty Freeman.
LAWRENCEVILLE, Ga., - Peach State Basketball kicked off the July viewing period with the Summer Kickoff hosted at Central Gwinnett High School. Forty teams from the Southeast competed in front of coaches from 75 colleges and universities in the two-day tournament. Here is a look at the notable performances from the event.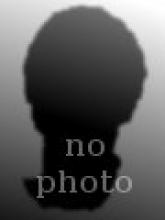 COMMITTED TO

Player Videos
On a team full of high major talent, Boykin exerted herself as the alpha playmaker in bracket play. She is a high level slasher that can get her head and shoulders past the defense quickly. Her lightning first step combined with a tight crossover give reason as to why she is ranked as the No. 29 ranked player in her class. Coach Joanne P. McCallie will get a point guard who is ready to create offense day one at Duke.
This South Carolina commit showed a polished offensive skill set at the tourney. The 6-2 forward showed a nice mix of skills from the elbow and wing areas. Her ball skill now allows to be a mismatch for bigger players who try to match her length on the interior. Yet it is her defensive ability that should immediately translate to SEC play her freshman year. She can block shots and also disrupt the passing lanes in the open court.

\.The 5-5 point guard is normally the smallest player each time she takes the court. Yet her importance looms large for her team. Her 16 points were a team high in a win to claim the @BrandonClayPSB bracket championship on Thursday afternoon. Her ball handling and poise from the lead guard position are her usual calling cards for Chad Hubbard's team. However, her performance at the Summer Kickoff proved that she has value as a shotmaker as well.
Ranked No. 52 nationally in her class, Tollie backed up her reputation as a high energy forward at Summer Kickoff. At 6-1 she brings size and strength to the paint. Yet her activity to make plays in the open court, specifically defensively, make her a versatile threat for her team. She played with as much consistency as any player on Al Honor's roster over the course of two days. Tollie is valuable because of her ability to give second effort plays and score efficiently around the rim.
Brittany Davis (Manchester, Ga.), Team Elite Hubbard – 2018
Davis exerted herself as one of the biggest stock risers of the two-day event. The left-handed shooting guard stands at 5 feet 8 inches and is a dependable shooter from the arc. More than just a shooter, Davis also proved to be a great playmaker in transition. Her points and offensive production were a big reason why coach Hubbard's team secured a championship.
AROUND THE RIM
Point guard play was strong at the tourney and Erin Gutierrez of Pembroke Pines, Fla., headed the list in the class of 2018. Her savvy ball handling skills and ability to read the defense are advanced even for a junior in high school. She was key for coach Jason Hively and the Miami Suns Larkins.
Class of 2017 guard Olivia Owens of Portwentworth, Ga., is a new name for coach Will Avery's Georgia Sting team. Her ball handling, shot making and hustle plays stood out during the tournament.
Khori Louis of Tallahassee, Fla., is a player to track in the future for North Florida Elite. Standing at 6-2 as a class of 2021 prospect, she has many tools that could blossom in future years.
Class of 2020 Elle Sutphin of Lowgap, N.C., drew high praise from evaluators. Playing for the Winston Salem Stealers, she stands at 6-2 and has advanced skill for her age.
Coach Brian Norwood with the Carolina All-Stars counts upon class of 2017 Jaylin Powell of Raleigh, N.C., consistently to make plays. Her shot making ability combined with her energy are great assets. She should be a prospect that draws high interest throughout July.
Class of 2019 Camille Clarin of Richmond Hill, Fla., showed promise during the Summer Kickoff. She has nice size at 5-9 for a guard and is good in transition. She plays for Central Florida Elite Select.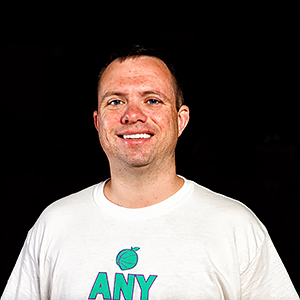 Jonathan Hemingway is the Assistant Director of Scouting for the JumpOffPlus.com National Scouting Report, is on the Naismith Trophy Board of Selectors and owns CoachHemi.com, the go-to source for coaches for X's and O's. He is the floor director of #TeamEBA camps, a site director for #TeamPSB tournaments and can be reached at jonathanhemingway@peachstatebasketball.com.