Posted
7 years 4 months ago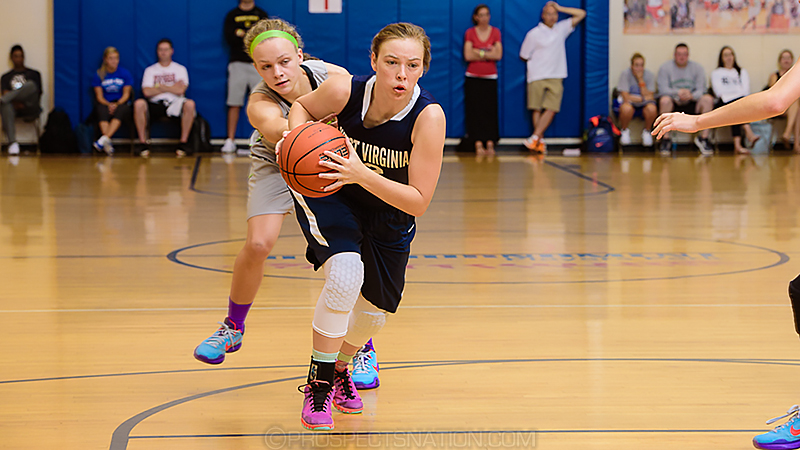 Kristen Mayo attacks the lane against Kentucky Premier EYBL at the 2015 PSB Summer Invitational. *Photo by Ty Freeman.
Editor's Note: In Focus is a special feature that serves to highlight Social Media Exposure Program (SMP) Members background as a student-athlete. This feature gives perspective on where the prospect has come from and where she is going.
According the last U.S. census, Grayson, Ky., has a listed population of 4,217. It may not be the type of place that one would expect to find an ELITE caliber prospect, but in the Bluegrass State kids begin playing basketball as young as seven or eight years old. This fosters a unique atmosphere even in the smallest of communities like Grayson, which is how Kristen Mayo got introduced to the game in her hometown.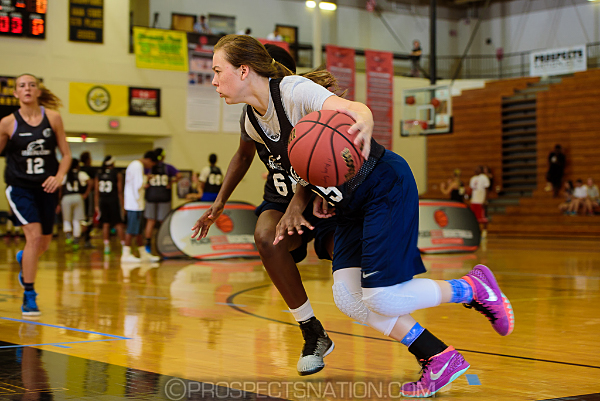 Mayo has competed against some of the top players in
#TeamEBA camps as well as on the club circuit. *Photo
by Ty Freeman."The coach of our elementary school team asked me to be on the team when I was in first grade," Mayo said. "Our school was small and they did not have enough kids to make a team."
Today Mayo still has coaches asking her to join their team. Schools such as Belmont, Charlotte, Davidson, East Tennessee State, Furman, Morehead State, Ohio University, Radford, Robert Morris and UNC Asheville are teams that she listed as being the most active in her recruiting process.
Mayo's current team, the West Virginia Thunder, is one of the top travel teams nationally. Her performances with the Thunder and at Elite Basketball Camps have earned her a 4-star rating in the class of 2017. The 5-6 point guard points to her competitive spirit as the most important part of her game.
"I love frustrating opponents with straight up defense," Mayo said. "But winning is what motivates me in the game. I hate losing more than I like to win."
Evaluators have taken note of this characteristic and all of Mayo's talents in recent evaluations.
Mayo is a feisty point guard who can knock down the 3-pointer. She has the ability to knock down a couple a half. She runs the offense really well yet she is not afraid to attack with the dribble. Mayo is tough and aggressive at the rim. She plays with a lot of hustle. I like what she brings to the game. – Mercedes Wetmore (Summer 2015)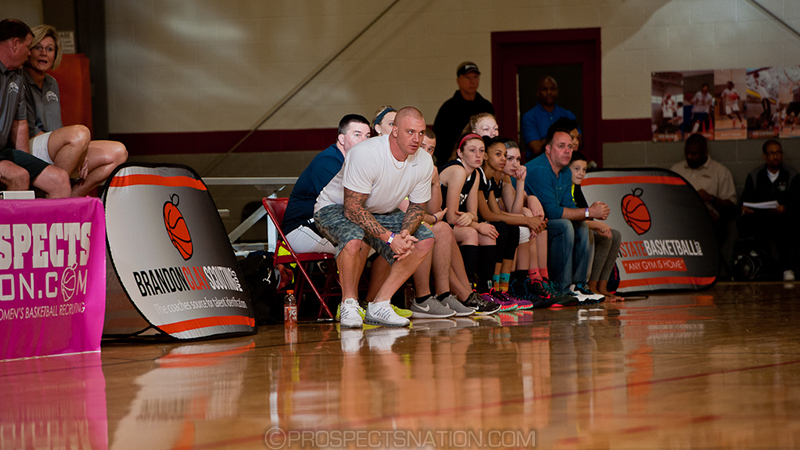 Scott Johnson coaches Mayo on his West Virginia Thunder
club program. *Photo by Ty Freeman.Mayo's journey from a novice to a highly skilled player has not occurred in a vacuum. She points out that several within personal circle have helped her become successful.
"There are many people have supported me in my development," Mayo said. "However, my trainer Arkell Bruce, travel coach Scott Johnson and (East Carter) high school coach Hager Easterling have pushed me to new heights."
Her goals are very clear for the upcoming year.
"I want to lead my (high school) team to the Kentucky State Tournament and become the first player in school history to score 2,000 points," May added.
The summer months will be busy for the rising senior. She is slated to attend the CoachHemi.com Summer Showcase in Ashland, Ky., June 18-19. She will also travel with the West Virginia Thunder on the summer circuit, including a return trip to the PSB Summer Invitational in Emerson, Ga., July 23-25. Check the @ProspectsNation feed for updates on Mayo and her teammates during those events.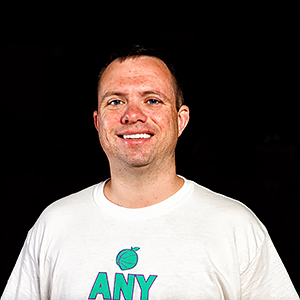 Jonathan Hemingway is the Assistant Director of Scouting for the JumpOffPlus.com National Scouting Report, is on the Naismith Trophy Board of Selectors and owns CoachHemi.com, the go-to source for coaches for X's and O's. He is the floor director of #TeamEBA camps, a site director for #TeamPSB tournaments and can be reached at jonathanhemingway@peachstatebasketball.com.