Live Blog: EBA All-American Camp
Posted
7 years 7 months ago
Aislinn Konig of Surrey, B.C., put on a show at the EBA All American Camp. *Photo by Glenn Nelson.
Tweet
#EBAAllAmerican Tweets
Ace Up Her Sleeve
With a combination of terrific basketball IQ, real length and shifty handle, standout 2016 Canadian prospect Aislinn Konig has been superb in both session of EBA All-American Camp. She runs the point, gets her teammates the ball, scores off the dribble, uses the ball screen well and has demonstrated deep range as well. She's a shoe-in for the 2016 International ELITE 25 rankings later this fall.
Awesome to see the east coast getting to appreciate @acekonig the way we do out west. She's been terrific all weekend at #EBAAllAmerican

— Chris Hansen (@ChrisHansenPSB) September 28, 2014
Length Reigns
Sutton West, the 6-2 forward from Norcross, Ga., was impressive this morning utilizing her length and mobility. Beyond rebounding she was able to block shots in the middle both on the post up as well as bothering shots from the weak side.
GA-18 Sutton West has so much length at 6-2. Rebounds the ball so high and contests shots #EBAAllAmerican

— ProspectsNation.com (@ProspectsNation) September 28, 2014
Silent Assassin Strikes
Kiana Williams, the 5-7 combo guard from San Antonio, Texas, has been terrific during the Sunday early session. She has backed up her 2017 ELITE 25 ranking with energetic play on both ends of the floor. She lets her game speak for itself and she is a true silent assassin on the court.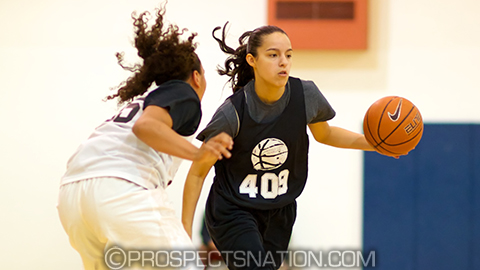 Amber Ramirez, the No. 11 prospect in the ELITE 60, is one of five Texans participating in the EBA All American Camp. *Photo by Glenn Nelson.
All-American Camp Under Way
With players coming from as far away as Vancouver, B.C., and numerous players ranked nationally, the EBA All-American camp brought together a select group of campers to compete at a high level during the fall evaluation period. Participants qualified by playing in EBA Super 64, EBA Fab Five, CoachHemi.com Showcase or the Check Me Out Showcases over the last year.