May Day Saturday Fireworks
Posted
7 years 10 months ago
SUWANEE, Ga., -- Saturday evening could go down as the most exciting finish to a day at Peach State Basketball to date. The day ended with two semifinal games won in sudden death and on a last second shot. The May Day Challenge saw elite competition, upsets and new faces that will emerge into the conversation of the ProspectsNation.com ELITE rankings this spring. Here is a recap of the performances from day two at Suwanee Sports Academy.
@BrandonClayPSB Bracket Semi-Final Team Elite vs. Florida Future
This game featured the favorited EYBL team of Team Elite versus an up and coming team in Florida Future. The matchup would go down to the wire with multiple lead changes heading into the game's final minutes. The interior play of class of 2016 forward Stephanie Paul of Fort Myers, Fla., of Florida Future would negate a seemingly clear advantage for Team Elite along the frontline. Class of 2017 guards Khayla Pointer and Quanniecia Morrison of Team Elite hit critical shots in the game's final moments to position coach Kirk Pointer's team for a win.
In the final seconds of a tie game, class of 2017 guard Destanni Henderson of Fort Myers, Fla., hit a pull-up jumper to seal a win for Florida Future. This shot finalized the biggest upset of the tournament while elevating several individuals from the Florida Future into the discussion of the ELITE rankings when the committee meets later this spring.
@BrandonClayPSB Bracket Semi-Final Cincinnati Angels vs. FBC Harmon Jr.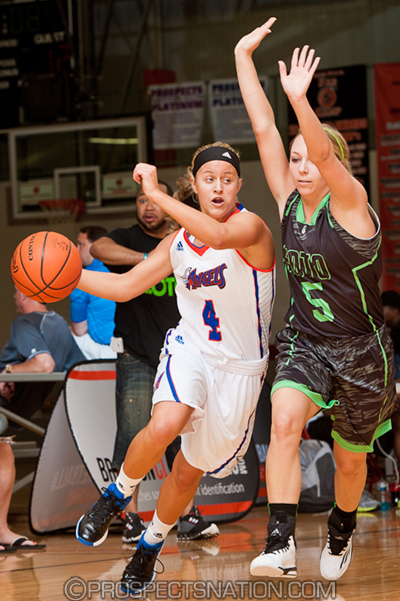 This half of the bracket took place on court five simultaneously as Florida Future traded blows with Team Elite on court four. Purdue commit Dominique Oden of FBC proved why she is an ELITE 100 Watch List guard in her class. The 5-foot-8 combo guard made plays while providing a steady hand for coach Brian Harmon's squad. Class of 2017 post Lindsey Marchese of Dacula, Ga., anchored the block with post scores and rebounds in a highly contested game.
The Angels countered with a terrific performance from class of 2017 point guard Braxtin Miller of Centersville, Ohio. At 5-10 she has length to see the floor and make scoring plays off the dribble. Add in the defensive pressure of guards such as class of 2016 Miquela Santoro of Clarksville, Ohio, and they won with a balanced attack on both ends. This game would be decided in sudden death overtime with each team getting shots to win, before class of 2016 wing Julia Jenike of Covington, Ky., finished a transition lay-up to seal the game for the Angels.
Around The Rim
Class of 2016 forward Jordan Stallworth of Lawrenceville, Ga., is playing with a lot of confidence for Pistols Diamond Elite. She is a match-up problem for most forwards because of her combination of skill and athleticism.
Stallworth's teammate class of 2016 point guard Arielle Holloway of Clarkston, Ga., showed improved scoring ability this weekend with an array of step-back jumpers. However, her calling card as a prospect continues to be her poise and athleticism as a lead handler.
Class 2016 guard Brooklyn Allen of Pisgah, N.C., shot the ball well on Saturday morning. She also showed the diversity in her game to put the ball on the floor after defenses decided to play her more tightly.
Jaliyah Sanford of Anderson, S.C., is a new name that arose from day two. She is a hard-nosed defender who provides instant energy when she steps on the floor. The class of 2016 guard also showed the ability to score with the jumper and off of the drive.
An emerging name from the state of Louisiana is Megan Abrams from Louisiana Lady Select. The class of 2018 point guard has a mature skill set that is coupled with good size standing at 5-8. She proved that she can create space with the dribble while also being able to hit the open jumper.

Hemingway is the Assistant Director of Scouting for the JumpOffPlus.com National Scouting Report, is on the Naismith Trophy Board of Selectors and owns CoachHemi.com, the go-to source for coaches for X's and O's. He is the floor director of #TeamEBA camps, a site director for #TeamPSB tournaments and can be reached at jonathanhemingway@peachstatebasketball.com.

Peck is the owner of Dream In Motion Athletics and is a national evaluator for the JumpOffPlus.com National Scouting Report. He also serves as a on-floor skills coach at the Elite Basketball Academy events. He can be reached at StephenPeck@peachstatebasketball.com.