McDonald's All American Rosters For 2016
Posted
7 years 2 months ago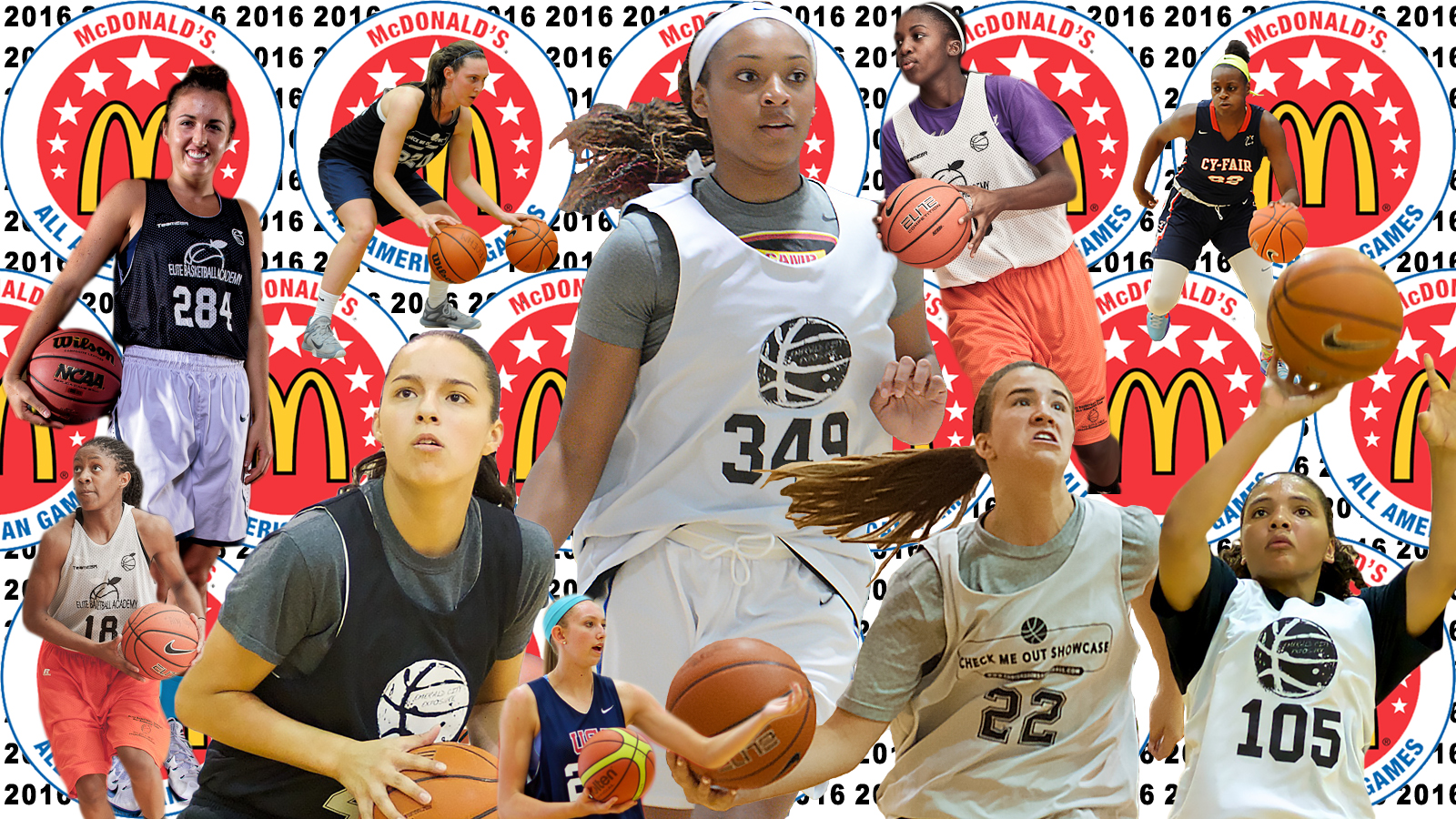 The 2016 McDonald's All Americans were revealed Sunday evening.
The players selected for the 2016 McDonald's All American Games were released Sunday night after three rounds of voting by the Selection Committee. The 24 players were divided into two teams, East and West, though geography isn't the only factor in splitting the teams.
Happy to have worked with so many elite athletes from the 16 class. Congrats to those making @McDAAG #ELITEisEARNED pic.twitter.com/xsM9ULtrTs

— ChrisHansenBBall (@CHansenBBall) January 18, 2016
Meet the 2016 McDonald's All Americans:
HANSEN ON THE WEST
Boehm is arguable the most skilled big in the country. The Harvard-bound prospect has terrific pivots and scores with either hand. She showed she was one of the best in her region at Check Me Out Midwest in October.
Carrington is a monster on the glass and has deep, deep range on the offensive end. Her work ethic was on display last spring at Check Me Out SoCal. Her toughness has been tested with an ACL tear but she's come back in tremendous fashion.
Carter, who goes by LeaLea, has been a standout on the club circuit for several years, including dominating performances at several PSB events. She also made the USA Basketball U16 team with her versatility and defensive prowess.
Vandy signee @Carter_lealea4 used #CoachHemiWorkout & #PSBMayDay as McDonald's prep. STORY: https://t.co/s9wIlPUq7g pic.twitter.com/gxJ8vlW9nC

— Brandon Clay (@BrandonClayPSB) January 18, 2016
C: Lauren Cox | Flower Mound, TX | 6-4
Cox is one of the most decorated high school players in the country with multiple USA Basketball medals. She's a versatile post player with some shooting touch, mobility to score off the dribble as well as score from the blocks.
Fingall is a Stanford signee with a lot of upside. She is both long and athletic but most impressively is her ability to score after contact with her physical style of play, which we saw first hand at PSB Summer Kickoff this summer.
Ionescu's unorthodox style has produced unyielding results which have earned her medals with USA Basketball and club season championship with the Cal Stars EYBL. Her work ethic is unmatched, which we've witnessed first hand at two Check Me Out Showcases.
F: Tori McCoy | Champaign, IL | 6-4
McCoy is downright explosive. Were it not for a couple of injuries McCoy may have had the extensive USA Basketball laden awards. She has tremendous physical gifts and can be a dominant force in the paint on both sides of the court.
W: Leaonna Odom | Los Alamitos, CA | 6-0
Odom is quite simply a game-changer. Her length, speed and leaping ability are matched by few which make her a handful for opposing defenders. She added the consistency this past year and it took her game to another level.
C: Kylee Shook | Colorado Springs, CO | 6-4
Perhaps no post player showed the improvement in the last 12 months as Shook did. She evolved from being a shotblocker to utilizing her length and agility on both ends of the court. Her play at the Summer Invitiational in the New Mexico Heat proved a capstone to a breakout summer.
Slocum burst on to the scene after her freshman season with a Check Me Out Showcase performance that would show her top 10 potential. She lived up to the early hype ,becoming one of the best scoring point guards in the country both at showcase events and with Boise HoopDreams as well.
PG: Anna Wilson | Bellevue, WA | 5-7
She may be on the a different coast for her senior high school season but her progression as an elite point guard has stayed on the same upward trajectory. She's a consummate leader on the court and really improved her shot-making ability.
G: Jackie Young | Princeton, IN | 6-1
Young is a player we first got to know at EBA Super 64 back in 2012 and she has done nothing but live up to all those early expectations. This versatile wing player capped off a tremendous prep career in the summer circuit playing through tremendous pain in leading the Gym Rats to the Nike Nationals championship game.
#PSBSummerInvite helped propel Jackie Young to the McDonald's All-American Game. BREAKDOWN: https://t.co/GOhIX3k5UF pic.twitter.com/8RJ2ska2Af

— Brandon Clay (@BrandonClayPSB) January 18, 2016
CLAY ON THE EAST
#TeamEBA is WELL REPRESENTED in the '16 McDonald's Game. 7 of 24 girls are EBA alums STORY: https://t.co/s9wIlPUq7g pic.twitter.com/fNgnn8Kxm3

— Brandon Clay (@BrandonClayPSB) January 18, 2016
F: Erin Boley |Hodgenville, KY | 6-2
Boley showed consistent improvement culminating with her inspired play during the PSB Summer Invitational with Kentucky Premier last July. The Elite Basketball Academy All-American Camper has shown the versatility to handle the ball, score it and snatch rebounds off of the glass. Boley is headed for South Bend, Ind., to suit up for Notre Dame next season.
Erin Boley used #EBAAllAmerican to prep for HS season & a McDonald's Game bid. BREAKDOWN: https://t.co/GOhIX3k5UF pic.twitter.com/B7NPI1YQxs

— Brandon Clay (@BrandonClayPSB) January 18, 2016
F: Kaila Charles | Glen Burnie, MD | 6-0
From the opening tip of the Keil Moore Showcase in the fall of 2014, Charles was on a mission to prove she belonged on this list. The versatile forward stormed through Real Deal in the 'Ville as the ringleader of Team Takeover last July. In the process, the future Maryland Terrapin left no doubt that she belonged on the roster for this year's game.
Chou used her sharp shooting from the outside and length on the perimeter to garner a spot in this year's game. The future Baylor Bear possesses a unique blend of skill and size to make things happen in the half court game.
Corsaro didn't let an ACL injury stop her from earning a spot in the game. At the Summer Invitational last July, the Kentucky signee was in the gym three mornings in a row at 7:00 am working on her game. Corsaro is both a Check Me Out Midwest Showcase and Elite Basketball Academy Super 64 Camp alum. Though she didn't play, she was on the bench with the Indy Lady Gym Rats last club season.
From her days battling the likes of Kaela Davis and Diamond DeShields at EBA All-American Camp in 2012, Dangerfield served notice that she was an elite point guard. Fast forward four years and the UConn signee has earned her roster spot in Chicago this March. She was the tempo setter for Kentucky Premier last season turning heads with her play at the PSB Pre-Season Shootout.
'16 Crystal Dangerfield was an #EBAAllAmerican. She's in the McDonald's Game. BREAKDOWN: https://t.co/GOhIX3k5UF pic.twitter.com/F1HEiQ4v7p

— Brandon Clay (@BrandonClayPSB) January 18, 2016
From the moment the doors opened for EBA Super 64 Camp in 2012, Holmes showed the physical gifts to make her one of the nation's premier players. Since then, the Texas signee has added the skill set needed to make her athleticism stand out even more. She rose to the No. 1 spot in the class playing with Cy-Fair last summer.
Joyner Holmes made our radar at #EBASuper64 '12. She just made the McDonald's Game. RECAP: https://t.co/GOhIX3k5UF pic.twitter.com/jXhTyPNERr

— Brandon Clay (@BrandonClayPSB) January 18, 2016
C: Ciera Johnson | Duncanville, TX | 6-4
Johnson brought her A Game to the PSB Summer Invitational in 2014 setting the wheels in motion to be recognized as a premier post option in the class of 2016. She's a post player willing to mix it up on the inside while displaying the touch needed to finish around the rim. Johnson, who has signed with Louisville, played for DFW Elite.
Mulkey will provide both length and shot changing for the East team. She's proven that she's one of the more versatile interior threats in the nation with her ability to make the face up jumper. Playing with Cy-Fair last summer, the Oklahoma signee was impactful on both ends of the hardwood.
G: Amber Ramirez | San Antonio, TX | 5-9
Ramirez is one of the nation's premier sharp shooters. The TCU signee made a name for herself in multiple marquee match ups at the Check Me Out Showcase and EBA All-American Camps. She left an imprint on the PSB Summer Invitational as the on-floor leader of San Antonio's Finest.
PG: Alecia Sutton | Florissant, MO | 5-7
Sutton was seemingly everywhere this summer taking on and and all challengers. From EBA Super 64 Camp to PSB Summer Invitational and finishing with the CoachHemi.com Showcase last fall, Sutton made her case to be a part of this exclusive group. Though a recent ACL injury will prevent the Texas signee from playing, she is one of the nation's premier point guard prospects.
An ACL can't stop #EBASuper64 alum Alecia Sutton. She's in the McDonald's Game. BREAKDOWN: https://t.co/GOhIX3k5UF pic.twitter.com/r9xQr7R0Jg

— Brandon Clay (@BrandonClayPSB) January 18, 2016
Watson is a powerful threat on the perimeter capable of making her presence felt in the open floor. A Maryland signee, Watson is more than willing to attack the lane off of the bounce. She played club for the N.J. Panthers.
Wilson has been on our radar since playing in the Elite 32 Summer Jam back in 2012. She blazed the summer circuit in 2015 proving she belongs amongst the elite in the process. The future Arkansas Razorback finished her club career with DFW Elite.

Brandon Clay serves as the WNBA Director of Scouting for ProspectsNation.com and owns The JumpOffPlus.com International Report, which is picked up by more than 150 colleges and universities nationwide. He serves as the Executive Camp Director for the Elite Basketball Academy Camps. He serves on the Naismith Trophy Men's / Women's College Player of the Year Academy and is chairman of the HS Boys / Girls Board of Selectors.

Chris Hansen is managing editor of ProspectsNation.com and serves on the McDonald's All-American and Naismith Trophy selection committees. He was the national director of scouting for ESPN HoopGurlz from 2005 until 2012 and is the director of the Check Me Out Showcase. He can be reached at chris@prospectsnation.com.