McDonald's Next Level West
Posted
10 years 5 months ago
CHICAGO, Ill., -- The McDonald's All-American game is in the books and as a majority of the players from this game get ready for their last high school basketball game of their careers, WBCA All American game in New Orleans. We wanted to take a look at what will happen next for this talented bunch. Here is a look at how each All-American is projected to fit at their school of choice and a player comparison for what they could be if the maximize their potential in college.
'13 ELITE 100 forward Oderah Chidom.
*Photo by Chris Hansen.
Oderah Chidom (Oakland, Calif.) F 6-3 Bishop O'Dowd -- Duke
Coming off of last summer, Chidom was one of the most improved players in the country. She is a young forward who has continued to develop her offensive arsenal and looks to be more comfortable playing around the rim or on the perimeter now than she did 18 months ago. Look for Duke to use the talented forward similar to how they currently use Hayley Peters, as a combo forward who can play some three but primarily the four.
Player Comparison: Natasha Howard
Kendall Cooper (Carson, Calif.) F/C 6-4 St. Anthony -- Duke
Cooper's immediate impact in college will be felt on the defensive side of the ball as she is a quality shot-blocker who can rebound and work on the boards. She should be able to play with current Duke post Elizabeth Williams in a duel post setting or on her own as a primary post. Cooper has been up and down as a back to the basket post scorer. If she can develop a comfort level playing on the block she could be the centerpiece for Duke in the post in a couple of seasons.
Player Comparison: Talia Caldwell
Rebekah Dahlman (Braham, Minn.) G 5-9 Braham High -- Vanderbilt
Dahlman is a proven winner and a kid who can score the ball from the wing position. Vanderbilt coach Melanie Balcomb is an offensive guru who will be able to get Dahlman open and force defenses to guard her off of multiple screens in a halfcourt set. At her core, Dahlman is a big time shooter, but as a prep prospect she has proven to be able to do more than just knockdown jumpers. Look for Vanderbilt to use her as a playmaker as well.
Player Comparison: Caroline Doty
Rebecca Greenwell (Owensboro, Ky.) G 6-1 Owensboro Catholic -- Duke
Greenwell is a lethal perimeter shooter that Duke will use to replace the perimeter shooting of Trisha Liston upon her graduation at the end of next season. Greenwell's ability to stretch the floor and keep defenses honest should open things up for players like Alexis Jones on the perimeter and her class of 2013 teammates Chidom and Cooper inside.
Player Comparison: Angie Bjorklund
Linnae Harper (Chicago, Ill.) G 5-8 Whitney Young -- Kentucky
Harper is a great fit for Kentucky coach Matthew Mitchell and how he wants to play. She is a lockdown defender who can guard point guards all the way up to bigger wings. Harper has turned herself into a quality point guard adept to making plays for others and pushing the tempo. Harper might not be the pure scorer that A'dia Mathies was for Kentucky, but she should fill Mathis' shoes very well. Look for Kentucky to use Harper in a variety of ways as she has the skill set and athleticism to be quite the utility player.
Player Comparison: A'dia Mathis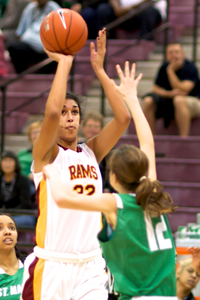 '13 ELITE 100 forward Kailee Johnson.
*Photo by Chris Hansen.
Kailee Johnson (Portland, Ore.) F 6-4 Central Catholic -- Stanford
Johnson is truly a finesse post. She can play in the post but is at her best when she can step out and shoot the perimeter jumper and shy away from the contact around the rim. That said, Johnson has shown a mean streak from time to time and could adapt into a solid face-up four player in the mold of current Stanford forward Joslyn Tinkle. Look for Johnson to thrive in Stanford's triangle offense as she will be able to use her perimeter skills and exploit opposing bigs.
Player Comparison: Kayla Pederson
Erica McCall (Bakersfield, Calif.) F 6-2 Ridgeview High -- Stanford
Erica McCall's arrival in Palo Alto, Calif., will give the Stanford Cardinal another athletic post player in the mold of Chiney and Nneka Ogwumike. McCall isn't the kind of offensive threat that the Ogwumike sisters were but McCall has a similar frame and should be as effective in other areas of the game. Of Stanford's 2013 signee's McCall is the one most likely to make an early impact.
Player Comparison: Isabelle Harrison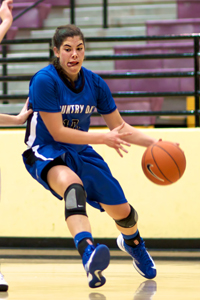 '13 ELITE 100 guard Kelsey Plum.
*Photo by Chris Hansen.
Kelsey Plum (Poway, Calif.) G 5-9 La Jolla Country Day School -- Washington
Plum is a winner. She wants to beat you and will leave it all on the floor to accomplish that goal. Washington will love her for four years because she will play with the energy and enthusiasm that will be contagious to her teammates. The left-handed point guard can also score the ball effectively, with range to three, which won't hurt matters at all.
Player Comparison: Rachel Banham
Jordan Reynolds (Portland, Ore.) G 5-10 Central Catholic Tennessee
Reynolds is a scoring-minded wing who has the ability to score at all three levels, she can put the ball on the deck and get to the rim, hit a mid-range jumper, or knockdown a catch and shoot 3-pointer. She is also a quality defender and Tennessee fans will enjoy watching her play on both sides of the floor for the next four years.
Player Comparison: Suriya McGuire
Mercedes Russell (Springfield, Ore.) C 6-5 Springfield High -- Tennessee
When Tennessee landed Russell, they scored the best true post scorer in the class. Russell will give them a quality post option and should draw a high volume of attention around the rim to free up her teammates on the perimeter. Tennessee will have to slow their pace down a notch or two to allow Russell to be as effective offensively as she can be but if they wait for her she will get the job done.
Player Comparison: Stefanie Dolson
Tyler Scaife (Little Rock, Ark.) G 5-9 Hall High -- Rutgers
Rutgers is one of the better defensive teams in the country and what has been their Achilles heal over the past couple of years is finding a consistent offensive contributor to pace the team. Insert Scaife and now Rutgers has their much needed offensive spark plug. Scaife will be able to create offense for herself or others and should be able to help Rutgers survive the long scoring droughts.
Player Comparison: Tayler Hill
Jessica Washington (Tulsa, Okla.) G 5-8 Jenks -- North Carolina
North Carolina has struggled at the point guard position for the past couple of seasons. When Sylvia Hatchell landed Washington, she found a true point guard that would ease her troubles for four years. Washington can score or be a playmaker and, in North Carolina's up-tempo style of play, she will have the freedom to do both. Washington is a very good fit for the Tar Heels and she should thrive in her time in Chapel Hill.
Player Comparison: Layshia Clarendon Follow @KeilMoorePSB
Moore is the National Director of Scouting for the JumpOffPlus.com National Scouting Report. He can be reached at keil@prospectsnation.com.