Midwest Showdown Deep Again
Posted
5 years 3 months ago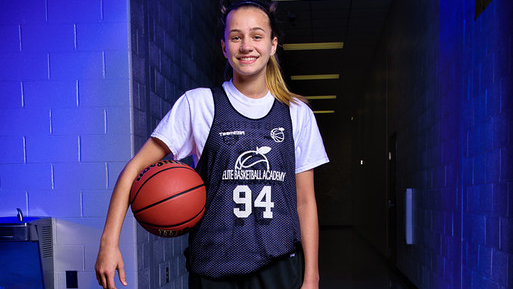 Maddie Scherr showed off her talent at the point guard position in Ohio. *Photo by Ty Freeman.
CINCINNATI, Ohio – The All-Ohio Midwest Showdown has become one of the nation's premier non-certified evaluation events over the past decade. Held over Memorial Day Weekend, 160 teams converged to provide an ultra-competitive backdrop to evaluate the talent on hand. Here is a look at some of the standouts on hand.
Jayla Everett (St. Louis, Mo.) – Missouri Phenom EYBL PSBFamily - 2018
Everett is a slender-framed option on the wing capable of making things happen on both ends of the hardwood. Her length / athleticism provides her with a range of ability on the floor. She was most comfortable attacking to distribute here. The nation's No. 22 ranked guard in the class nationally, Everett did turn her game up a notch in the waning minutes of a close game becoming more of a scorer in the process helping Phenom advance with a win.
Cydni Dodd (Indianapolis, Ind.) - Indy Gym Rats Silver EYBL PSBFamily - 2019
A 6-foot-5 post prospect, Dodd is a recruit with legitimate size in the middle of the lane reminding me of recent WNBA Draft Pick Kai James at the same age. Dodd might have better feet / hands than James did at this same stage. That said, like James continuing to focus on her conditioning will be a key point of emphasis over the next 12 months for Dodd. The newly minted Elite 100 center added offers from Duke, Georgia Tech, Kansas and Iowa since the spring evaluation period ended.
Emily Saunders (Mullens, W.Va.) - West Virginia Thunder Johnson PSBFamily - 2019
Like Dodd, Saunders stands tall at 6-5. The Marshall commit is a shot changer on the defensive end. She is a specialist in blocking shots without fouling in the process. Offensively, Saunders continues to improve her ability to finish with age. She still isn't an elite percentage shot maker around the rim but is showing growth with each eval in that area.
Maddie Scherr (Florence, Ky.), Kentucky Premier EYBL - 2020
Scherr is an elite option at the point position in the making. She's grown to a legitimate 5-9 and filled out as well since last summer. She's bigger than her class of 2018 teammates Mykasa Robinson and Seygan Robins already. Scherr showed in Cincinnati that she's capable of playing a play ahead of the game even on Premier's top EYBL team. It appears that she'll be the cornerstone of the team for the next two summers after this loaded 2018 class graduates out. Scherr has Dayton, Indiana and Kentucky offers already. Her father, Rick, mentioned a couple of out-of-region schools as possibilities as well.
#SMPMember Recruiting

Maddie Scherr is playing like a premier '20 nationally.

PAGE: https://t.co/h3Xo1RTnA3 @madd1escherr @amylynnescherr pic.twitter.com/wlvsTFpSIG

— Brandon Clay (@BrandonClayPSB) May 27, 2017
Bailee Adkins (Lavalette, W.Va.) – West Virginia Thunder Johnson - 2020
Simply put, Adkins is a shot maker on the perimeter. She has range out to beyond the 3-point line and showed that in this elite team event setting. When Adkins got her feet set, she didn't miss much hitting multiple shots from 3-point range.
Madeline "Maddy" Westbeld (Kettering, Ohio) – Cincinnati Angels - 2020
If the name sounds familiar, it should. Westbeld is the younger sister of current Notre Dame player, Kathryn. At 6-2 and change, Maddy is already a little taller than Kathryn is now with the same type of build. Unlike Kathryn at the same stage, Maddy is a perimeter oriented prospect who was very comfortable with the basketball in her hands in this evaluation. Maddy's size, skill and physical ability make her one to track.

Brandon Clay serves as the WNBA Director of Scouting for ProspectsNation.com and owns The JumpOffPlus.com International Report, which is picked up by more than 150 colleges and universities nationwide. He serves as the Executive Camp Director for the Elite Basketball Academy Camps. He serves on the Naismith Trophy Men's / Women's College Player of the Year Academy and is chairman of the HS Boys / Girls Board of Selectors and is on the McDonald's All-American Selection Committee. He also is the publisher of PSBPopCulture.com.