More BC Elite 100 Spotlights
Posted
1 year 4 weeks ago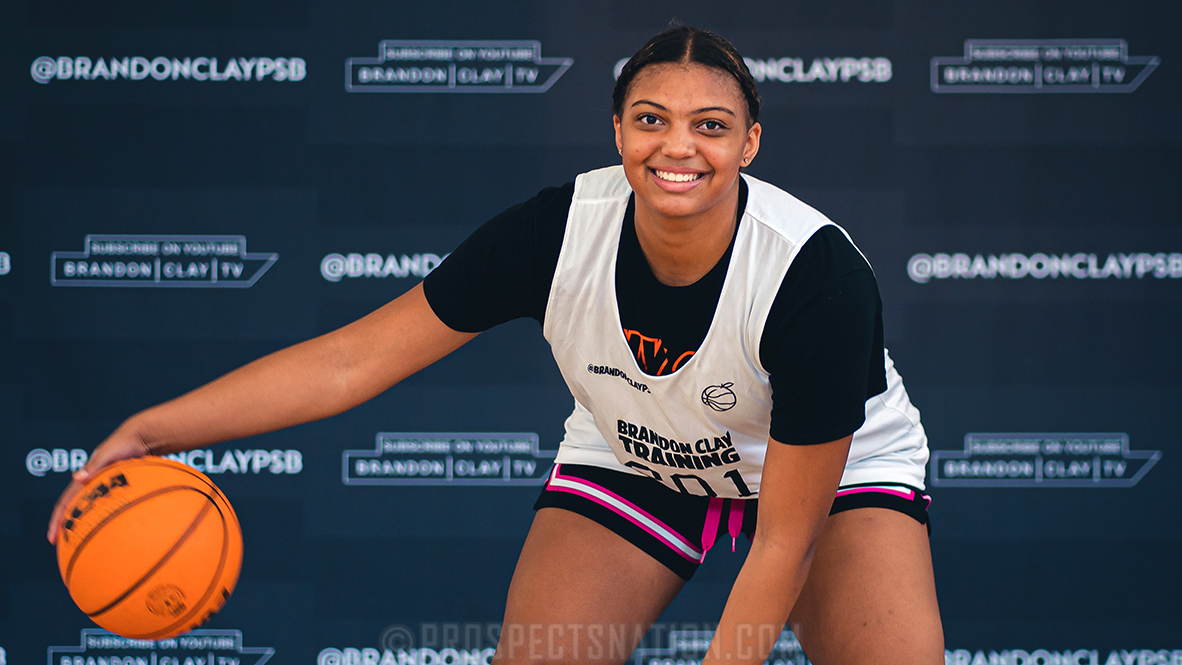 Stella Lockhart of Upper Montclair, New Jersey, trained at the BC Elite 100 Showcase. *Photo by Anthony Lugardo.
BUFORD, Georgia – The Brandon Clay Elite 100 Showcase South Session II allowed some of the nation's elite prospects to start working on their games coming out of the July evaluation period. We offered a spotlight training session ahead of the start of the sessions. Here are the second set of takeaways from that workout:
Fuessel has solid size on the perimeter coupled with the ability to play any of the three perimeter positions. Continuing to develop her outside shooting range will make it even tougher for teams to defend her. Fuessel has the ultimate swiss army knife quality to her game. She's got a world of upside left.
Lockhart has great size and new age perimeter skill. She moves well and has the ability to be productive on both ends of the hardwood. In our Saturday session, Lockhart was able to work on some of the interior offensive moves that separate her from most young forwards. She has the touch to shoot it from beyond the 3-line. Learning where and when is her next step.

Phelan just does everything right. She is always trying to put herself in a position to make a positive play. It's hard to find shot makers who want to expand their skill sets on both ends of the hardwood. Phelan's game will continue to grow as her lateral movements, quickness does.
When Sellers slows her feet down, she's a shotmaker off of the catch or off the bounce. Despite her smaller frame she is able to create, get down the hill, and make plays for others. Continuing to attack the weight room the next 12 months before she starts college is huge for Sellers. All of the tools are there. She visited both Oglethorpe and Piedmont while she was in town from Arizona.

Thompson has put the work in to lay claim as one of the most productive guards on the East Coast if not nationally. Her production throughout the spring / summer puts me in the same space as classmates Devin Coppinger (Washington) and Jordan Lee (California). Thompson can flat out play make for herself in large part due to her improved outside shooting. She's a sniper from beyond the arc and in the midrange.
Toni Warren (Canton, Georgia), Cherokee High School -- 2024

Warren literally flew in from a college visit at Holy Cross and training with Southeast All Stars National Team Director, Sean "Sticks" Smith for the workout. Warren is always in the gym working. That's translating into a higher shot pocket with a more consistent release on her shot. Couple that with her elite level athleticism and Warren is right on track to take another step up this school season.

Brandon Clay serves as the Director of Scouting for ProspectsNation.com and owns The BrandonClayScouting.com Evaluation Report, which is read by more than 200 colleges and universities nationwide. He also serves as the Executive Skills Director for the Brandon Clay Scouting Academy Series.