Posted
1 year 2 months ago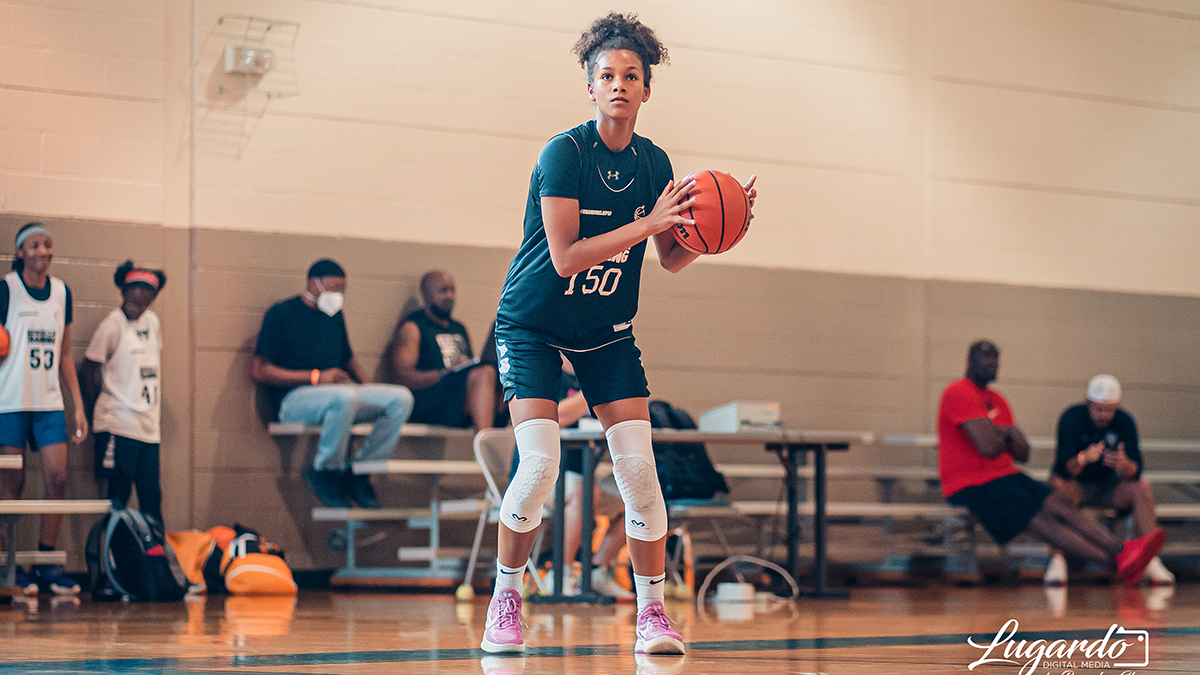 Lexi Blue used the Brandon Clay Training Academy in Atlanta to sharpen her skills before the live period. *Photo by Anthony Lugardo.
BUFORD, Georgia – The first June stop on the Brandon Clay Training Academy Summer Tour was on point from start to finish combining details with execution. Led by multiple Brandon Clay Recruiting Program members, the Academy was action packed. Here's a look at some of the notable players from the Spotlight Shooting Sessions:
Bailey brings the type of intangibles to a workout like this that keep the gym engaged and motivated. She's got fantastic size on the perimeter. As she continues working on her shooting pocket consistency, Bailey will showcase the range needed to stretch defenders out past the 3-point line.
Basit has the type of size that should translate well at the high school level the next four seasons. During that time, we fully anticipate seeing Basit on a regular basis to build the tall followthrough on her outside jumper.
Blue's game has taken a step since our last session in Atlanta in 2020. Physically, she's added a couple of inches as well as really blossoming in her outside shooter. Blue has the toolbox to make strides in her game each offseason over time parallel to the natural progression that Devin Booker has made in his.

The work that Motley has put in over the year is evident. Motley is making shots from the outside in game now with rhythm. Off the bounce, she made one of the nicest moves that I saw all weekend with a spin into a score in traffic no less. Motley's outside jumper will be the catalyst for her next level progression.
As Miller keeps progressing, she has become a solid threat from the perimeter as an incoming freshman. She has a chance to keep rounding out her jumper to be a 30 percent plus 3-point shooter in time. Miller will benefit from seeking out quality games and competition to sharpen her craft.

Ohonde is a talented young prospect who has shown a feel for the game already. As she builds the form, follow through on her outside shot we believe that her production will just continue to rise as a result. Ohonde has the length that traditionally translates well on the perimeter.
Roach is a fantastic young prospect who seemingly has a bright future ahead of her. She's got guard skills and adding a consistent jumper out beyond the 3-point line will only aid in her ability to be a tough matchup for opposing defenses. Staying tall on her follow through will be key.
Sims has progressed at a fantastic rate over the past 12 months. She's able to hit shots in key games for her club team in large part through her dedication to take what we work in during the shooting sessions and apply it to the gameplay when it's crunch time. For Sims, adding to her one dribble pull up package is the next step.

Brandon Clay serves as the Director of Scouting for ProspectsNation.com and owns The BrandonClayScouting.com Evaluation Report, which is read by more than 200 colleges and universities nationwide. He also serves as the Executive Skills Director for the Brandon Clay Scouting Academy Series.