More Commits, Updated Class Rankings
Posted
6 years 1 month ago
This time of year so much can change in a week. Signing week continues to creep closer and closer leaving players limited time to make the decision that some have been pondering for years.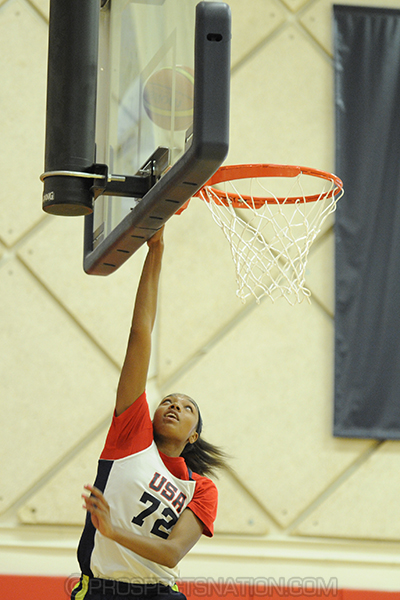 Maya Dodson elevates for a bucket
at the 2016 USA Basketball team
trials. *Photo by Chris Hansen.Most of the prospects in the 2017 ELITE 150 have completed their official visits, home visits and those left undecided are announcing decisions daily. With that comes updates to the Recruiting Class Rankings, or the mythical race for the recruiting championship.
This week's changes saw some movement in the top 10 with Stanford moving up to No. 6 with the addition of Maya Dodson, the No. 24 player in the class. Another Pac-12 school, USC, saw its stock move up with the addition of Destiny Littleton, the No. 19 player the class. The addition moved the three-player Southern Cal class up to No. 7 nationally.
Ole Miss is on the rise as well adding No. 54 Chyna Nixon to the Rebels' class. The Virginia native joins No. 49 Millicia Reid, giving the program two four-star guards to date in the class.
Two schools are making their debuts in the top 50 recruiting classes – No. 45 Penn, which added 6-foot-4 post Eleah Parker this week, and No. 46 Cincinnati, which added 6-3 post Andeija Puckett.


Chris Hansen is managing editor of ProspectsNation.com and serves on the McDonald's All-American and Naismith Trophy selection committees. He was a co-founder of and the national director of scouting for ESPN HoopGurlz from 2005 until 2012 and is the director of the Check Me Out Showcase. He can be reached at chris@prospectsnation.com.