Posted
1 year 4 months ago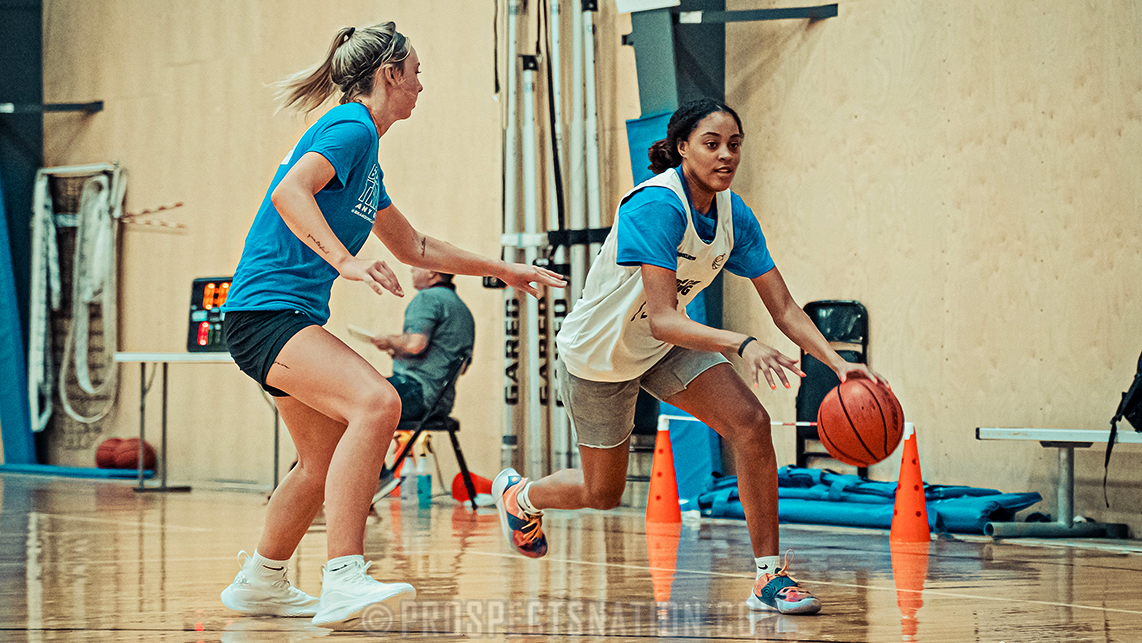 Alexis Parker trains at the PN Friday Night Lights session in Austin. *Photo by Anthony Lugardo.
AUSTIN, Texas – Friday Night Lights is an ideal opportunity for some of the country's top prospects to get together and train in a college team practice like setting before the start of an Elite Is Earned x Brandon Clay Training Academy weekend. With girls from multiple regions on hand for this weekend's version, the stage was set for elite level development and instruction. Here's a look at what our staff saw:</p>
Miyah Carter (Austin, TX), Hendrickson High School - 2023
Carter is a long, wiry prospect who showed our staff the upside to be a real contributor in multiple facets of the game. She has the length and bounce to be a forward capable of rebounding the ball while serving as an elite on ball defender. Her willingness to take and make the open kickout jumper is a place for growth
Natalie Huff (San Antonio, TX), Clark High School - 2024
Huff showed right away that she is capable of making a timely outside shot. What she has a chance to do over the 12 to 24 months is keep adding strength to her frame but in our initial evaluation, it's evident that she's off to a good start. Huff is a kid who would be considered both a playmaker and a shot maker.

Ly has a major school season as a key member of a state championship team. That growth was on full display here as Ly made shots from all over the floor. She's a consistent energy provider on both ends in addition to her shot making ability. This showing was a major step in the right direction from our baseline evaluation last summer. Ly is no nonsense on the floor and off. It serves her game well.
Ollivierre picked right up where she left off in Iowa as one of the sharper young prospects that we've seen to date around the country. She knows how to play the game. As Ollivierre keeps maturing physically, we fully expect her jumper release point to elevate as well. The fact that she is already confident enough in what she is seeing on the floor to communicate with kids four to five years her senior in this setting was noteworthy.

Parker showed the size on the perimeter to be a threat on either end. She has a longer first step coupled with a nice follow through on her outside shot. Our staff sees Parker as a guard who has legitimate range to make shots out past the 3-point line. In the half court, Parker made a nice move to split the gap with a bounce and finish.

White was so impressive here in that she was taking and making the outside shot at game speed while surrounded by college level projected talent. That's a step up from our training sessions in 2020 and exactly where our staff thought White's game could go next. As she keeps adding the confidence to lead vocally, expect another jump before we train again this October in Dallas with a possible stop in Atlanta this June.

Brandon Clay serves as the Director of Scouting for ProspectsNation.com and owns The BrandonClayScouting.com Evaluation Report, which is read by more than 200 colleges and universities nationwide. He also serves as the Executive Skills Director for the Brandon Clay Scouting Academy Series.