More Spotlights From Indy
Posted
1 year 6 months ago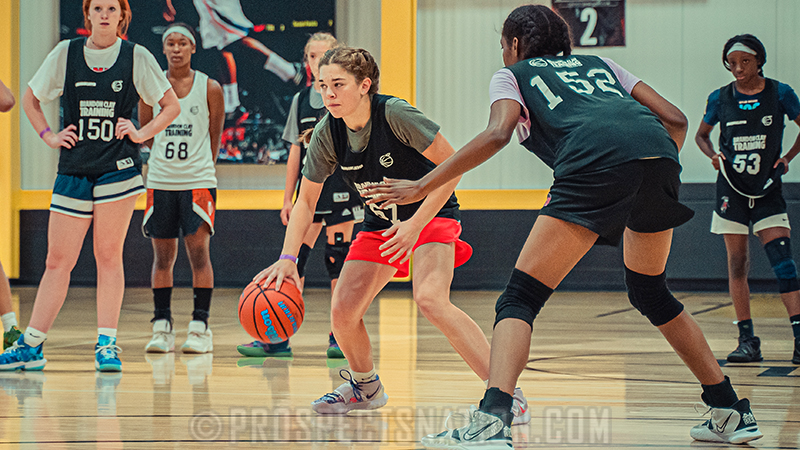 Riley Abney made the trip from Michigan to train and compete with players from across the Midwest. *Photo by Anthony Lugardo.
INDIANAPOLIS – The Midwest is a hotbed for female basketball talent. The Brandon Clay Training Academy was back in the region to work with some of the elite prospects. Here is a look back at some of the standouts during the initial Spotlight Session:

Abney has all the tools in her arsenal. It's rare to see a guard who isn't on the mainstream regional radar have a showing as smooth as the one Abney had here. She is a quick twitched shooter who gets the ball out of her pocket in a hurry. That said, Abney can work on making sure she lands on center every shot without a fade back.
Kelsey DuBois (Clay Township, Indiana), University – 2023
DuBois has a fantastic looking shot for a prospect in her height range. She's got the size to make the game hard for opposing frontcourt players when her jumper is on fire. Right now, DuBois developing a consistent, high follow through should be a focal point of growth the next 12 months. Her toolset lends itself to taking another jump in her game.
Peyton Fenner (Naperville, Illinois), Naperville North – 2023
Fenner is the consummate wing player in build, style and size. She has the strength to battle for wing rebounding position and should be a hard player to pin a single label on. For Fenner, adding to her outside shot will only help that versatility come to light. Making her jumper into a single motion as opposed to a slight windup will be a major enhancement.

Freeth just gets it. She's working every chance she gets to become a better offensive threat. In that regard, her improvement on the outside shot portion of her game is exactly what our staff would have hoped for when we started training in 2020. Freeth is shooting the ball out to the 3-point line with considerably more consistency than a year ago. Keeping her feet under her shoulders is a place to keep her focus.
What Hawkins lacks is prototypical size, she more than makes up for in ability to turn drill work into actual gameplay. Hawkins is going to put in the time to make sure her game is getting better in between each training session. If she'll show herself as a tried and true 35 percent plus 3-point shooter, then Hawkins college level value immediately increases as a result.
Reagan Jones (London, Kentucky), South Laurel – 2023
A slim framed wing, Jones is a slender option on the perimeter. In our first training session together, Jones showed she's a steady hand who can take her game to another level as her jumper continues to improve. Working on pulling up into a 1-2 step on her shot is going to help Jones make even more shots. She already knows how to play the game and is more than capable of being a high level off the ball guard.
Kylee Norkus (Bolingbrook, Illinois), Neuqua Valley – 2024
Norkus showed a crisp jumper from the outside here. Holding her follow through tall on every shot is only going to increase her shooting percentage. Much like Jones, Norkus is a potential shooting specialist at the next level. Norkus has the tools to score off the catch and potentially off the bounce too using pull up jumpers as well.

Pollock has the length and size to be a modern day forward with inside / outside skill. She has grown her game leaps and bounds from our eval last summer in Indianapolis. Pollock's ability to stretch defenses with her shot then post to score is much more consistent than it was in 2020. As she develops her skill set, her confidence is growing too. For now, look for Pollock to stay on the same track of development. Her consistency is paying dividends.
Loria Snowden (Indianapolis, Indiana), Brownsburg – 2024
Snowden has real size on the interior. She ran the floor well on both ends while displaying a nice soft touch that should allow her plenty of room for more improvement during the next three years of school ball. Snowden offensive production will depend in large part on how well she can hit the open 17 foot jump shot coupled with interior post touches to score one-on-one opportunities.

Brandon Clay serves as the Director of Scouting for ProspectsNation.com and owns The BrandonClayScouting.com Evaluation Report, which is read by more than 200 colleges and universities nationwide. He also serves as the Executive Skills Director for the Brandon Clay Scouting Academy Series.