More Take The Title Action
Posted
2 years 6 months ago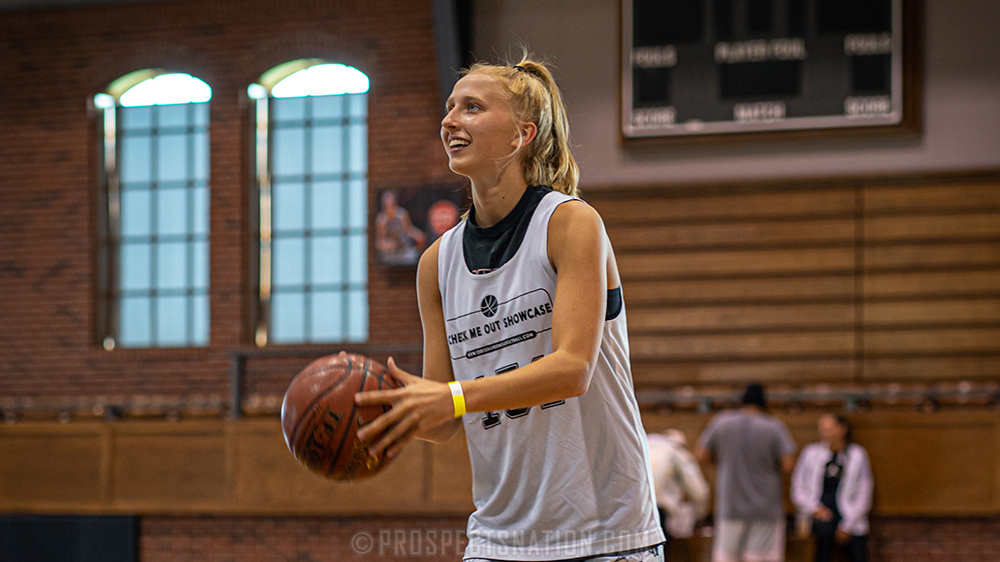 Jordan Meulemans shoots at the 2020 Check Me Out Showcase in Ames, Iowa. *Photo by Anthony Lugardo.
PLEASANT PRAIRIE, Wisconsin - The Take The Title event was loaded with over 70 of the region's premier teams including several familiar faces currently enrolled in our Brandon Clay Recruiting members and Brandon Clay Training participants. Here's a look back at some of the players and programs on hand who caught our eye:
Class of 2022 guard Lily Krahn of Wisconsin Flight continues to grow her game with every eval. She is such a steady hand in the backcourt for one of the country's top 2022 teams. She'll bring that same vibe to Wisconsin when she arrives on campus.
Class of 2022 forward Maya Nnaji of FBC Real Minnesota committed to Arizona last week. She's grown since the last time our staff saw her and looks a lot like current Wildcat, Lauren Ware, in frame and build now. Nnaji was nursing a minor injury that kept her out of action but looking forward to seeing her live at our Iowa Academy this fall.
Class of 2022 guard Kenzie Hare of M14 Hoops has turned into one of the better guards in the area. A St. Louis commit, Hare proved with her play at the Chicago Academy last June that she belonged amongst the region's elite. This summer, she is in a lead role and should be ready to guide M14 into a big July run.
Every time that we watch Class of 2022 guard Jordan Meulemans of Wisconsin Flight, our staff comes away more impressed with her overall game. Though Meulemans is an elite shooting option, it's her bounce and agility on defense that she propel her at the next level.
Class of 2023 post Evyn Carrier of M14 Hoops is one of the region's premier interior prospects with her size and length. She was a standout at the Chicago Academy last June. Like most young bigs, she's still finding her way in consistently finishing with contact.
Another standout from our Chicago Academy last summer was Class of 2023 guard Layla Henderson of M14 Hoops. Henderson made arguably the smoothest move we saw here with a tough downhill split off the pick and roll action.
Class of 2024 guard Kendell Williams of All In has a blend of quickness and skill with the ball. Her willingness to play both ends is a potential separator. Look for more to come on her game from the Chicago Academy next month.
Along with classmate Allie Ziebell, Class of 2024 forward Kayl Petersen of Wisconsin Flight was a hot name coming out of the Wisconsin Academy last summer. Petersen has all of the tools physically to keep getting better at finishing through bumps over the next 12 to 18 months.
Looking ahead, Class of 2025 wing Kristina Ouimette of Wisconsin Flight has the touch from the outside to be a proficient shooter. She was lights out at the Wisconsin Academy last June and again this weekend.
AROUND THE RIM
M14 Hoops has really elevated themselves as one of the premier prospects in an always loaded Chicagoland area. They have multiple teams at each age group that can get the job done. Ryan Haun's combination of teaching with the exposure needed to create a national buzz for his kids doesn't go unnoticed.
On the theme of multiple quality teams per age group, Wisconsin Flight has one of the nation's deepest programs. Nic Levy has built a top shelf organization with recruits of all levels for college coaches to choose from.
Midwest Elite had multiple teams on hand. They play with a poise and understanding of the game that we've grown accustomed to seeing from MWE over the years dating back to the days of Jewell Loyd.

Brandon Clay serves as the Director of Scouting for ProspectsNation.com and owns The BrandonClayScouting.com Evaluation Report, which is read by more than 200 colleges and universities nationwide. He also serves as the Executive Skills Director for the Brandon Clay Scouting Academy Series.