No. 1 Charli Collier To Visit UConn
Posted
6 years 11 months ago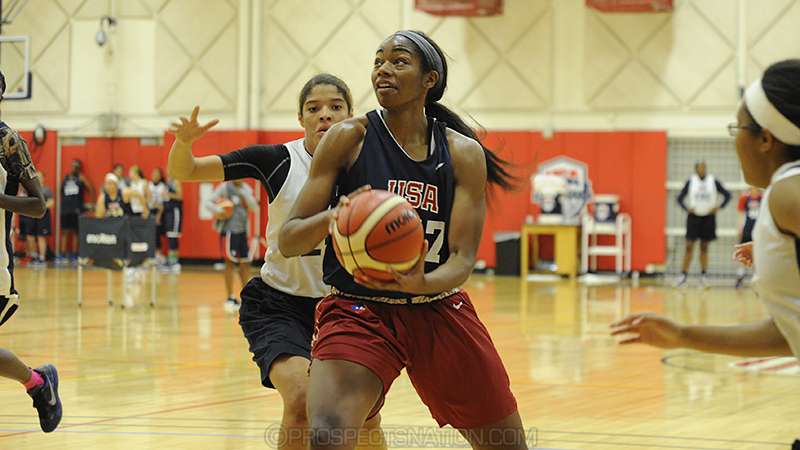 Charli Collier has used basketball as a healthy distraction and her trials in dealing with loss she has found a path to becoming a leader. *Photo by Chris Hansen.
Charli Collier has been hyper focused this spring and summer after suffering through a loss that would have derailed even the strongest of competitors. On April 4th of this year Collier lost her father, Elliott, to a battle with liver and lung cancer.
Basketball has proved to be the healthy distraction from the loss and has helped the 6-foot-4 versatile 2018 post deal with it. Conversely learning to cope has helped Collier focus inwards and avoid the noise that comes with the hype that follows the No. 1 player in a class and in the process become a leader.
"I think mainly it comes with age," Collier said. "The things I grew up with, it made me grow up faster."
Collier's game has matured both mentally and on the court.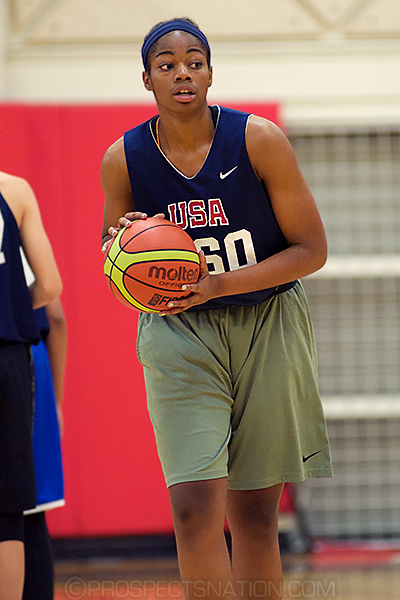 Charli Collier of Mont Belview, Texas.
*Photo by Chris Hansen"Collier is the best low post scorer in the country," Keil Moore, ProspectsNation.com and JumpOffPlus International Scouting Report director of scouting, said. "If used correctly at the next level she should demand double teams and make the game easier for her teammates. There just aren't a lot of kids who can impact the game in that way."
Her potential dominance at the next level has earned her scholarship offers from just about everyone in the country. Next up in her process is an unofficial visit to Connecticut this weekend. It will be the third time she'll be interacting with the Huskies' staff after having them on a school campus visit as well as an in-home visit.
Collier, who calls Mont Belvieu, Texas, home, has a top 12 school list that she may trim in December. However she maintains contact with all of the schools currently on her list: Baylor, Connecticut, Duke, Houston, Louisville, Notre Dame, Ohio State, South Carolina, Tennessee, Texas, UCLA and USC.
Collier previously made an unofficial visit to Texas and is planning one with Notre Dame in the coming weeks as well.
Of her 12 schools she had 10 of them either in her home or on her school's campus for visits this fall. College coaches are allowed to begin in-home and on-campus visits with high school prospects in the fall of their junior year now. The two she did not host this fall were Duke and South Carolina, both of which have scheduled trips out to see her in March.
In spite of a really busy recruiting calendar, Collier has designs on leading her Barbers Hill team to state for the first time after falling in regionals the past two years. The difference she thinks will be focus and leadership as the team won an impressive 27 games despite not making it to the state tournament.
"It all comes from working harder," Collier said. "This year we have to come out with a chip on our shoulders."
Collier is focused, which is a scary proposition. That focus is on recruiting this fall while resting from a long summer which included USA Basketball as well as her summer circuit with Cy-Fair Nike Elite, but is soon to be on the whole of Texas high school basketball.

Chris Hansen is managing editor of ProspectsNation.com and serves on the McDonald's All-American and Naismith Trophy selection committees. He was a co-founder of and the national director of scouting for ESPN HoopGurlz from 2005 until 2012 and is the director of the Check Me Out Showcase. He can be reached at chris@prospectsnation.com.