No. 13 Ronni Williams To SEC
Posted
11 years 3 weeks ago
We've all heard the stories of the wunderkind who plays up a couple of years in her sport.  But for Ronni Williams, the No. 13 prospect in the senior class, it was more than playing up that ultimately led her to become the headline recruit for the Florida Gators this fall.
At the age of three, Williams of Daytona Beach, Fla., found herself in the gym at the local YMCA where her father was playing his regular pick up games.  She too wanted to play but there aren't a lot of leagues for toddlers, let alone for girls that age.  So Williams was put in the boy's league for 4, 5 and 6-year-olds.
"They didn't take it easy on me," Williams said.  "They just kept attacking me and playing aggressive."
Williams preferred playing against the more aggressive boys, so much so that she played in boys leagues until she was 12.  It is that embrace of contact and aggressive play that has earned the 6-foot wing-forward a five-star rating.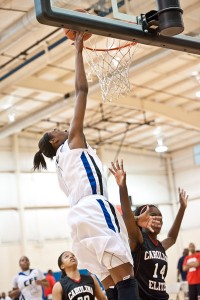 '13 ELITE 100 forward Ronni Williams.
*Photo by Ty Freeman.
"When I first started playing with the girls I would foul out of every game," Williams said.
Most recruits cite a feeling or connection with the coaching staff that ultimately impacts their decision.  And while Williams definitely found a comfort level at both of her finalists, Florida and Georgia, she went out of her way to keep from getting too close to the coaches recruiting her.
"I kind of kept a distance," Williams said.
Williams wanted to play in the SEC and she wanted an academic path to Sports Medicine as she has designs on being a coach when her playing days are over.  So with two programs offering her most important things, proximity became differentiator.  The Gator's campus is just a two-hour drive from Williams' home while Athens, Ga., is nearly 400 miles from away.
"I've never been very far from my mom," Williams said.  "Especially not to live."
With the Williams commitment, the Gators have a game-changing prospect in the pipeline, one that head coach Amanda Butler has not had in her tenure in Gainesville.  Florida's headline-grabbing recruit is up for the challenge on the court, but she's not much for buying into the hype that surrounds top-shelf recruits.
"I don't' really look at that," Williams said.  "I work hard.  I never take a day off.  I don't really look at it being in the spotlight."
With Florida's class expected to be small simply due to scholarship counts, Williams won't have too many avenues to deflect the attention.  But regardless of the press given to her decision, she is committed to getting in the gym every day and perfecting her craft.
Follow @ChrisHansenPSB