No. 19 Gordon To Connecticut
Posted
6 years 4 months ago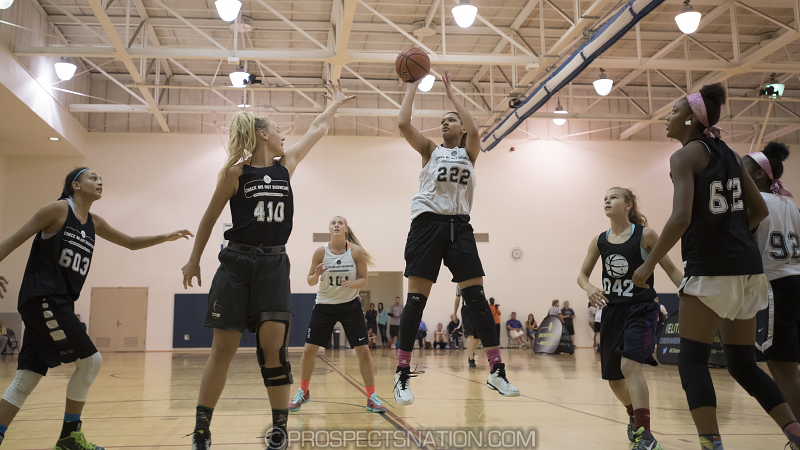 Lexi Gordon elevates for a bucket at the 2015 Check Me Out Showcase in Seattle, Wash. *Photo by Glenn Nelson.
Some things are assumed when it comes to playing for Geno Auriemma and the Connecticut Huskies. The expectations just seem to be higher when a single loss is a shock to fan base and coaching staff. But it was an unofficial visit to Connecticut that dispelled some of the supposition for Lexi Gordon and led to her choosing the Huskies for her college career.
"The moment I got on to campus I loved it," Gordon, the No. 19 prospect in the ELITE 100, said. "I love what they're about, their history. I believe they won't only shape me into the best basketball player I can possibly be but person as well."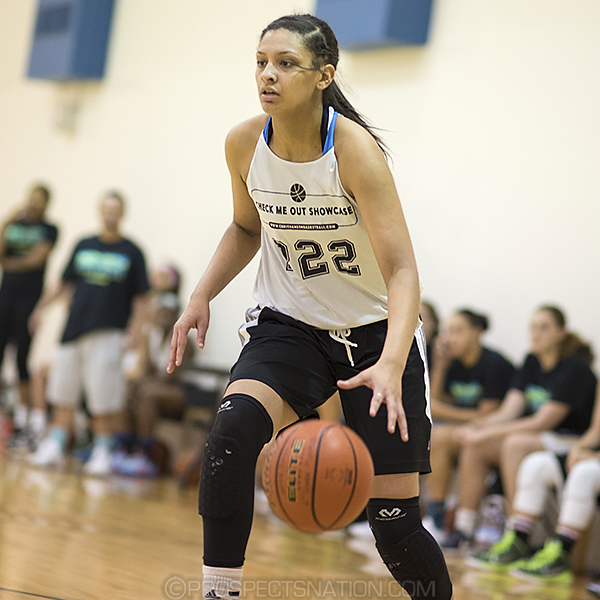 Lexi Gordon of Fort Worth, Texas.
*Photy by Glenn Nelson.Gordon, a 6-foot wing from Fort Worth, Texas, knew shortly after her visit she found her future home, choosing Connecticut over finalists Baylor, Texas and Texas Christian.
"The kids they recruit are different, they're all great teammates, and enjoy each other off the court," Gordon said. "I fit in really well with how goofy they were and going into it I thought they would be maybe like robots or something but they proved me wrong. I like the coaching staff a lot and how well they interact with the players."
Gordon is the second player to commit to Connecticut in the 2017 class, joining fellow top 20 prospect Andra Espinoza Hunter, a 5-10 wing from Ossining, N.Y.
But with parents who both attended TCU and a younger sister, Myra, who she considers her best friend, leaving the state was far from easy, despite being courted by the nation's top-ranked team.
"It'll be tough not being able to watch (Myra) play in high school and kind of grow up because we are so close," Gordon said. "She understands that this is where I belong and she told me not to even worry. Plus with social media and everything I'll be watching her games on Hudl and face-timing her all the time."
Gordon is also prepared for another tough part of this decision, the label of being a vaunted Connecticut commit. The chirps from opponents and over the top expectations come with the territory and she's ready for it.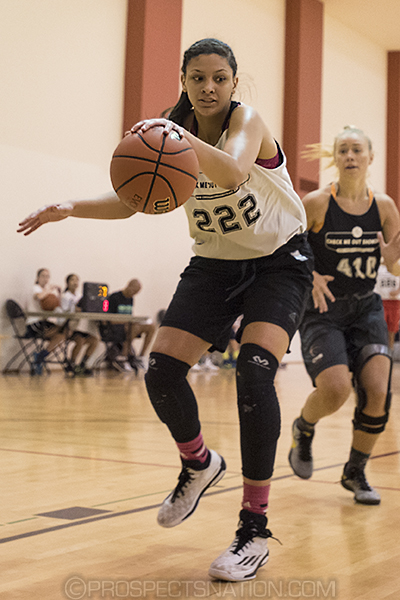 Gordon hasn't shied way from
competition. Photo by Glenn Nelson."It kind of comes with the territory," Gordon said of the pressure. "I can honestly say I will do everything to prepare to get me where I should be when I get there. I'm not a perfect player. Nobody is. I'm going to have bad games but I can't have bad efforts, and I've learned that throughout this season. If the coaches didn't think I could play there and contribute they wouldn't take the time to recruit me. So it's up to me to prove them right and I have all the confidence in the world in myself that I'll be good."
We've seen Gordon in multiple setting in the last year. From club team ball to USA Basketball U16 national team trials to a standout performance at the Check Me Out Showcase in August, she has established herself as one of the most dependable wing scorers in the class. She shoots a high percentage from range and brings the size to create mismatches as well.
Along with Espinoza Hunter, the duo follows a 2016 class that saw point guard Crystal Dangerfield, shooting guard Molly Bent and post Kyla Irwin sign with Connecticut. Adding the depth on the wings behind current freshman Katie Lou Samuelson means the Huskies won't be sort on length or scoring for years to come.

Chris Hansen is managing editor of ProspectsNation.com and serves on the McDonald's All-American and Naismith Trophy selection committees. He was the national director of scouting for ESPN HoopGurlz from 2005 until 2012 and is the director of the Check Me Out Showcase. He can be reached at chris@prospectsnation.com.