Posted
5 years 3 months ago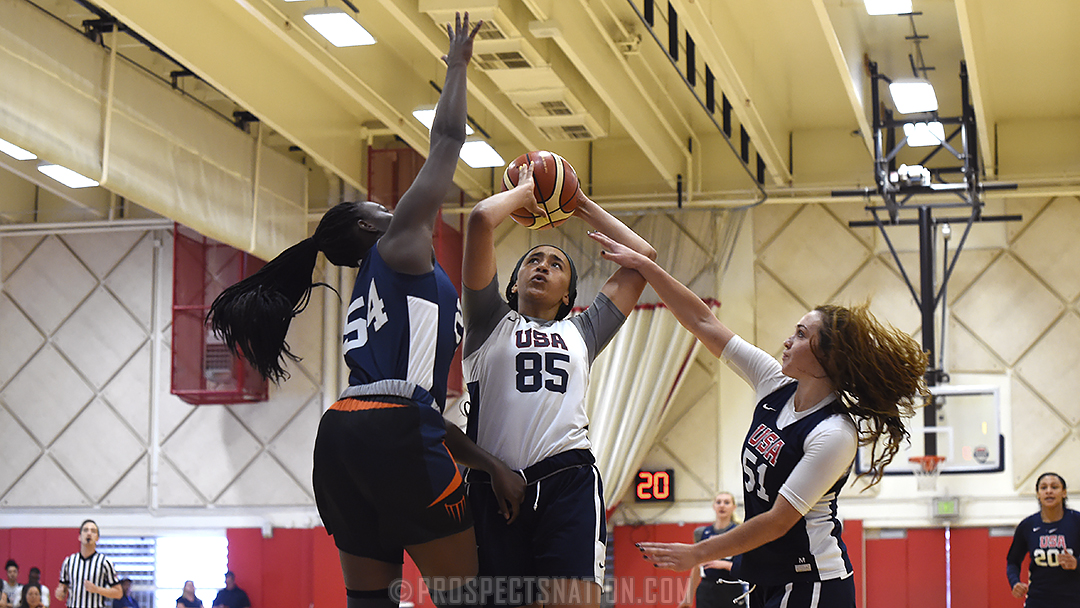 Haley Jones is on a tear at in Colorado Springs at the USA Basketball U17 national team trials. *Photo by Chris Hansen.
COLORADO SPRINGS, Colorado -- It was July 5, 2006 at the old Oregon City High School back gym. The NCAA Certified viewing period didn't start until the next day. So in the upstairs hot box of a gym, I sat watching an exhibition game between Maya Moore and the Georgia Metros and Angie Bjorklund of the Spokane Stars, basically by myself. The two players were the top two ranked players in the country and had faced off several times in their high school club ball careers.
The two were similar in height but their styles and strengths were so very opposite. Athletically, Moore was superior yet time and again Bjorklund was neck and neck with her. The rivalry was awesome.
Talking to Moore later that summer about the rivalry she said she would take film from all of their matchups and dissect Bjorklund's footwork and figure out how she kept creating. Bjorklund's catch-jab-read game was as good as it gets. The intent was not necessarily to stop her in a future matchup, but to take those elements and add them to her repertoire.
Talking with Haley Jones of San Jose, California, at the USA Basketball U17 national team trials brought a sense of déjà vu. Jones has been to various USA Basketball tryouts and been cut three times. She didn't get bitter and shrug off a return; she locked in to a new focus.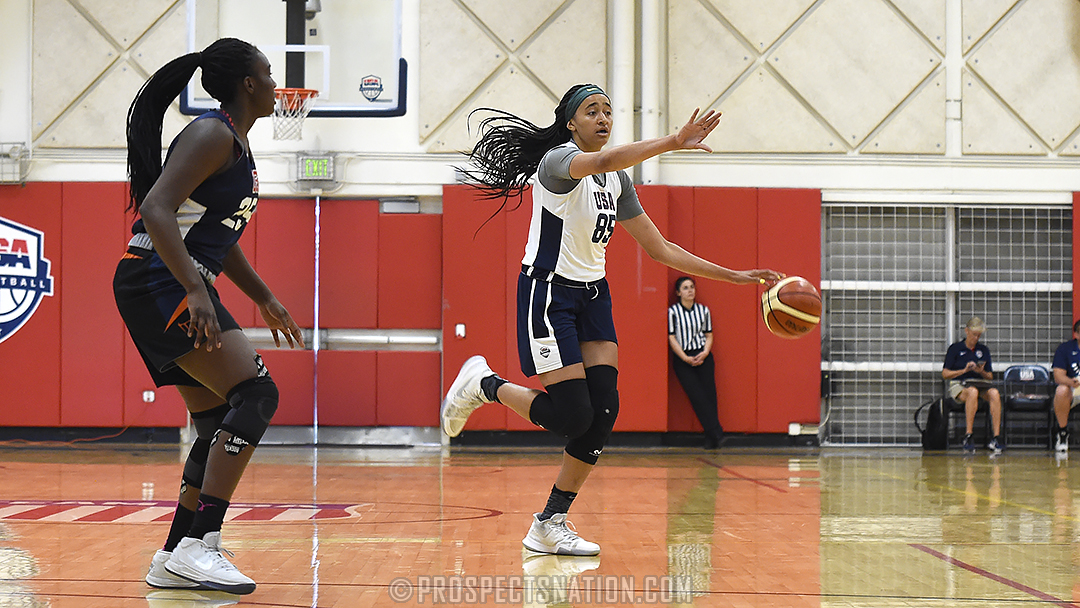 Haley Jones is putting her leadership and versatility
on full display. *Photo Chris Hansen."Especially last year when I was a finalist and got cut, I was like ok," Jones said. "Then I remembered everybody who made it and when I saw them (last) summer it was like motivation to, like, go at you. I want to defend you. I want you to defend me and like try to get better because then I know what they did to make the team."
Initially it sounds like a player angry and seeking revenge, but when you dig deeper, you see that's not what Haley Jones is about.
"I played every single one of them so I tried to incorporate what they did and try to add it to my arsenal."
She won some of those head-to-head showdowns and lost others, but she took something away each time out and it has her on a fast track to the top of her class.
Jones' play at the trials this weekend has been nothing short of stellar, showcasing her versatility and her mental toughness.
"I think this year I'm just kind of giving it all I have," Jones added. "The past years I think I've played kind of timid and I've been more of a passive player looking to defer to other people."
Being a main cog for one of the top club programs in the country, the Cal Stars EBYL, and one of the nation's top prep teams, Archbishop Mitty, has allowed her to sharpen her skills against elite competition at every turn. And playing for two coaches in Mitty's Sue Phillips and the Stars' Kelly Sopak also gave her advice from coaches who have USA experience. Phillips coached two U16 and U17 teams to gold medals at FIBA and Sopak was a floor coach at trials for a cycle. For both, leadership from Jones was a mandatory role.
"I think this year I'm trying to be more of a vocal leader which gives me more confidence," Jones said. "Girls are looking to me to make things happen and I'm trying. I've basically been playing every position in every scrimmage so I'm just trying to show what I can do at every position because I'm a pretty versatile player."
What makes Jones just as valuable as her leadership is the ability to impact the game at multiple positions.
"I played one, five, the wings, I played everywhere," she said of playing with the Cal Stars EYBL program. "That's what I've been doing here as well so I think that gave me confidence to be playing how I usually play. Just be aggressive; not overpassing and not overshooting."
That versatility may not be the exact same as Moore's in her prep days, but Maya too would morph into what her team needed to win. And if there's something Jones' resume already speaks to, it's winning.

Chris Hansen is managing editor of ProspectsNation.com and serves on the McDonald's All-American and Naismith Trophy selection committees. He was a co-founder of and the national director of scouting for ESPN HoopGurlz from 2005 until 2012 and is the director of the Check Me Out Showcase. He can be reached at chris@chrishansenbasketball.com.