Posted
9 years 10 months ago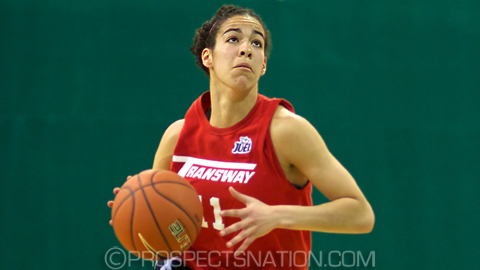 Kia Nurse has her eyes set on being an Olympian in 2016. *Photo by Chris Hansen.
Tweet
Elite is a word that is thrown around a lot in basketball. And that term holds a multitude of definitions. Imagine what the definition is for Kia Nurse of Hamilton, Ontario, Canada. Her father was a wide receiver in the Canadian Football League, her older brother was a first round draft pick in the National Hockey League and both her sister and mother played Division I college basketball. And let's not for get her uncle, six-time NFL Pro Bowl quarterback Donovan McNabb.
The shadows of athletic success are seemingly impossible to dodge yet the 6-foot guard has already done so at the age of 17. In 2012 she played for the Canadian Under-17 national team that won a bronze medal in Amsterdam at the FIBA U17 World Championships. She one-upped that in 2013 by becoming the starting point guard for the starting point guard for the Senior National Team at the FIBA Americas qualifier.
Playing with players twice her age in some cases, her 10 points, 2.5 assists and 2 rebounds per game helped land Canada a silver medal.
Before you discount her success because the accomplishments were with the Canadian team and not in the USA, know that she's competed on the club circuit in the states and has earned a five-star rating, comparing her with a rating similar to a top 15 American player.
Nurse has a poise about her. Despite being as talkative as you might expect a confident 17 year-old to be, she is realistic about the negativity that her relative fame invites.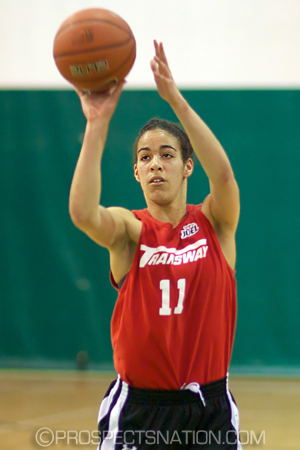 Canadian star Kia Nurse.
*Photo by Chris Hansen.
"People want to see you fail as much as succeed," Nurse said. "I think it's a constant thing in my head, you've got to prove you're the best."
Nurse has positioned herself for success by embracing all the things that come with being a truly elite athlete. She turns the negativity into motivation rather than trying to ignore it, a lesson she said she relied on her family, especially her brother and uncle for.
One thing that is not in doubt is the demand from college coaches for Nurse's game. She is down to her final five of Connecticut, Indiana, Kentucky, Penn State and Tennessee. She originally intended on committing and signing early but she got a late start on official visits waiting on an SAT score.
Before the early signing period Nurse will have visited Penn State, Indiana and UConn. She will still visit Kentucky and Tennessee to complete her process but that will come after the one-week signing period is up.
"I won't wait until spring to commit," Nurse added. "Once I decide I'll make my verbal commitment."
In the mean time Nurse will assuredly continue working on her game and work towards her ultimate goal, being an Olympian. The next test there will be the 2014 FIBA World Championships, which will be held September 27 through October 5 in both Ankara and Istanbul, Turkey.
With still more than 1,000 days until the Rio Olympics in 2016, she has ample time to continue to develop as a player and achieve the ultimate goal for her country.
"I want to be on that podium." Follow @ChrisHansenPSB

Hansen is managing editor of ProspectsNation.com and a McDonald's All-American selection committee member. He was the national director of scouting for ESPN HoopGurlz from 2005 until 2012. He can be reached at chris@prospectsnation.com.