Posted
5 years 4 months ago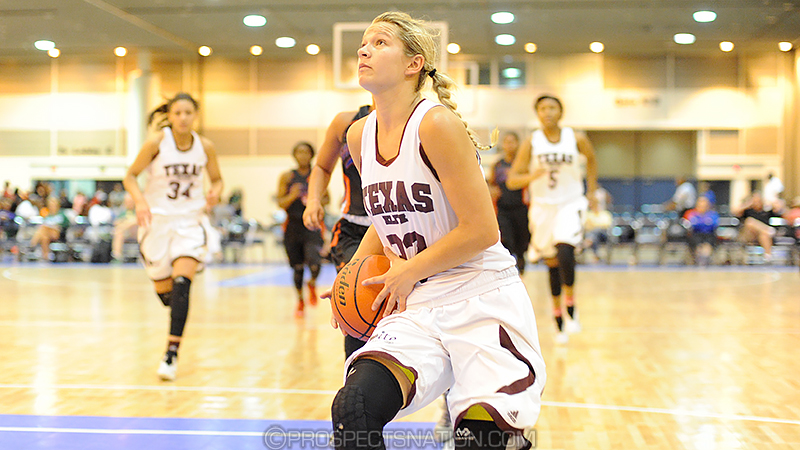 Tatum Veitenheimer gives Oklahoma two guard commtiments in 2018. *Photo by Chris Hansen.
Tatum Veitenheimer has a softball game today. To add to things, the 5-foot-8 point guard also has track practice first and then a softball game later today. After a full day of school, after track practice, but before her softball game, the No. 24 ranked player in the ELITE 100 for the class of 2018 will commit to Oklahoma. For most high school athletes just one of those events would be enough, for Tatum that's just another day.
Veitenheimer, who picked Oklahoma over a number of suitors including, Iowa State, Missouri, Texas, Texas A&M, Texas Christian and UCLA is a multisport athlete who has made a national name for herself on the hardwood. More impressive however is how in her town of Windhorst, Texas, she has become a do-it-all athlete. Throughout her high school career Tatum has competed in basketball, cross-country, softball, volleyball, tennis, and track. So fitting it is that her verbal commitment comes on a day where she has a practice and a game.
As one of the best point guards in the class, Oklahoma coach Sherri Coale and her staff are getting a cerebral playmaker who can be an extension of the coach on the floor. Veitenheimer will be able to set up teammates in positions to score and also being capable of making scoring plays on her own. One of the things about Veitenheimer that will stand out early in her career is her intangibles -- her leadership ability and her willingness to be a vocal leader and on the floor. As current Oklahoma point guard Gabby Ortiz departs, Veitenheimer will be able to step in and leave a similar impact.

"I chose the University of Oklahoma because Coach Coale and I share a vision," Veitenheimer said. "The culture at Oklahoma is exactly what I've been looking for. We have built a great relationship and I trust that Coach Coale will shape me into a better basketball player but most importantly a better person. I know along the way there will be many challenges but I'm willing to accept those in order to better myself and our team. They say when you know where you want to go it just hits you. I know I would run through a wall for Coach Coale and that has been the case from day one. I want to be a difference maker, a player that helps to lead this team which means stepping up and taking responsibility for actions on and off the court as well as understanding always team first. I'm very honored to announce that I am verbally committed to the University of Oklahoma"
With the addition of Veitenheimer, Oklahoma now has two prospects committed in the 2018 class. Veitenheimer will join 5-8 guard Jessi Murcer of Oklahoma City, Oklahoma. With two guards pledged to the Big 12 school, look for Oklahoma to focus their recruiting efforts on post players. A name with some potential is Cate Reese who could be targeted by Coale and her staff.
Keil Moore is the Director of Scouting for the JumpOffPlus.com National Scouting Report and international scouting report. He serves on the Naismith Trophy Board of Selectors and has been a member of the women's basketball community for more than eight years as a trainer and evaluator. He can be reached at keil@prospectsnation.com.