Posted
9 years 7 months ago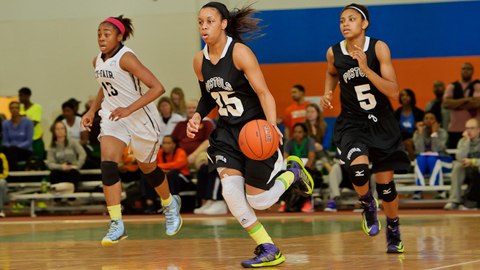 Asia Durr (25) took home tournament MVP honors and a trophy. *Photo by Ty Freeman.
HAMPTON, Va. – Consistency is perhaps the most difficult thing to achieve in sports, yet it was just that which elevated the Georgia Pistols to the championship at the 2013 Boo Williams Nike Invitational.
The consistency started with the Pistols top player, Asia Durr, the ELITE 25 sophomore from Douglasville, Ga. The dynamic 5-foot-10 guard finished with 25 points, 12 in the first half and 13 in the second, en route to a four-point win over Cy-Fair Nike Elite.
After taking a 38-30 lead into the half, the Pistols needed that consistency to brace for the inevitable run from Cy-Fair. That run came virtue of a 25-point second half from 2014 ELITE 60 guard Ariel Atkins. The Texas signee finished with 30 and did everything in her power to get Cy-Fair back in the game.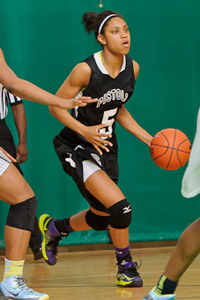 '14 wing-guard Brianna Cummings.
*Photo by Ty Freeman.
The Pistols outlasted Cy-Fair's late flurry, which cut the lead down to one with 5:07 to play, with consistency. They rebounded the ball well and got contributions from players besides Durr, such as the 13 points from Brianna Cummings, the 5-10 junior guard from Lawrenceville, Ga., and 12 points from Ayanna Mitchell, a 6-2 sophomore post from Conyers, Ga. Jasmine Carter, the 5-7 guard from Stone Mountain, Ga., finished with just three points but made plays on defense and was key in getting the ball to the Pistols' scorers.
Cy-Fair got 12 points from Kennedy Leonard, a 5-8 sophomore guard from Soutlake, Texas, and nine points from junior ELITE 60 point guard Brooke McCarty of League City, Texas.
But Durr and company were too much. Despite all the hub-hub from the numerous marquee matchups that Durr faced along the way – namely going head-to-head with Texas Preps Elite's sophomore Lashann Higgs and the No. 1 junior in the country, Kelsey Mitchell of All-Ohio – the Pistols entire team played their specific roles and rolled to top honors at the most celebrated tournament of the spring evaluation weekend. Follow @ChrisHansenPSB
Hansen is managing editor of ProspectsNation.com and a McDonald's All-American selection committee member. He was the national director of scouting for ESPN HoopGurlz from 2005 until 2012. He can be reached at chris@prospectsnation.com.