Player History: Lauren Cox
Posted
7 years 1 month ago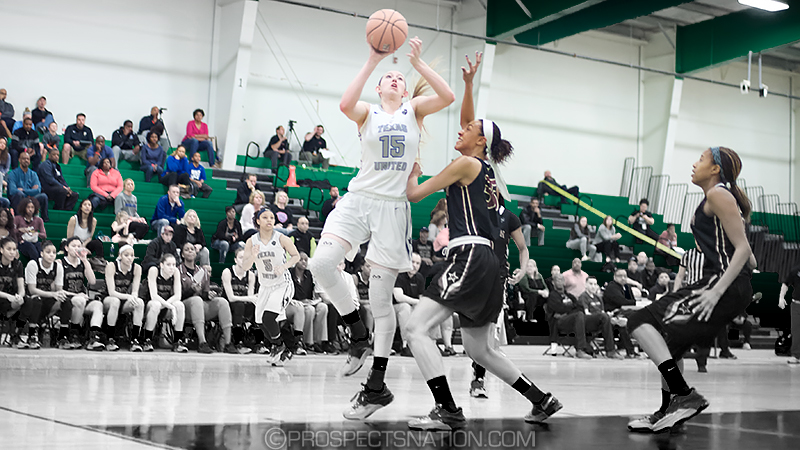 Lauren Cox of Flower Mound, Texas, has held the No. 1 spot in 2016 for two years. *Photo by Chris Hansen/@ChrisHansenPSB
We first saw current No. 1 overall rising senior Lauren Cox of Flower Mound, Texas, as a middle school prospect at AAU Nationals. At that young age Cox was already showing signs of elite potential and throughout her prep career she has continued to make a name for herself on both the national and international scene. Cos is the first installment of ProspectsNation.com's Player History series from the 2016 class.
First Showing
AAU Nationals, Orlando Fla. – July of 2012
In our first evaluation of Cox, we took obvious note of her size and length but it was her mobility that really caught our attention. Most players of her size and age displayed coordination or agility issues as they learned to grow into their body. At an early age Cox displayed superior mobility and agility while also showing a set of soft hands that allowed her to catch the ball and keep it high. She showed some back to the basket ability here as well but at that stage Cox was much more comfortable facing the rim. She could handle the ball well for a player her size and we highlighted her as a potential "watch list" kid designating her as a potential four or five-star prospect down the line.

USA U16 Trials
Colorado Springs, Colo. – May 2013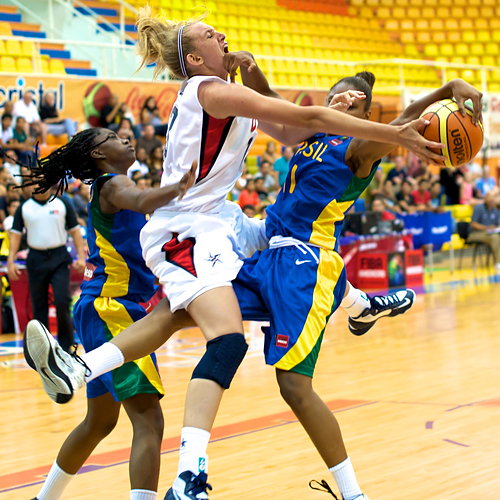 Just a year later we had already worked up a number of summer basketball level evaluations on Cox but an opportunity to see her compete against her peers at USA Basketball's U16 trials presented us with a new setting to evaluate the then No. 1 player in the class. Over the previous year Cox had shown tremendous growth in her ability to be effective in various parts of the offensive side of the ball. She was more comfortable playing in the post, she showed a more consistent perimeter jumper, and was starting to handle the ball well enough to face the rim and score in isolation situations. Her play at the U16 trials earned her a spot on the U16 national team and continued to help her build a resume as one of the country's best players.
USA U17 Trials
Colorado Springs, Colo. – May 2014
At this point Cox had solidified herself as a five-star prospect and one of the country's best prospects in the class of 2016. Cox would go on to make the USA U17 team and be an integral part in the USA winning a gold medal in the Czech Republic during the summer of 2014.

From trials:
Cox is one of the most talented post players to come through the high school ranks in a long time. She is an instant impact player at the next level because she has to be consistently double teamed on the blocks. She has the ability to face the basket and despite a bit of an awkward release on her perimeter jumper she has been fairly accurate on her long and mid-range jumpers. Cox plays with an edge and isn't afraid to be physical on either side of the ball. She isn't a big time defender but because of her willingness to give out the first blow she can be effective and minimize the impact of opposing post players. What we find most impressive about the class of 2016 prospect is her ability to pass the ball out of double teams and create scoring opportunities for her teammates. It's just something that you don't find at the high school level.
Overview
Cox currently still holds the No. 1 spot in the class of 2016, a spot that she has managed to hold for the duration of her prep career. That said, Cox has talented prospects right behind her and there certainly is a race for the No. 1 spot moving forward. Since our first evaluation of Cox the comparisons with No. 3 Joyner Holmes of Cedar Hill, Texas, have been constant with people across the country. If someone was to jump Cox and take over the No. 1 spot in our rankings it most likely would be Holmes. That said, Cox has been arguably the most impressive and most accomplished prep prospect in the class of 2016. If you want to point to a moment in her prep career that shows her impact look no farther than the championship game against the Spanish U17 national team. Duke signee Angela Salvadores and Spain gave the USA team a serious run for their money and while No. 1 overall in 2015 Asia Durr made two timely baskets down the stretch, it was Cox who put up an impressive stat line of 20 points, 12 rebounds and 8 blocks that stood out as the most efficient and effective performance of the game.
The Future
The next major hurdle for Cox will be her college decision. Over the last couple of months Cox has made unofficial visits to programs such as Baylor, Louisville, Notre Dame and Texas. Connecticut and South Carolina are also in the mix for the No. 1 overall prospect. Look for the pursuit of Cox to be a major storyline in the upcoming months as she will be one of the most sought after recruits of the 2016 class.
Keil Moore is the Director of Scouting for the JumpOffPlus.com National Scouting Report and international scouting report. He serves on the Naismith Trophy Board of Selectors and has been a member of the women's basketball community for more than eight years as a trainer and evaluator. He can be reached at keil@prospectsnation.com.