Player Spotlight: 10 Questions For Spring
Posted
8 years 3 months ago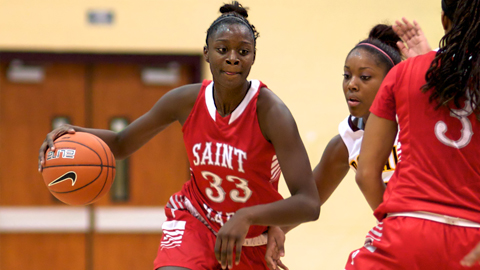 '14 ELITE 60 guard Gabby Green.
*Photo by Chris Hansen.
Another college basketball season is in the books, but while that means we won't be able to sit at home on a Sunday afternoon and watch games on television, it also means that spring travel team season is here. The April evaluation weekend is here and which means it will be a busy month for schools around the country recruiting wise.
The exciting thing about the spring evaluation period is taking a look at the crop of emerging juniors and getting a fresh evaluation on them during the first legs of the circuit.
Is class of 2014 Texas verbal commitment Ariel Atkins the top 15 type of talent that she has shown the potential to be so far this year?
What about Cayla McMorris? Last summer she was trending up, will she continue that ascension towards the top of the class?
These are just a few of the questions we will be looking to answer at multiple locations this year. Our Prospects Nation staff will be at Boo Williams in Hampton, Va., and the Tip-Off Classic in Suwanee, Ga., trying to keep tabs on all of the action from top players around the country. Here is a look at some of the players we will be excited to see play and some of the questions we are looking for them to answer.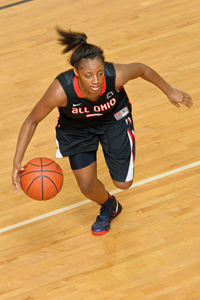 '14 top ranked Kelsey Mitchell.
*Photo by Ty Freeman.
Kelsey Mitchell, PG
ELITE 60 Rank: No. 1
College: Undecided
Mitchell is one of the most exciting players to grace the summer circuit in many years. There won't be a lot for us to learn from watching her play this weekend, but it will be interesting to see how dominant the class of 2014 point guard can be. Last summer Mitchell was one of the best players in the country regardless of class. With the class of 2013 gone can Mitchell create separation from the rest of the class as the clear No. 1 player in the class or will there be a race for us to watch for this summer?
2. Sadie Edwards, PG
ELITE 60 Rank: No. 8
College: Connecticut
Because of her playing at a high school with a national level schedule we were able to keep up with Edwards regularly. Edwards committed to Connecticut in late February. In the past year she has continued to improve and shown as well as any prospect in the country with her play on the floor. This weekend the highest rated underclass recruit for the current national champions has a chance to show the world how good she is. Will Edwards' stock continue to rise when the ELITE 100 drops later in the spring?
3. Gabby Green, PG
ELITE 60 Rank: No. 17
College: Undecided
Green is one of the most intriguing players in the country. There is no denying the fact that she can play. Where the questions begin and end with Green is what position she is ready to play at the next level. Throughout her prep career the 6-foot-2 prospect has been a primary ballhandler and played the point for both her summer team and high school team. Still in the eyes of some, Green is more suited to play off of the ball. Green seems most comfortable with the ball in her hands, running a team. A couple of strong performances in Virginia this weekend could be a huge step in the right direction for her to make the case as a point guard as well as a feature player.
4. Mychal Johnson, PG
ELITE 60 Rank: No. 22
College: Notre Dame
Johnson has all of the tools to be a perfect fit at Notre Dame. She can score the ball, run a team, and is a quality on-ball defender. After a strong high school season she is right there in the conversation as one of the best players in the country. Taking the momentum of a good spring weekend into the summer should solidify Johnson's stock as a potential All-American.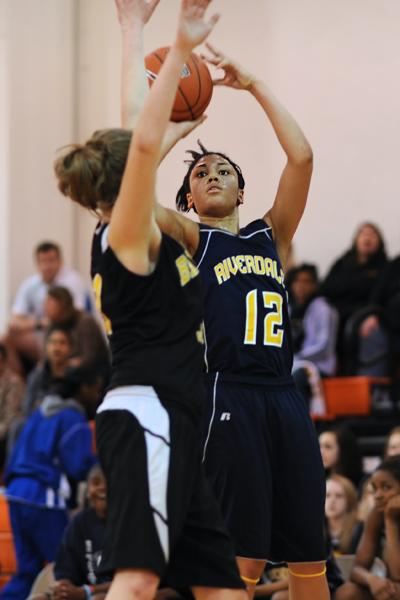 '14 ELITE 60 wing Ariana Freeman.
*Photo by Chris Hansen.
5. Ariana Freeman, SF
ELITE 60 Rank: No. 32
College: Undecided
Freeman had as good of a high school season as any player in the country. She carried her high school team and earned a host of individual hardware as a result. At the close of the high school season she decided to decommit from West Virginia and is now looking at schools like Tennessee, Kentucky, and Louisville to name a few. This class is void of elite wings who can score the ball. Is Freeman that "it" wing that deserves a place in the top 25? Can she continue to be one of the best defensive players in the country while showing an expanded offensive game?
6. Ariel Atkins, SG
ELITE 60 Rank: No. 36
College: Undecided
We have talked a lot about Atkins this spring, she has all of the tools to be a high school All-American and her credentials stack up as well. She has three state championships and a Gatorade Player of the Year award going into her first summer on the national circuit. If there is one player that is sure to make a leap in our ELITE 100 in a couple of weeks, it is Atkins. How far? That's up to her.
7. Cayla McMorris, SF
ELITE 60 Rank: No. 39
College: Undecided
As we said earlier, McMorris was trending up last summer. When you look at her frame and athleticism she has all the tools to be considered a prototype wing for the next level. Last summer she was showing the emergence of the skill set to match the physical tools. We will get a good look at her this weekend and see if she has continued to make steps to become a complete player.
8. Katelyn Flaherty, PG
ELITE 60 Rank: 46
College: Undecided
If there was one kid we just needed to see more of this weekend it would be Flaherty. I made a two-hour drive this high school season to see her play, but because of a scheduling mix up, missed the game. The times we've seen her play, Flaherty has been very good. We will make sure we get a close look at her this weekend to see where her place is when the rankings expand.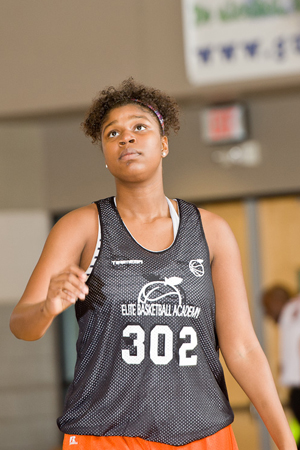 '14 ELITE 60 post Erin Garner.
*Photo by Ty Freeman.
9., Erin Garner , C
ELITE 60 Rank: 59
College: Undecided
While she is already 6-4 with great size and length, Garner seems to still be growing and developing. As a true post player with the ability to score with her back to the basket and step out and shoot the face-up jumper, Garner has a unique set of tools. She has the ability to be one of the best post players in the country but consistency is something we are still looking to see out of her on the regular basis. This weekend is another chance for Garner to turn in a couple of quality performances and show that she is still making strides to maximize her potential.
10. Amber Holmes , PG
ELITE 60 Rank: Not ranked
College: Undecided
Holmes is a speed demon at the point guard spot. She is one of those players who is flying under the radar going into the spring but could be a household name a couple of weeks from now. We will be looking to see if she can be as effective on the circuit this weekend as she was in high school this season. Follow @KeilMoorePSB
Moore is the National Director of Scouting for the JumpOffPlus.com National Scouting Report. He can be reached at keil@prospectsnation.com.