Players Show Level Up In Seattle
Posted
3 years 10 months ago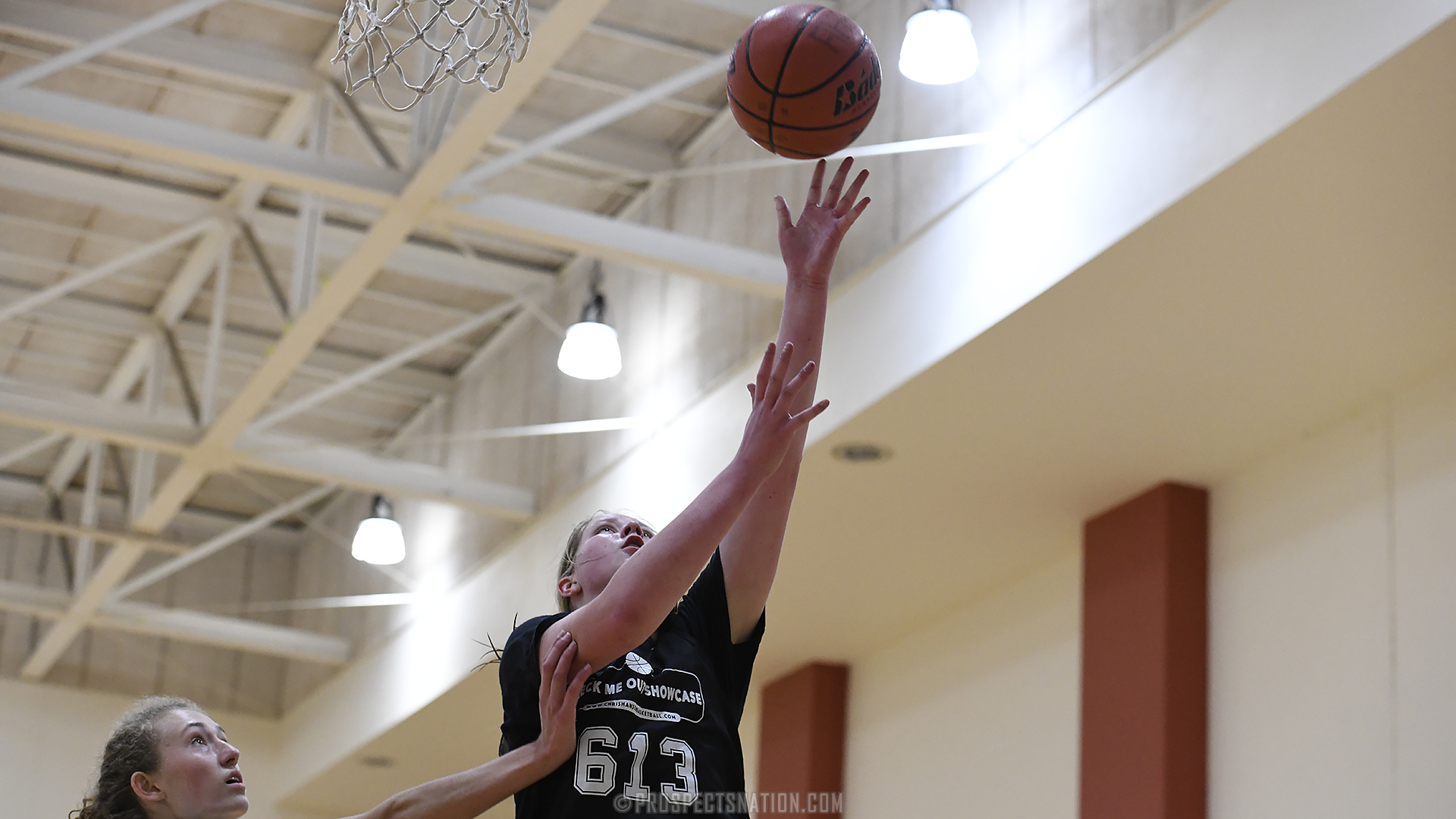 Faith Bergstrom of Camas, Washington, shows off her terrific touch around the basket. *Photo by Glenn Nelson.
SEATTLE -- August in the Northwest means it's time for another competitive weekend with the Check Me Out Showcase. This year 120 players took their games to the University of Washington IMA building to work with an elite training staff led by former professional player Ashley Corral and test themselves against the best in the region. What stood out after a weekend in the gym was the significant improvement, especially among the frontcourt players in the Seattle and Portland areas.
Sela Heide (North Bend, Washington ), FOH Team Loyd – 2020
At 6 feet 7 inches tall, Heide is a player that college scouts have been aware of for several years. She's sure going to make some people happy this season as her development shows huge strides in her physicality, ability to finish and willingness to be a go-to player. Her footwork both in the high and low post are solid and she's clearly emphasized keeping the ball high in her skill work as defenders rarely get a chance to get their hands on the ball without fouling. She worked hard both days of the showcase and that soft touch on the glass is going to stand out as her career progresses.
Faith Bergstrom (Camas, Washington), Camas High School -- 2021
What a difference a year has made for Faith Bergstrom of Camas, Washington. The 6-2 forward was among the best post scorers in the gym all weekend. She's stronger now and it shows from holding her position in the post to her hands. She was patient on the catch, didn't seem phased by contact and found ways to get to her baby hook shot. Expect a big sophomore season from her.
Jaquaya Miller (Kent, Washington), Tree of Hope – 2019
When it comes to athletic post options, Miller is one of the best on the west coast. When she turned it on she was unstoppable. She led her team to the Queen's Court in 3 on 3 competition and helped win the championship in front of the entire camp. She's powerful in the lane and can elevate even after taking a foul. Her ability to get out in transition is a big reason that schools from across the country have been calling on this 6-3 rising senior.
Abby Graham (Portland, Oregon), St. Mary's Academy – 2022
Graham doesn't play like an incoming freshman physically. Her frame is strong and long which made her a really exciting scorer, especially as a slasher. She showed the strength to play through hand help and the athleticism to elevate in traffic to score. Despite being on of the youngest in the upperclassmen session her pace of play suggests confidence with the ball.
AROUND THE RIM
Tiarra Brown of Spanaway, Washington, is a powerful guard option. Her physical style and size at 5-10 make her a definite matchup issue and the year of national competition with Team Nike Northwest had her playing fearless this weekend.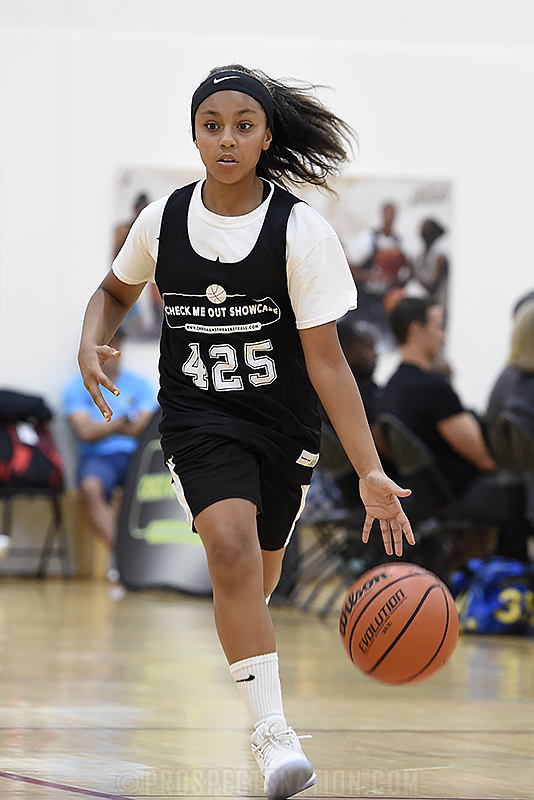 Tavia Hollimon of Snohomish,
Wash. *Photo by Glenn Nelson.Piper Bauer of Gig Harbor, Washington, is slight in build but big in heart and skill. She's a player that elevates her teammates with her skill and aggressive mindset. She created shots for teammates and herself.
Talia Sireni of Surrey, B.C., is a 2019 guard who will make a great addition to a school's recruiting list this fall. She's a strong player with size at 5-10 and she takes pride in defending and rebounding as well as playing offense.
Bailee Chynoweth of Austin, Texas, is no stranger to the CMO courts, starting with us in the Northwest and joining us in Texas as well. She's added a dependable 3-point jumper to her game which already includes speed and aggressive defense.
Daylani Ballena of Renton, Washington, showed considerable improvement in her game, mainly in knocking down the long jumper. She's a penetrating point guard so adding that second way to score is huge for her.
Tavia Hollimon of Snohomish, Washington, was a first time player at our showcase and she attacked the weekend. Her willingness to attack the heart of the defense along with her quick first step set the table for quite a few plays to be made.
Jaecy Eggers of Woodinville, Washington, is a 2024 swing forward who showed the strength to play on the interior but the confidence and skill to knock down perimeter jumpers if left open.

Chris Hansen is managing editor of ProspectsNation.com and serves on the McDonald's All-American and Naismith Trophy selection committees. He was a co-founder of and the national director of scouting for ESPN HoopGurlz from 2005 until 2012 and is the director of the Check Me Out Showcase. He can be reached at chris@chrishansenbasketball.com.