Posted
2 months 2 weeks ago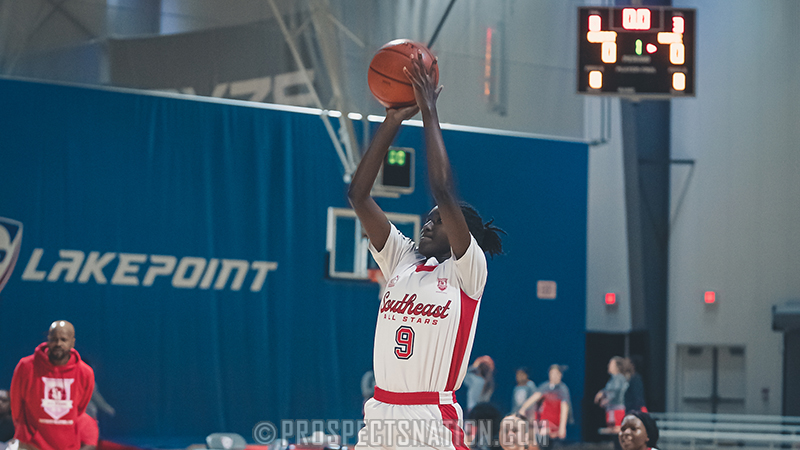 Toni Warren of the Southeast All Stars elevates for a jumper at the Power 48 event at LakePoint Sports. *Photo by Anthony Lugardo.
CARTERSVILLE, Georgia – The annual Brandon Clay Power 48 brought club teams and college coaches together from all over the country. From 2022 NCAA Division One Tournament No. 1 seed NC State's Wes Moore to multiple Pac 12 members, there was no shortage of eyes watching the hundreds of kids playing for a chance at a college scholarship. Here's a second look at some of the names from the weekend:
Though she's committed to Purdue already, class of 2023 forward Emily Monson of Southeast All Stars Black is locked in like she's still on the grind. Her rebounding and defense are both major keys to her production at the collegiate level.
Like Monson, class of 2024 wing Toni Warren (Canton, Georgia) of Southeast All Stars Red is making a name for herself with her versatility. She jumps as high and quickly as any kid in the region with shooting range that seemingly expands by the weekend. Warren hit a corner 3-pointer drawing a foul in the process.
Class of 2023 wing Bailey Johnson (Metairie, Louisiana) of Kenner Angels is a shooter's shooter. She had multiple games with five or more 3-pointers. Keep an eye on the organization too as Denis Aidoo builds the Angels back to national prominence.
Class of 2024 wing Nicole Wallace (San Antonio, Texas) of Player First is a fantastic spacer with her ability to make the open 3-pointer. She made several timely shots in victories throughout the weekend.
DME brought two teams full of talent with class of 2022 post Amari Jackson (Gainesville, Florida) of DME Academy serving as a great example of why these events are so important. Jackson received interest from schools as far away as California and Oregon afterwards.
Keep an eye on D. Shine Lady Grinders class of 2023 guard Aaniyah Allen (Elberton, Georgia). She's a quality option in the region to keep an eye on.
Tom Mason coaches the Georgia Flames with passion and consistency. He has multiple players of note including Hailey Hiddema (Gainesville, Georgia), Bella Martin (Cumming, Georgia) and Marissa Mason (Canton, Georgia) amongst others.
Southern Sky Elite came in ready to put everyone in the gym on notice. Peter London from CGHR Media was impressed with the play from both rosters that Will Rutledge entered.
The same can be said for Tiff Johnson's roster entry as well. She has them competing and ready for the action at all times.

Brandon Clay serves as the Director of Scouting for ProspectsNation.com and owns The BrandonClayScouting.com Evaluation Report, which is read by more than 200 colleges and universities nationwide. He also serves as the Executive Skills Director for the Brandon Clay Scouting Academy Series.