Posted
1 month 4 weeks ago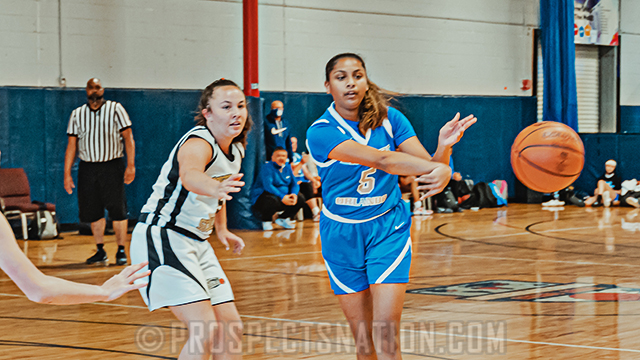 Karishma Ortiz of Orlando, Florida, competes at the Power 48 with her Blue Star Orlando program. *Photo by Anthony Lugardo.
STONE MEMORIAL, Georgia, - More than 35 teams from five states competed at International Sports Arena this weekend. The early spring tournament provided an opportunity for prospects to measure up against top competition. Here is a rundown of the top performers from the event.
2022 Checklist
Ananda Mayhew (McDonough, Georgia) OMG Team Georgia Elite – 2022
Mayhew emerged as a next level prospect this weekend. Her blend of athleticism and open court slashing ability allows her to impact the game consistently. The 5-foot-8 wing can turn defense into offense by getting deflections and steals. There is still plenty of upside for her to realize as she polishes her handle and jumper.
Caelan Ellis (Powder Springs, Georgia) Atlanta Celtics – 2022
Ellis made a big splash on Saturday afternoon by lighting up the scoreboard with long range jumpers. The 5-7 guard is a potential 3-point specialist given her quick, compact release and accuracy. She lit up the scoreboard on Sunday afternoon with a 28-point effort, which included 19 points in the fourth quarter on five 3-pointers.
Alayla Denmark (Waynesboro, Georgia) Team Elite Peake – 2022
Denmark is a strong, aggressive forward who affects the game in several areas on the court. She showed her presence by cleaning the glass and attacking the lane with a high post drive. The well-built junior can defend multiple positions on the court given her active footwork.
Macey Mullins (Gate City, Virginia) Tennessee Flight Select - 2022
Mullins is another 3-point specialist who gained attention on Saturday afternoon. The 5-foot-6 combo guard found gaps in the opponent's defense and splashed shots from beyond the arc. She is also a capable ball handler who keeps the ball moving in the half court when the defense rotates quickly towards her.
Laura Jarrett (Augusta, Georgia) Team Elite Peake – 2022
Jarrett turned heads this weekend with her athleticism and open court finishing. The 5-10 wing provides playmaking for coach Peake's team both in the half-court and in transition. She is versatile enough to post up smaller defenders. Her vision with her passing allows her to create opportunities for teammates around the rim.
Aliyah Washington (Dallas, Georgia) Atlanta Celtics – 2022
Washington is a power wing who provides toughness for her Celtic teams. Her ability to rebound from the wing was critical for her team's success. She powered past defenders en route to an 11 point outing in a victory over Team Elite Peake on Sunday afternoon.
2023 Checklist
Anaja Hall (Alpharetta, Georgia) AOT Lady Rebels, - 2023
Coach Haney and company are working hard to help Hall reach her potential. The 6-5 center has many of the physical tools that are desired as a paint protector at the next level. She alters shots in the lane and will haul down rebounds in traffic. Although her offensive game is not all the way developed, she showed the ability to seal, catch and score in a 1 on 1 match-up.
Trinity Barrow (Evans, Georgia) Team Elite Peake – 2023
Barrow is a floor general capable of pushing the tempo for her team. She is a quick ball handler that can lead the break and create offense in the open court. Her high energy attitude and confident ball handling landed her on this list and make her a prospect of interest moving forward.
Hannah Jones (Cleveland, Tennessee) Tennessee Flight Select – 2023
Jones looks to be another talented post player to emerge from the pipeline of talent from Bradley County High School. She is a 6-foot forward who is ideal in a hi-lo offense. She displayed nice touch in traffic and mobility to affect the game on either end of the floor. With another year of development still in front of her, we expect to see her name in the headlines coming out of Southeast Tennessee.
2024 Check List
Talia Kemp (Winter Garden, Florida) Blue Star Orlando – 2024
Kemp is the player that stirs the drink for coach Joel Vega's team. She is an athletic point guard who pushes the tempo and sets the energy defensively. Her high energy attitude and aggressiveness was key in her team's success this weekend.
Ortiz is evolving as a prospect. Since our last evaluation she has grown an inch or two while adding tools to her basketball toolbox. She split time at the point for her Blue Star 2024 team and did it with poise and confidence. Ortiz athleticism is still exciting, but her ability to connect on 3-point jumpers is now a bonus.
Middle School Checklist
Kortney Headrick (Crossville, Tennessee) Tennessee Flight Select – 2025
Headrick excels as an interior finisher. She has a rare combination of footwork, soft hands and physical strength. When she gets position, it is almost a guaranteed two points in the paint.
Carsyn Swaney (Maryville, Tennessee) Tennessee Flight Select – 2025
Swaney brings a unique mixture of size, ball handling and confidence to the court. She could be seen initiating the offense for her team and scoring on drivers to the bucket. Her body control in traffic combined with her footwork made her a standout performer this weekend.
Journey Smith (Leeds, Alabama) All Alabama Girls Basketball – 2025
Smith was one of several standout performers from the All-Alabama team this weekend. The 5-6 combo guard is a solid ball handler and has the instinct to put the ball in the hole. Add in her willingness to rebound and do the dirty work and Smith checks a lot of boxes that a coach wants in a prospect.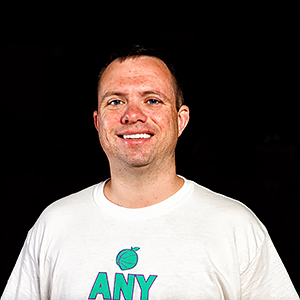 Hemingway is the Assistant Director of Scouting for the JumpOffPlus.com National Scouting Report. He can be reached at jonathanhemingway@peachstatebasketball.com.