Posted
7 years 3 months ago
GILBERT, Ariz. – The Nike Tournament of Champions is here again and this year's field of teams is an impressive one. Here are some of the headlines heading into this year's tournament.
Anna Wilson vs Destiny Slocum
Destiny Slocum is the No. 2 ranked point guard in the class of 2016. Anna Wilson is the No. 6 ranked point guard in the class of 2016. On Friday to kick off the TOC, two of the top six point guards in the country will meet head to head in what could arguably be the game of the day. The two play at 7:00 p.m. on Friday night and although they are different styles of point guards, they both have the ability to make a major impact and help their team advance to the next round at the Nike TOC.
Coombs First Test
Mikayla Coombs is currently the No. 28 ranked player in the ELITE 100 for the class of 2017 but due to a knee injury, Coombs has missed a considerable amount of time. Our ProspectsNation.com staff took in a game Coombs played for her Wesleyan High School team early this high school season but this weekend in Phoenix will be Coombs' first test on the national stage. Before her injury, Coombs was one of the more talented players in the 2017 class. It has been a considerable amount of time since we have seen her play against the caliber of competition we will see her play this weekend.
Can Boehm Shine Again
There might not be a more underrated player in the country than Harvard signee Jeannie Boehm. The 6-foot-2 post has the full offensive package. She can score around the rim, is an excellent interior passer, and plays with a blue-collar attitude. Ultimately she should be able to take a weekend like this and garner some of the national attention that she deserves. It will be exciting to watch such a talented player get her chance to shine on a national stage.
Teams to Watch
St. Mary's Stockton – St. Mary's Stockton is arguably the No. 1 team in all of high school basketball this year. If there was a favorite for this year's Nike TOC crown, St. Mary's is it. They have a collection of elite talent and depth but it is their experience that might separate them from this year's Nike TOC field. Oregon State-bound wing Kat Tudor, arguably the premier shooter in the country, and No. 3 overall in 2018, Aquira DeCosta will lead the way for a talented St. Mary's Stockton group.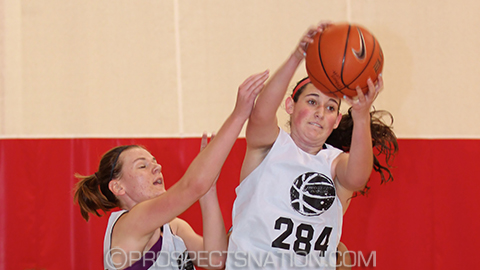 Mater Dei – Year in and year out, there might not be a more consistent program in all of high school basketball than Mater Dei. This year is no exception to previous seasons. The Southern California based school is loaded with a host of Division I prospects and will be as tough an out as there is this weekend. UCLA signee Allyson Rosenblum and USA Basketball U16 member Jayda Adams, a class of 2017 grad, will lead the way for Mater Dei this weekend.
Riverdale Baptist –Riverdale Baptist just played at the She Got Game Classic in Washington D.C., last weekend. With multiple players signed to power five-conference schools, Riverdale Baptist has to be in any discussion with the best teams in the country. Maryland signee Kaila Charles will lead the way for Riverdale Baptist but she has help in the form of Morgan Smith, a Georgetown signee, point guard Nia Washington, an Iowa State signee, and 2017 wing Jalynn Holmes who is being followed by a number of division one programs.
Pick Six
Here are six names you need to know heading into the Nike TOC:
Grace Berger, Sacred Heart
Kiara Jefferson, West Campus
Alaysia Styles, La Jolla Country Day
Jakia Turner-Brown, Bishop McNamara
Taycee Wedin, LaSalle Prep
Sydnei Wiggins, Harrison
Keil Moore is the Director of Scouting for the JumpOffPlus.com National Scouting Report and international scouting report. He serves on the Naismith Trophy Board of Selectors and has been a member of the women's basketball community for more than eight years as a trainer and evaluator. He can be reached at keil@prospectsnation.com.