PSB Spring Showdown -- Friday
Posted
6 years 12 months ago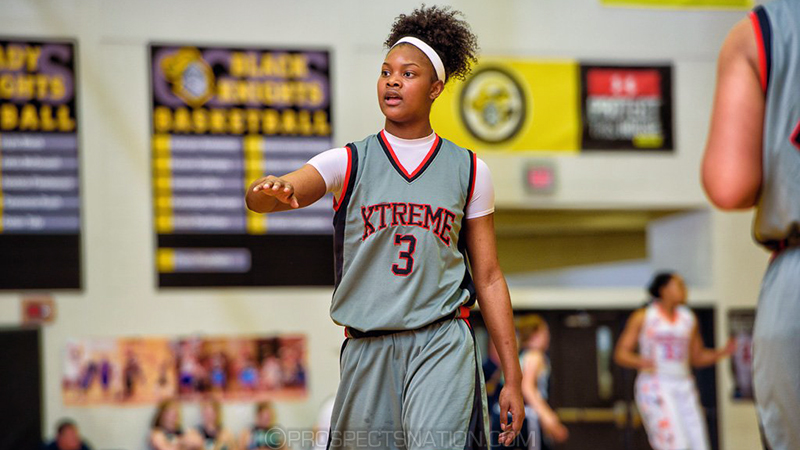 Jazmine Massengill of Harrison, Tenn., was one of the most dominant players on the opening day of the PSB Spring Showdown. *Photo by Ty Freeman.
LAWRENCEVILLE, Ga.—The PSB Spring Showdown tipped off Friday night as a signifier that the 2016 travel circuit has arrived. Teams from around the South traveled to the Greater Atlanta Area to compete in bracket play on day one. Here are a few standout prospects from opening night.
Jazmine Massengill of Harrison, Tenn., had the most dominate offensive performance of the evening for Tennessee Xtreme. The class of 2018 guard stands at 6 feet tall and she has many dimensions to her game. Massengill started the game with three straight 3-pointers and finished with 24 points.
Mikayla Coombs, a class of 2017 guard from Buford, Ga., was very impressive for FBC Motton. Her ability to get to the rim whenever she wanted helped propel her team to a victory over East Tennessee Air. Coombs finished with 16 points.
Class of 2017 guard, Bianca Jackson of Montgomery, Ala., provided great energy and length for FBC Motton. Jackson's length allowed her to create a lot of opportunities off of defense and convert into easy offense for her team. She finished with 12 points.
The Carolina All-Stars 2017 have a very talented roster that competes during every possession. Jaylin Powell, a class of 2017 guard from Raleigh, N.C., attacks the rim well with both hands and finishes through contact. She is crafty around the rim and controls her body well in traffic.
Kelly Fitzgerald of Apex, N.C., is a 2017 guard who also played with great pace for the All-Stars. Fitzgerald had a series of plays where she created off the bounce for an easy bucket, pulled up in transition, and then assisted on a few baskets as well.
Brooke Burns, a class of 2017 guard of Gadsen, Ala., put on a scoring clinic for the Alabama Southern Starz. Burns is a quality guard with a true ability to shake a defender at any moment. She is an athletic point guard with a good understanding of changing speed and finishing at the rim.
Class of 2017 guard, Wynter Webb of Buford, Ga., had a solid showing in the Georgia Hoopstars Black opening game. Webb was active on both ends and knocked down multiple perimeter and mid-range jumpers consistently for the Hoopstars.

Rebecca joined the team at the end of 2012 and quickly made her presence felt as our in-house contributor for Peach State Media during all events and now as a writer for Prospects Nation. She's been in the community as a columnist since 2008 and also serves on the Naismith Awards selection committee. Rebecca played college ball at both Kentucky and North Carolina.