Posted
4 years 8 months ago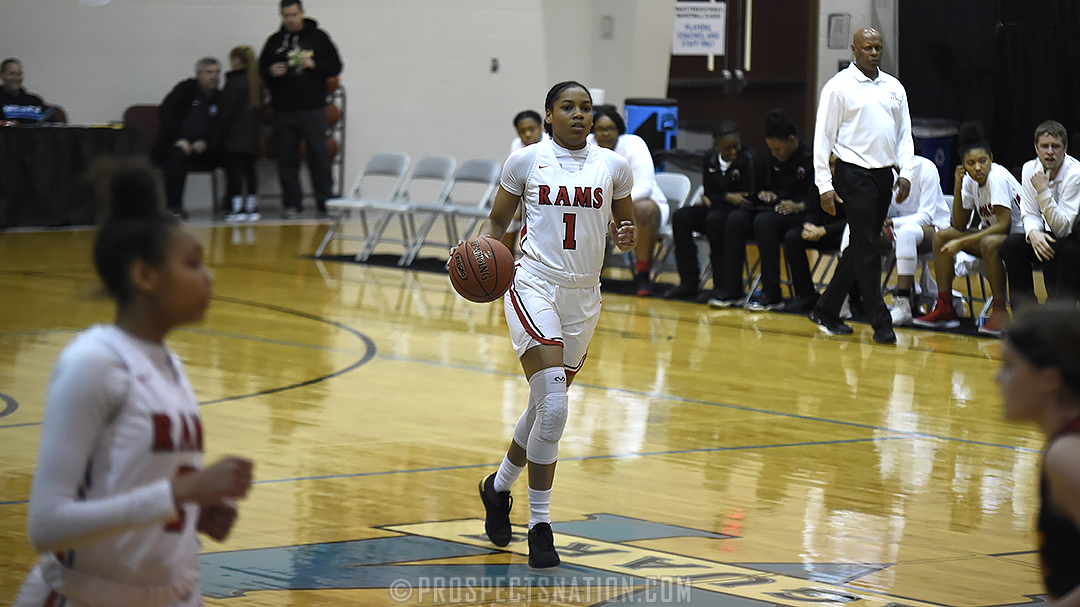 Fresh off her McDonald's All American Games selection, Zia Cooke lead her Rogers team to a big comeback win. *Photo by Chris Hansen.
LOUISVILLE, Kentucky – The Raatz Fence/O'Shea's Basketball Classic at Mercy Academy is a staple event in January. The Friday night lineup was strong and here's a look at some standouts.
Cardosa is a definite game-changer. You can't teach height but to limit this Chattanooga, Tennessee, native you need to deal with more than just her size. When your listed on the roster at 6 feet 8 inches, the first comparisons will be to Brittney Griner and Teaira McCowan. In terms of fluidity and skill, Cardosa is ahead of both of them at the same age. She showed her strength and touch against the host school, Mercy Academy. She passed well from the high post and out of double teams. With the impact of Griner and McCowan at the college level, look for Cardosa to be one of the most heavily recruited players in the country.
Fresh off her McDonald's All American selection, Cooke was, well, cooking in Louisville. She finished with 37 points on 29 shots while grabbing 17 rebounds. Her Rogers Rams trailed 42-25 at half but Cooke lived up to her All American status by fueling the comeback 77-73 win. She was fired up and dynamic in the second half. She played with an intensity a level up from when we saw her last in November.
Hunt didn't have her best shooting night but impacted the game regardless. She helped power the run that put the game away for good. The 6-1 wing prospect is really a matchup nightmare because her agility is that of a perimeter player but she has the size and strength to overpower smaller defenders inside. The combination of Hunt and Cardosa makes Hamilton Heights scary good.
Jenks had a tough assignment in facing up against Cardosa and Hunt. The 6-0 junior did show some good things in spite of the tough matchups. She looked most comfortable on the perimeter using a shot fake and getting to the mid-range for her pull-up jumper. Against an opponent with so much length it was the smart play. She was also active on the glass and used her quickness to find offensive board put back opportunities. She could be an interesting swing prospect at the next level.
The 6-0 senior wing started the night off well with a 20 point performance for her Christian Academy (Ky.) squad. She used her length and ball skill to attack the paint and create some scoring opportunities. She would be terrific in ball screen action as she is fluid with the ball and showed she could stretch it out to change the defender's close out angle then crossover and beat her to the middle. She shot the three without hesitation as well.
With teammate Rickie Woltman, the 6-4 senior post, missing the game, Britzman had to carry a bigger load for her Incarnate Word (Mo.) squad. The 6-0 swing player who signed to play at Belmont next year finished 27 points, 6 assists and 6 rebounds. She had that impressive scoring output on just 13 shots and showed she can overpower smaller defenders inside as well as attack facing the basket. She also drew the difficult defensive assignment of guarding Whitney Hay.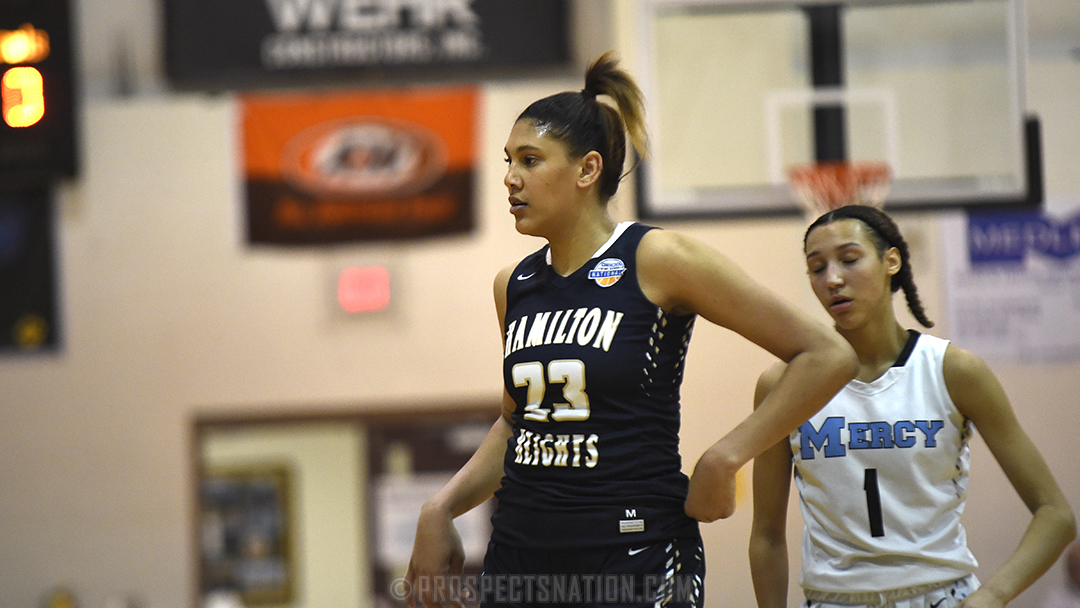 Kamilla Cardosa had a dominant performance as Hamilton Heights defeated the event host Mercy Academy on Friday. *Photo by Chris Hansen.
AROUND THE RIM
Shelby Calhoun had her hands full in her matchup against St. Joseph Central. She was the focus of the Irish defense and though it was a less than stellar scoring night (8 points) you could see the ability that has Power 5 schools across the country pursuing her.
Whitney Hay of Elizabethtown High School (Ky.) had one of those seemingly quiet but highly productive outings in her team's showdown with IWA. She finished the night with 15 points, 8 rebounds and 2 assists.
Bailee Adkins of St. Joseph Central is a bit of a Swiss Army knife for her squad. She flew around defensively, rebounded from the guard position and was strong in the penetrate and pitch game. She played with energy from tip to buzzer.

Chris Hansen is managing editor of ProspectsNation.com and serves on the McDonald's All-American and Naismith Trophy selection committees. He was a co-founder of and the national director of scouting for ESPN HoopGurlz from 2005 until 2012 and is the director of the Check Me Out Showcase and ELITE is EARNED events. He can be reached at chris@eliteisearned.com.