Rankings Roundtable Part IV
Posted
9 years 2 weeks ago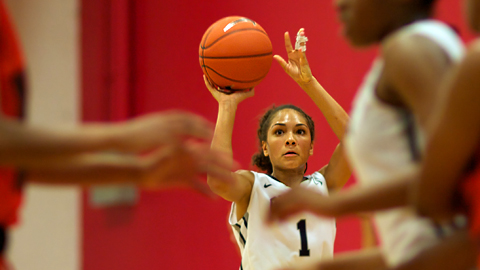 Brooke McCarty has built an All-American caliber game around her phenomenal speed. *Photo by Chris Hansen.
Tweet
The Rankings Roundtable will cover several topics throughout this week on the recently released PropsectsNation.com ELITE 150 prospect rankings for the Class of 2014.
Read Monday's Roundtable on the exciting trends in the 2014 class.
Read Tuesday's Roundtable on who could break out in college.
Read Thursday's Roundtable on who has room to improve to star status.
If you could choose one player with one elite skill, who and what would that be?
The top-ranked post player in the class is Jatarie White of Charlotte, N.C. At 6-4, she possesses agility and mobility that very few have at that size. These physical attributes complement her skill set very well. She is a post that has the ability to score with her back to the basket or can step out and hit the face-up jumper. Although still uncommitted, she could make a push for early playing time at any school because of her aforementioned skills. Size is a scarce resource in women's basketball. Finding a post player that has both size and skill is like finding a precious metal. White has a chance to do special things at the college level.
-- Jonathan Hemingway
Last year I thought Jaycee Coe was one of the best shooters in the country regardless of class. She was the sixth woman on the Tennessee Flight Silver team that claimed the mythical national championship last summer. When she came in the game they would immediately run a play for her to get an open three and nine times out of 10 she would knock it down. This summer it's my belief that Coe is undoubtedly the best shooter in the country and when she get's to Kentucky her ability to stretch the floor and make open shots from 22 feet and maybe even further will make the game easier for her Wildcat teammates.
-- Keil Moore
I'm going to embrace the Wooden theory here and take speed over size. And nobody in the 2014 class maximizes what you can do with speed better than Brooke McCarty of League City, Texas. The 5-4 point guard was the spark plug for the Cy Fair Shock team that won Nike Nationals this summer. She impacts both sides of the floor with her wheels and even at full throttle the Texas commit is always in control and scanning the floor. She has developed her game around her speed and can hit the deep three to punish defenses that sag to take the lane away. McCarty is fast not only running up in down but with the basketball and delivering the basketball to her teammates, making her the ideal player to build a team around.
-- Chris Hansen

Hansen is managing editor of ProspectsNation.com and a McDonald's All-American selection committee member. He was the national director of scouting for ESPN HoopGurlz from 2005 until 2012. He can be reached at chris@prospectsnation.com.
Follow @ChrisHansenPSB

Hemingway is the Assistant Director of Scouting for the JumpOffPlus.com National Scouting Report. He can be reached at jonathanhemingway@peachstatebasketball.com.
Follow @JLHemingwayPSB

Moore is the Director of Scouting for the JumpOffPlus.com National Scouting Report and international scouting report. He has been a member if the women's basketball community for more than six years as a trainer and evaluator. He can be reached at keil@prospectsnation.com.
Follow @KeilMoorePSB