Posted
10 years 4 months ago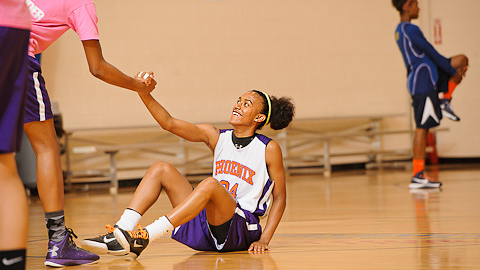 '14 ELITE 100 guard Paris Kea was a star at the Real Deal In The ATL. *Photo by Ty Freeman.
Tweet
MARIETTA, Ga. – The thunder and lightning outside was not the only thing that jolted fans in the stands during the first day of the Real Deal In The ATL. Much like the rolling thunder that shook the rafters, exceptional guard play made a few people jump out of their seats. With dozens of college coaches in the building and four courts of solid game play, day one was an instant success. Here is a look at a trio of guards who turned the heads of everyone in the building.

Paris Kea (Greensboro, N.C.), Lady Phoenix 2014
Kea, by far, stole the show on Wednesday afternoon at Real Deal In The ATL. The 5-foot-9 point guard dominated every facet of the game in her opening round match up versus the Atlanta Lady Celtics. She scored the ball at all three levels, which shows a definite growth in her game. Her ability to change pace with the ball in her hands is special. She shook defenders with a number of hesitation moves, which created an array of scoring angles. However, her ability to pass the ball is second to none in the class of 2014. She dropped no-look dimes to her teammates at every turn. Kea, who is currently ranked No. 79 in the ELITE 100, made a strong case to move up the rankings after today's performances.
#ProspectsNationTV and Brandon Clay look at the stars of the first day of the Real Deal In The ATL:
AROUND THE RIM
♦ The outstanding play of 5-11 guard Yaktavia Hickson of Stone Mountain, Ga., continued this afternoon for the Douglasville Lady Tigers. Hickson blazed in her opening round game with 17 points in the first half. The playmaking guard continues to impress with her ability to score in and outside of the lane. Her consistency makes her an ELITE 150 Watch List player in the class of 2014.
♦ Class of 2014 shooting guard Brea Elmore of Stone Mountain, Ga., has developed nicely as a prospect as of late. She is scoring the ball at a higher rate and handling it steadily when asked to play the point. The three-star prospect is drawing interest from a variety of schools. Her opening day performance certainly did not disappoint those that watched.
♦ The Winston-Salem Stealers came ready to play in their opening bracket game versus Blue Star Florida. Bailey Kargo of Greensboro, N.C. made an outstanding impression in this game by scoring 14 first-half points en-route to a double-digit win. The class of 2016 guard is a skilled guard who scored in a number of ways. Follow @JLHemingwayPSB

Hemingway is the Assistant Director of Scouting for the JumpOffPlus.com National Scouting Report. He can be reached at jonathanhemingway@peachstatebasketball.com.