Real Deal II Provides Encore
Posted
7 years 2 months ago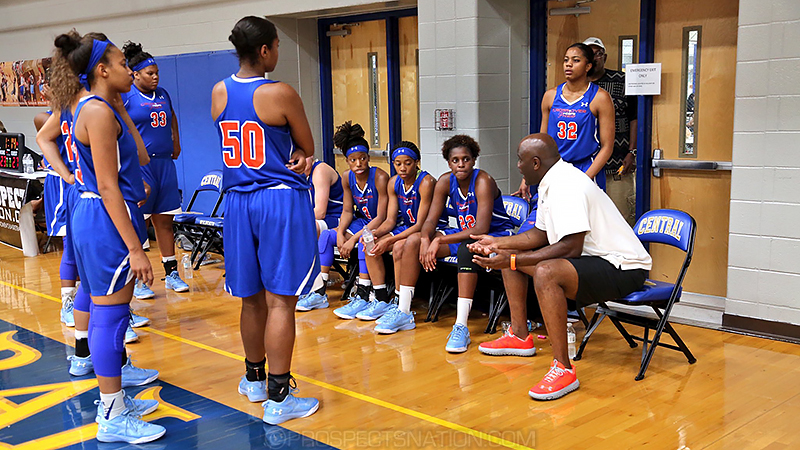 LEBANON, Tenn., - The second session of the Real Deal in the 'Ville featured 60 teams from around the country. Players competed in front of dozens of college coaches including multiple head coaches. Here is a rundown of the players who stood out from the three-day event.
Sydnei Archie (Chesterfield, Va.), Cross-Over Hoops – 2017
Archie is showing no ill-effects from an ACL injury sustained over a year ago. The VCU commit had her mid-range jumper grooved all tournament long. At 5-foot-10 she has the size to play effectively in the Atlantic 10 Conference. Her shot making ability should give her a shot to earn playing time for coach Beth O'Boyle's program as a freshman. Expect Archie to make strides athletically in months to come when sheds the knee brace and can exert her full range of athleticism.
Gina Conti (Grove City, Ohio), Capital City Comets – 2017
Conti built upon her performance at the CoachHemi.com Summer Showcase last month. The Wake Forest commit showed superior ball handling and court awareness as a point guard. She possesses so many intangible skills that translates into her floor game. These skills should help head coach Jen Hoover when Conti gets on to campus. Conti's jumper is smooth from beyond the arc and her pull-up game is tough contain. She is firmly within the ELITE 100 watch-list after her Real Deal performance.
Mariah Copeland (Toledo, Ohio), Toledo Thunder – 2017
The Toledo commit proved to be among the best perimeter shooters during the event. She had several games where she hit multiple 3-pointers. Her efforts helped coach Kechan Johnson move into the championship game of the @BrandonClayPSB bracket. A left-handed guard, Copeland demonstrated growth in her game this year. She went from being a role player to being an integral part of the Thunder's success. Toledo assistant coach Tiffany Swoffard was on hand throughout the tourney and had to be pleased by what she saw from the future Rocket.
Taylor Hair (Orlando, Fla.), Florida Lightning Select – 2017
There is one constant question from college coaches when it comes to July recruiting: Where are the post players? Hair checks many of the boxes that coaches seek in interior post players. She is a reliable rebounder and defends her position on the block. Questions about her offensive game should be quelled after her performance at the Real Deal. She hit a couple of jump hooks with a defender on her hip as well as knocking down the occasional 15-foot jumper. At 6-1 the Florida native should be tracked closely the second half of July.
Elana Ingram (Milton, N.C.), Lady Phoenix Elite – 2018
Ingram went from unknown to being on the radar as one of the better point guards in the Southeast after Session II. At 5-8 she has the size and strength to absorb and dish out contact on the drive. She is a physical slasher who can make plays and score when she gets into the lane. The best part of Ingram's game is the lack of indecision that she has with the ball in her hands. She is decisive and very difficult to contain when she gets a step on her opponent. Expect her game to blossom by being coached by former NBA point guard Delaney Rudd.
Anaya Peoples (Danville, Ill.), Best Choice United – 2019
Peoples checked in at No. 3 in the newly released 2019 ELITE 25 rankings this summer. Her reputation helped bring out some of the most prestigious coaches in the game such as Dawn Staley and Geno Auriemma. Her smooth skill set combined with her athleticism helped Best Choice secure a championship in the @BrandonClayPSB bracket. The 5-10 guard still has development in front of her, but at the moment she is on a trajectory that will keep her among the class' elite.
Tiyah Johnson (Phenix City, Ala.), Blazers Exposure Red – 2017
While Ariyah Copeland (Alabama commit) received much of the attention this travel season, Johnson quietly slid onto the radar of college coaches as a consistent performer for coach Tim Marshall. She stands 5-5 but her game plays much bigger. She handles the ball effectively and makes plays going towards the bucket. Her perimeter shot making is the skill that is raising eyebrows in July. The dual combination of slashing and jump shooting put Johnson on the list of 2017 guards in the southeast that should be noticed.
PECK'S SPOTLIGHT
Lauren Hansen of Exodus NYC continues to show her ball skill and versatility. Her ability to score when contested makes her really stand out. The 2019 guard knows how to put points on the board.
Haley Troup of Alabama Southern Starz showed her ability to score when her number was called. She scored off the dribble as well as posting up down on the block. Troup played with poise and confidence.
The class of 2021 was well represented by Kelsey Blakemore of Midwest Select and Brylee Glenn of KC Future. Both of these players left it all on the floor. Blakemore has more of a power game and Glenn has the ability to create off the dribble. Both of these kids know how to score.
Makenna Marisa of WPA Bruins has a solid feel for the game. The 2019 shooting guard shot the ball well from the perimeter and was very effective from beyond the arc.
AROUND THE RIM
Keep an eye on class of 2019 guard Jala Johnson with the Toledo Thunder. She is showing play-making skills that are beyond her years.
A new program on the rise is KC Future. They are full of 2021 prospects that have skill sets that are advanced for their age.
Point guard Mikia Keith of Indianapolis, Ind., made a name for herself during Session II of the Real Deal in the 'Ville. The play-making guard earned praise and already has schools following her around during July.
Mark Alexis Duckett from Orange, Fla., as a must-track prospect in the class of 2019. She has long arms, great athleticism and a skill set that will only blossom with experience.
Jonathan Hemingway is the Assistant Director of Scouting for the JumpOffPlus.com National Scouting Report, is on the Naismith Trophy Board of Selectors and owns CoachHemi.com, the go-to source for coaches for X's and O's. He is the floor director of #TeamEBA camps, a site director for #TeamPSB tournaments and can be reached at jonathanhemingway@peachstatebasketball.com.
Stephen Peck is the owner of Dream In Motion Athletics and is a national evaluator for the JumpOffPlus.com National Scouting Report. He also serves as a on-floor skills coach at the Elite Basketball Academy events. He can be reached at StephenPeck@peachstatebasketball.com.