REAX: Coley, Finney, Richetto
Posted
3 years 5 months ago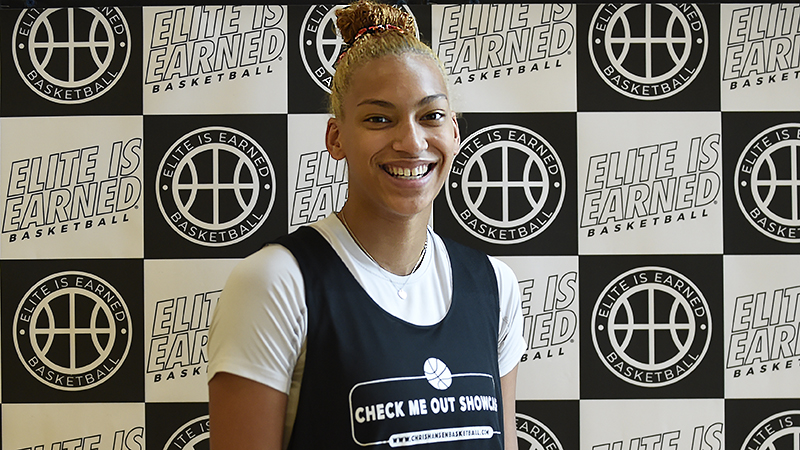 Kendall Coley at the 2019 Check Me Out Showcase in Minneapolis, Minnesota. She announced her commtiment this weekend. *Photo by Larry Rhinehart.
Coley Chooses Nebraska
Kendall Coley of Minneapolis, Minnesota, gave her verbal commitment to Nebraska over the weekend. The 6-foot-2 wing chose Cornhuskers over several other Power 5 suitors from across the country.
Coley is a two-time Check Me Out Showcase standout. Her length, athleticism and upside have always been apparent but she's really come in to her own as a player over the last year. She's showing confidence to create and patience to see what mismatch she has on each possession.
Finney To Washington
Jess Finney of Scottsdale, Arizona, gave her commitment to the University of Washington. The 5-10 combo guard is the third commitment for the Pac-12 program in a 10-day period. Finney, who is on the 2021 ELITE 150 Watch List, joins Avery Vansickle of Aurora, Colorado, and AJ Marotte of Austin, Texas.
Finney is a true combo guard in that her skill set allows her to come off of a down screen looking to score or use her ball skill to break down a defender to set a teammate up. Her length allows her to defend multiple positions as well.
Richetto Chooses Wofford
Sydnee Richetto of Mt. Juliet, Tennessee, gave her verbal commitment to Wofford recently. The 5-7 point guard a 3-star-plus rating in the 2021 class. Her play at several CoachHemi.com Showcases over the past few years left a great impression
CLAY'S TAKE
Richetto has a competitive mentality that is rare to find. Her frame is well built, and she has definition in her muscles that cannot be found often in high school players. On the court Richetto's game is well polished. She has the full repertoire of jab steps, step backs and hesitation moves to get her shot at nearly anytime in the half court.
Chris Hansen is managing editor of ProspectsNation.com and serves on the McDonald's All-American and Naismith Trophy selection committees. He was a co-founder of and the national director of scouting for ESPN HoopGurlz from 2005 until 2012 and is the director of the Check Me Out Showcase and ELITE is EARNED events. He can be reached at chris@prospectsnation.com.
Brandon Clay serves as the Director of Scouting for ProspectsNation.com and owns The BrandonClayScouting.com Evaluation Report, which is read by more than 200 colleges and universities nationwide. He also serves as the Executive Skills Director for the Brandon Clay Scouting Academy Series.