Reax: Hines-Allen To Louisville
Posted
9 years 6 months ago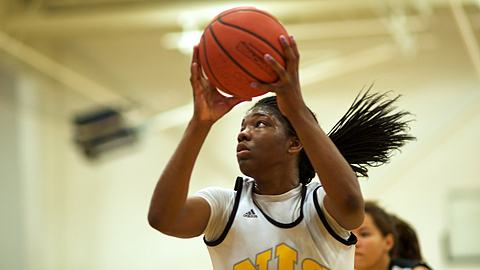 Myisha Hines-Allen, an ELITE 100 prospects, joined Louisville's 2014 recruiting class. *Photo by Ty Freeman.
Tweet
After a great run that saw the Louisville women's basketball program make it all the way to the national championship game, coach Jeff Walz and his staff have managed to capitalize with a good deal of recruiting success. Myisha Hines-Allen's decision to pick Louisville over Georgia Tech and West Virginia is the next example of the success carrying over to recruiting momentum.
"The school in general was an amazing place," Hines-Allen, the No. 13 prospect in the ELITE 100, said. "I felt like home while I was there."
Hines-Allen picked Louisville after making an unofficial visit to Georgia Tech in early June in addition to official visits to Louisville and West Virginia in August.
The 6-foot-2 forward has a combination of size and athleticism that is rarely seen on the recruiting circuit. She is a much improved perimeter shooter and is also capable of putting the ball on the deck and making a play. She should fit in well at the future ACC school as she shares similarities with current rising senior Sarah Hammond.
"The style of play was also a huge factor," she added.
With the addition of Hines-Allen, Louisville now has four talented wings and forwards on the way to campus next year. Mariya Moore of Oakland, Calif., Arianna Freeman of Manassas, Va., and Sydney Brackemyre of Cincinnati, Ohio. With the forward positions locked up for the next couple of years, look for Louisville to focus heavily on adding true post play and a point guard with their remaining scholarships. Jatarie White of Charlotte, N.C., Dekeiya Cohen of Charleston, S.C., and Gabby Green of Oakland, Calif., are players Louisville may still be looking to add to their 2014 class. Follow @KeilMoorePSB

Moore is the Director of Scouting for the JumpOffPlus.com National Scouting Report and international scouting report. He has been a member if the women's basketball community for more than six years as a trainer and evaluator. He can be reached at keil@prospectsnation.com.