Reax: More Mabrey For Irish
Posted
9 years 6 months ago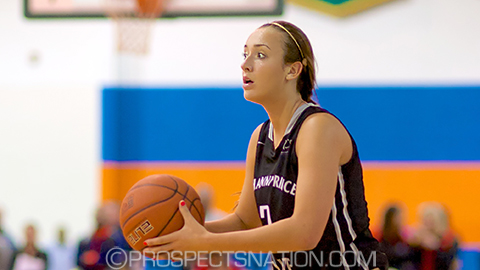 Marina Mabrey will play with her sister for one season at Notre Dame. *Photo by Chris Hansen.
Tweet
When one of the top prospects in the 2015 class is the younger sister of one of your key contributing sophomore wing's you have to feel good about your chances of landing the younger sister. Today Notre Dame scored a verbal pledge from No. 8 Marina Mabrey of Manasquan, N.J., the younger sister of current sharpshooter Michaela Mabrey, a rising junior currently in the Irish program. Marina Mabrey, took an unofficial visit to Duke last fall for its midnight madness, but made multiple trips to Notre Dame throughout the school year as the national runner up seemed to be the favorite throughout her recruiting process.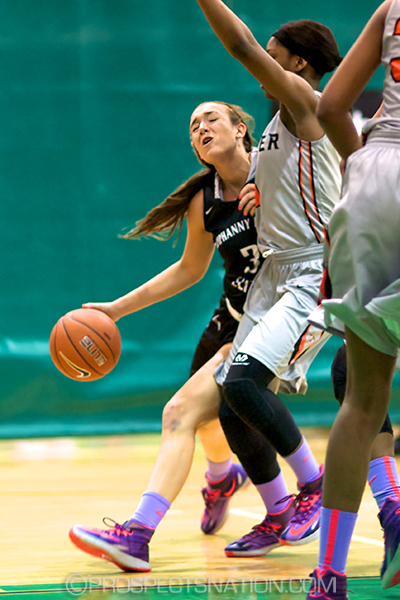 '15 ELITE 60 guard Marina Mabrey.
*Photo by Chris Hansen.
With the addition of Mabrey, Notre Dame gets one of the best perimeter scorers in the class of 2015. She currently leads the Nike EYBL in points per game and has been a consistent scorer throughout her prep career. More than just a shooter, Mabrey has shown the ability to attack off the bounce and get to the rim or get fouled much better than one may expect. At 6 feet tall she has good size as a true perimeter player and does a good job using her size on the offensive side of the ball.
This is a nice pick up for Notre Dame as they have secured its second class of 2015 verbal commitment and first top 10 prospect in the class. Mabrey will be joined by point guard Ali Patberg of Columbus, Ind. Patberg and Mabrey will combine to give the Irish a very formidable backcourt as Muffet McGraw and her staff continues to build what could potentially be one of the best recruiting classes in the country.
In addition to Mabrey and Patberg, prospects such as Katie Lou Samuelson and Arike Ogunbowale have been linked to Notre Dame's recruiting for 2015.
See the Irish 2014 signing class: 2014 Signees
See the Irish 2015 recruiting class: 2015 Verbals
♦ ♦ ♦ PLATINUM BONUS COVERAGE:Irish Recruit Tracker Follow @KeilMoorePSB

Moore is the Director of Scouting for the JumpOffPlus.com National Scouting Report and international scouting report. He has been a member if the women's basketball community for more than six years as a trainer and evaluator. He can be reached at keil@prospectsnation.com.