Reax: No. 10 Young To Irish
Posted
7 years 8 months ago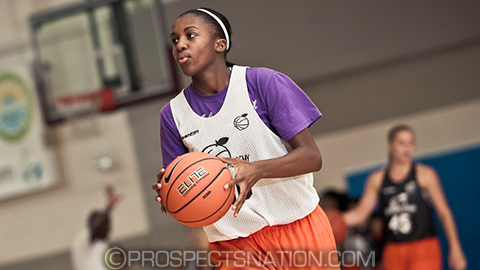 Jackie Young gives Notre Dame two big time commitments in the . *Photo by Ty Freeman.
Tweet
Jackie Young, a class of 2016 forward out of Princeton, Ind., made a verbal pledge to Notre Dame coach Muffet McGraw and her staff recently, giving the Irish their second class of 2016 verbal commitment and a great head start on a potential top five recruiting class for 2016.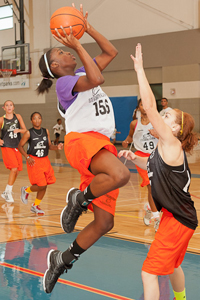 '16 ELITE 60 forward Jackie Young.
*Photo by Ty Freeman.
Young is good with the basketball in her hands. She is a playmaker who has played the point forward role in summer basketball from time to time and can make the game easier for others. That said, Young isn't a kid who needs to dominate the ball to be effective either. A 5-foot-11 forward, she is a natural distributer who has the ability to find a comfort zone in Notre Dame's Princeton-style offense. She can play on the wing and create offense through the pass and off the bounce or step to the high post and act as a facilitator as a talented stretch-four player.
With Young jumping on board, Notre Dame now has two members of the ELITE 60 headed to South Bend for the class of 2016 -- 6-2 forward Erin Boley of Elizabethtown, Ky., made a verbal pledge to the ACC school earlier this fall. Young and Boley have the potential to mesh well during their four years playing together at Notre Dame. In addition to making plays for others, both players have the ability to finish plays and score the basketball.
While Notre Dame has a jump on the class of 2016, the ACC school is still working on bringing the class of 2015 to a close as the staff is still in pursuit of 5-9 wing Arike Ogunbowale of Milwaukee, Wis. In addition to Notre Dame, Ogunbowale, who took an official visit to South Bend in September, is down to Louisville, Ohio State, Wisconsin, and UCLA.
Notre Dame's 2015 class currently consists of two members of the ELITE 150 -- wing Marina Mabrey of Pleasant Beach, N.J., and point guard Ali Patberg of Indianapolis, Ind. Follow @KeilMoorePSB

Moore is the Director of Scouting for the JumpOffPlus.com National Scouting Report and international scouting report. He has been a member if the women's basketball community for more than six years as a trainer and evaluator. He can be reached at keil@prospectsnation.com.