Reax: No. 62 Christopher To KU
Posted
3 years 7 months ago
Kansas reached out to the Pacific Northwest for its point guard of the future in Jayde Christopher. *Photo by Haley Weit.
Tweet
Kansas coach Bonnie Hendrickson and her staff picked up another solid puzzle piece in the 2015 class when 5-foot-8 point guard Jayde Christopher of Federal Way, Wash., made a verbal pledge to attend the Big 12 school. Christopher, the No. 62 player in the ELITE 100, is one of the best playmakers in the country. She is a pass-first point guard who is very good at getting dribble penetration and getting into the heart of a defense. As the No. 13 ranked point guard in the class, Christopher has established herself as one of the premier point guard prospects in 2015 and been a consistently productive prospect on the circuit.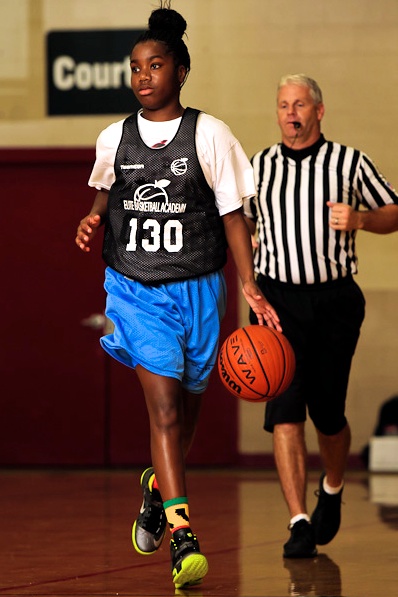 '15 ELITE 100 guard Jayde Christopher.
*Photo by Ty Freeman.
Christopher, who picked Kansas over California, will join 5-10 wing Kylee Kopatich of Olathe, Kan., as the second member of the 2015 class for Kansas. Koptatich is a well-rounded wing who should fit in well as a jack of all trades type player in the backcourt. Teaming a player like Kopatich up with Christopher, Kansas will have two unselfish guards who will be able to make plays for their teammates and keep the ball moving.
In the 2014 class, Kansas added three players -- ELITE 150 prospects Chayla Cheadle and Terriell Bradley joined the program to play on the wing and four-star point guard Lauren Aldridge rounded out the class.
Kansas potentially could be very aggressive this summer as it will have the ability to bring a large 2015 class in. The Jayhawks have been linked to the recruiting of players such as Asia Roberson of Oakland, Calif., in addition to in-state talents Tyler Johnson of Leavenworth, Kan., and Latashia Jones of Leavenworth, Kan. Johnson, a 6-2 post and Jones, a 5-11 forward, are two quality players at positions of need.
Follow @KeilMoorePSB

Moore is the Director of Scouting for the JumpOffPlus.com National Scouting Report and international scouting report. He has been a member if the women's basketball community for more than six years as a trainer and evaluator. He can be reached at keil@prospectsnation.com.