Posted
10 years 2 months ago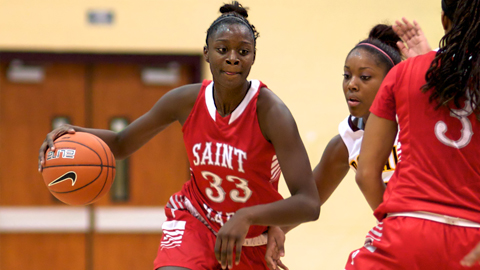 '15 Watch List guard Alexis Robinson. *Photo by Chris Hansen.
Tweet
Gabby Green of Oakland, Calif., the No. 9 player overall in the class announced on Thursday that she will be staying close to home and playing her college basketball at California.
Green, who had cut her list to California, Ohio State, and Tennessee, is a major pick up for California as she gives them an elite playmaking guard who looks to make things happen for others in addition to herself.
The commitment is key for California coach Lindsay Gottlieb and her staff as they focused a lot of time and effort and keeping one of the top in-state prospects in California at home. Adding Green to a 2014 recruiting class that already includes the uber athletic combo forward Mikayla Cowling of Oakland, Calif., Green's high school teammate, gives California two of the top 20 recruits in the ELITE 150 and a nice core of talent to infuse to the roster.
More than anything Green's decision to go to California will help keep them at the top of the women's basketball world as she is an elite talent with the ability to play multiple positions at the next level. Look for Green to find a role in Berkeley that fits her natural skill set. She will be a player that natural distributes the ball and makes plays for others, but her ability to create offense for herself and score the ball at all three levels will also be on display throughout her career. Her relationship with fellow 2014 verbal commitment Cowling will also be key for the PAC-12 school as Green to Cowling has become a regular occurrence in high school gyms all over the Bay Area.
Another key importance of Green's decision is that it allows California's young but successful coach, Gottlieb, to continue to cement herself as a recruiting power locally and nationally. Last year Gottlieb and her staff were able to keep a core of talented local prospects at home when they scored KC Waters, Courtney Range, and Mercedes Jefflo. They didn't stop there, going out to Belgium and scoring one of the top international prospects in the 2013 class in Hind Ben Abdelkader of Bruxelles, Belgium, to their team.
This year they were able to continue that level of success and add two more highly regarded prospects to their roster. Going forward this bodes well for the Cal program as there will be no shortage of talent coming from the Golden State in the next couple of recruiting classes.
Look for Cal to focus on landing one more frontcourt piece in this class with Gottlieb eyeing Kristen Simon, the No. 32 ranked prospect in the ELITE 150. Follow @KeilMoorePSB

Moore is the Director of Scouting for the JumpOffPlus.com National Scouting Report and international scouting report. He has been a member if the women's basketball community for more than six years as a trainer and evaluator. He can be reached at keil@prospectsnation.com.